Watch black freestyle rapper serenade his way through Tokyo love hotel district, pick up girl
We recently stumbled across this video of a black man who freestyle raps his way around the love hotel district of Kabukicho in Shinjuku, Tokyo. In the background we see couples scurrying into the entrances for an intimate session.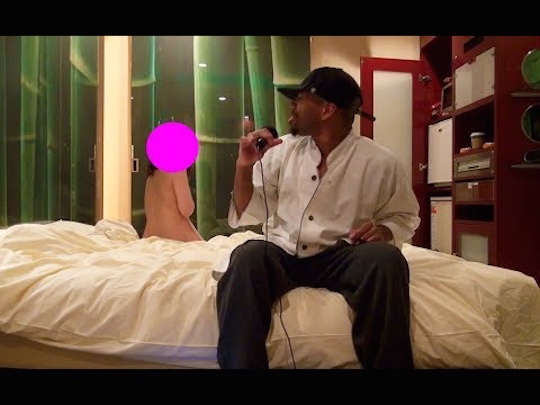 As the foreigner wanders the streets of Kabukicho's love hotels, he apparently bumps into a random Japanese lady. He serenades and picks up the woman, and then together they enter a love hotel for some good interracial times together.
In the next video, things get a bit more heated. Our gaijin adventurer continues his rapping while his female companion sits behind him on the bed, showing us her alluring bare back as she bobs along to the beat.
"What happens in the love hotels, stays in the love hotels," as the video description says. We all abide by that motto.
When the lady turns around in answer to the singer's requests, however, she is covering her breasts with her hands and is, somewhat strangely, wearing a Noh theater mask. We presume she took it off after the camera was put down and the real action got started.
Okay, so obviously this is all set up but it's still well made.
The man is known as the Rhyming Gaijin and he has quite a following online, it seems (apologies if we are late to the party). We found this profile of him on Metropolis from 2014.
The same rapper also made this video about kanji, as modeled on the body of a naked white woman. Beacuse why not?