Bikini photo shoot for seiyuu voice actresses angers fans
Another week, another idol photo book or major weekly magazine photo shoot. What's special this time?
It's not the latest release from the ranks of AKB48 or Nogizaka46 trying to break out (though Mai Shiraishi did that very well recently with her bestselling photo book), nor the latest has-been model or actress stripping off fully nude in a last-ditch attempt to relaunch a dying career. Nor is it attracting controversy for its content per se like the Tomomi Kasai photo book where she was pictured naked with a young boy (Kodansha eventually canceled the release).
Nothing like as a crazy as that one, but fans are are still furious about this photo shoot. Why? Because it has seiyuu (voice actresses).
The problem has been stirred up by Seiyu Paradise R, a monthly magazine about seiyuu. The upcoming July 14th issue is set to have six voice actresses posing as "swimsuit models" in the style of the manga Yomekura. Apparently this has angered fans of the seiyuu (Aguri Onishi, Hitomi Sasaki, Mayu Sagara, Erika Momota, Junna Amako, Shu Uchida).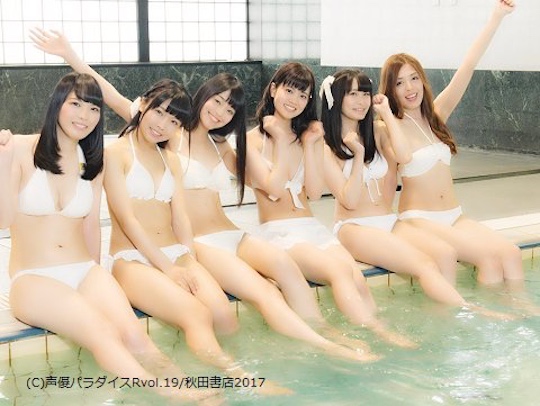 This is a strange backlash, considering that none of the seiyuu are particularly famous or experienced with reputations to protect per se. But maybe this is the point for some — they are "pure" at the moment and the publisher is exploiting these relative newcomers.
However, a swimsuit shoot is also not especially gratuitous considering the semi-adult themes of Yomekura.
We have no qualms about calling out this minor online patter as patently ridiculous. There are plenty of examples of seiyuu who have blurred the boundaries between voice performer and gravure glamor model, not least the likes of Rie Tanaka, Haruka Tomatsu and Maaya Uchida. (Heck, Emi Niita allegedly appeared in porn in her early days!)
Are some sensitive souls online now saying that seiyuu should be invisible VA only for the whole of their careers?