Rara Anzai: Japanese AV star Shion Utsunomiya is re-born as a stunning new porn model
A little while ago the gravure world was stunned by the sudden appearance of a gorgeous model called Rara Anzai. She made her debut in a nude shoot for Weekly Playboy magazine that fully showed off her incredible bust and body to the full.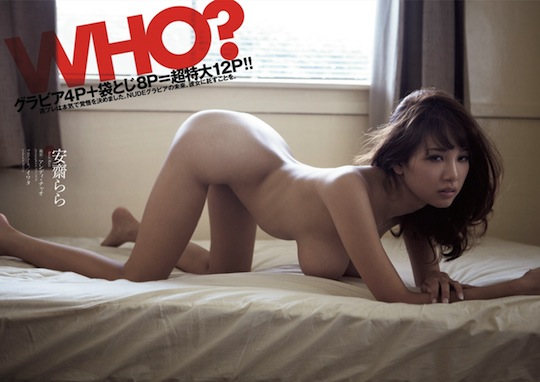 The photos are "censored" but are actually highlights from a full-front "hair nude" photo-book called "Hello, Goodbye", published in June 2014. (It's common for photo-books, especially high-profile and raunchy ones, to have a promo spread in a weekly tabloid magazine at the same time as the release.)
In fact, a little bit of digging by those in the know revealed that Rara Anzai is actually Shion Utsunomiya, a JAV porn star popular in Japan (and Korea). It is common for stars to remake themselves under new names, often when their career goes through a change or when they change agencies, since the management does not have the rights to their previous stage name.
Rara Anzai/Shion Utsunomiya is a porn star still only 20 years old. Her G-cup ("the bust of god") first burst onto the scene last year.