Is future of AI gravure in trouble after photo book withdrawn?
It sparked both hype and controversy, and then just as quickly vanished.
When publisher Shueisha released a digital photo book featuring a fully AI-generated gravure model on May 29, it felt like the tipping point of something.
But then netizens were quick to point out that the "model" Ai Satsuki was uncannily similar to a real-life gravure idol, Hikari Kabashima (previously known as Yui Asakura), suggesting the AI was simply recycling images of Kabashima/Asakura from the Weekly Playboy shoot she did (Shueisha publishes the magazine).
Shueisha responded to the controversy by withdrawing the new Ai Satsuki book from circulation on June 7. Its release had lasted a mere 10 days.
Does this spell the end of AI-generated gravure? Perhaps by a major publisher, at least for a while. The government has also recently announced it is preparing guidelines regarding intellectual property rights and AI.
But AI gravure is here to stay. A glance at the current sales ranking on Amazon Japan reveal that AI publications fill the list of actor and entertainer photo books available on Kindle.
In fact, AI books completely dominate the list of free-to-download releases; it's not until around the 30 rank that you start to see releases with actual human models.
For paid releases, AI books are fewer, but significantly occupy the top position.
At the time of writing, this AI gravure book (which contains 137 "models") is the bestselling digital photo book on Amazon. It's the 41st entry in a series, indicating the success of the technology, and is suitably subtitled "virgin hunter."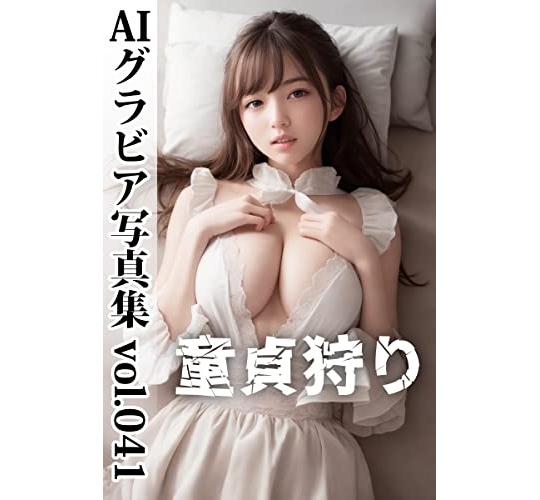 Of course, it helps a lot that it is priced a mere ¥300. The currently second-ranked book is a Jun Amaki release from 2018 and priced ¥2,750 even for the Kindle edition, indicating that the business model for AI enables much lower pricing, which is feeding its success.
Another AI gravure book is ranked fourth.
It seems that AI gravure has become its own subgenre and that it's very much here to stay.
We are no Luddites and think this is all fine — as long as the makers are honest about the fact that the idols in the images are not flesh and blood.