Written by: Tadashi Anahori on December 8, 2014 at 12:04 am | In
Product Releases
|
Discuss »
Japan's top jukujo Yumi Kazama shows now signs of slowing down with age.
Quite the opposite. Her latest release is Silver Dust Slave Soapland, probably one of her most extreme fetish titles yet.
As Kanojo Toys writes:
This rare new fetish porn title with jukujo older star Yumi Kazama sees the hot MILF coated in silver dust, transforming her into a unique sex slave at a soapland. Every inch of her gorgeous body is dusted in silver, her neck chained to a collar to stop her from moving. Only her eyes and orifices are left free and of course, they come in handy for the nakadashi creampie finale. The legendary porn veteran is also later coated in chocolate for a sweet, lick-off session.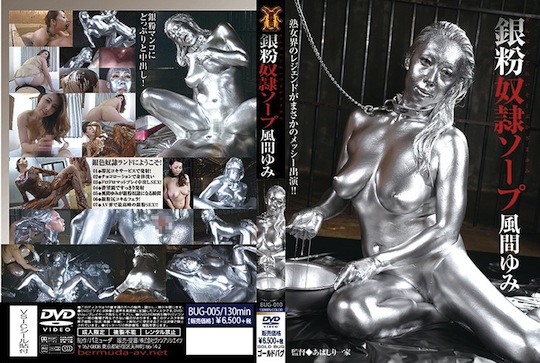 While body paint JAV porn is nothing new per se — for example, we recently blogged about zentai rubber body painting and Cocoa Soft is a whole porn label that specializes in mud bath and other extreme body painting porn — we just love how Yumi's new release shows that the truly adventurous ladies are often the older ones.
Is there something about older Japanese hotties and painting their mature bodies?
Here is veteran actress and singer Keiko Matsuzaka, who also once indulged in a hair nude photo shoot with her body painted in gold leaf.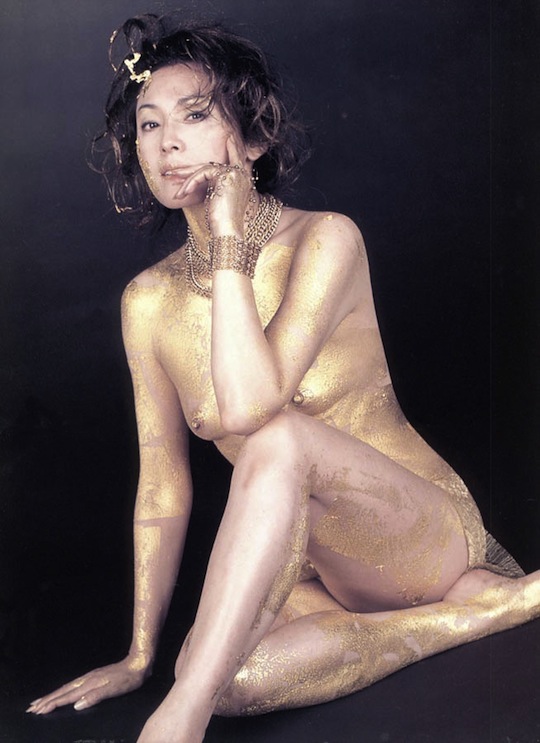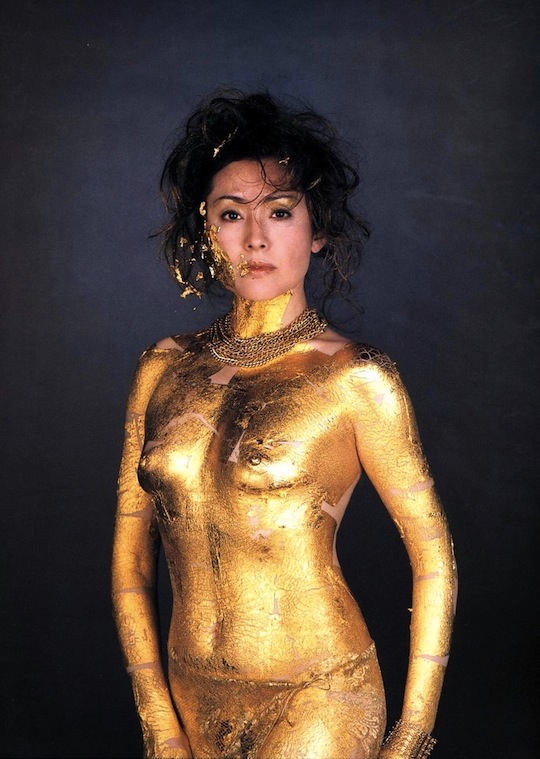 Tags: Japanese pornography, JAV, Jukujo
Category: Product Releases
Other categories: Erotic Japan Blog, Hands-on Reports
Written by: Tadashi Anahori on December 5, 2014 at 12:04 am | In
Erotic Japan Blog
|
Discuss »
Porn star Ai Uehara has many talents but did you know they also include rap?
In "REAL remix" Uehara has now lent her vocal skills to a song following her victory at the AV Open 2014 awards, which are voted for by the public. The track is by INCUBUS, who is the male rapper in the song.
The video itself is a weird mash-up of anime images of nubile girls, based on three porn stars, including Uehara. The lyrics sing the joys of being able to see the "real thing" (i.e. Ai Uehara) at the event, rather than just a video of her.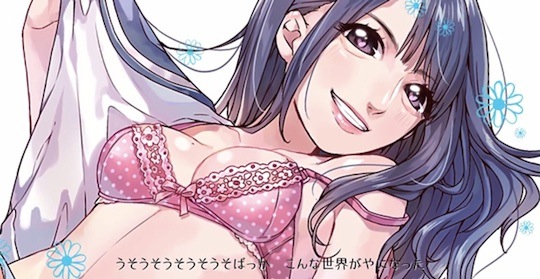 Take a gander.
It's also funny to hear words like "semen ejaculation" and "up-down vagina suspension" in a rap song on YouTube.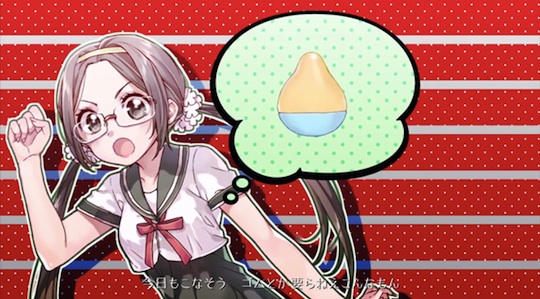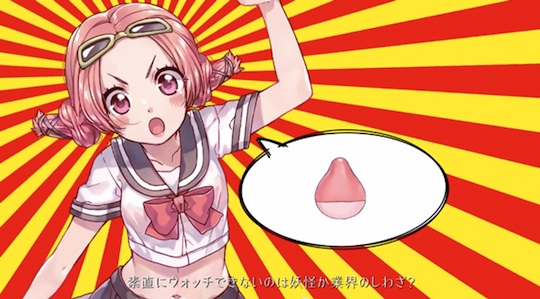 The song has been made to celebrate Ai Uehara's recent top prize win at the AV Open 2014, and her new DVD release, "100 Men Nakadashi", in which she gets chased by a battalion of male amateurs who want to creampie her.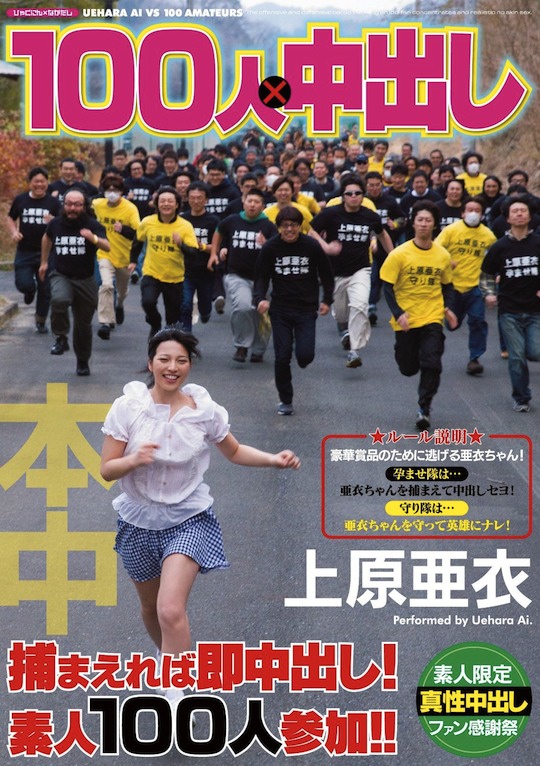 Who can blame them when the lady in question is Ai Uehara?

Tags: Japanese pornography, JAV
Category: Erotic Japan Blog
Other categories: Hands-on Reports, Product Releases
Written by: Tadashi Anahori on November 16, 2014 at 1:31 am | In
Erotic Japan Blog
|
Discuss »
This song became quite a talking point earlier in the year. A user called Toy Ron uploaded it to YouTube at the end of the year.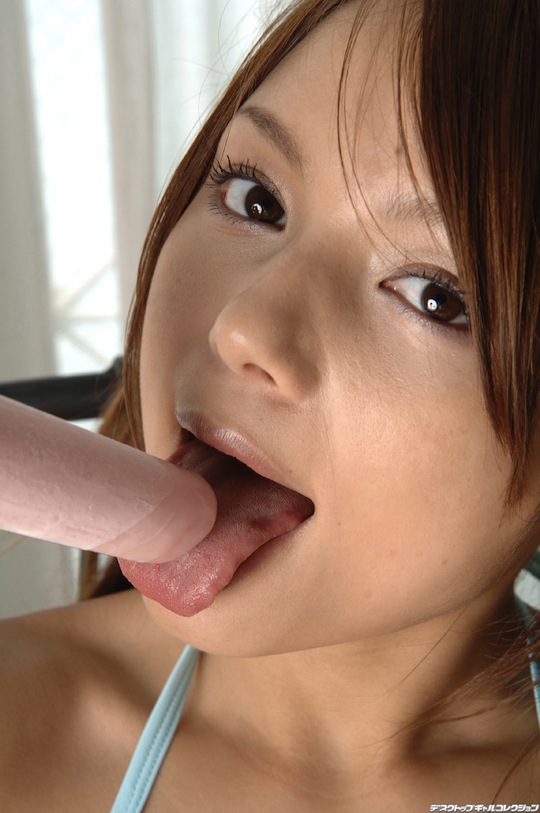 If you didn't see the title of the video you might be forgiven for thinking it is just an unusual drum and bass track. But this is a blog about sex and the erotic in Japan, so there's more to than meets the ear.
Listen carefully. That sound should recall the slurping sound of a fast-paced blow job.
The oral sex is all samples of actual fellatio performed by JAV porn Rio (aka Tina Yuzuki) in her vast catalog of adult titles.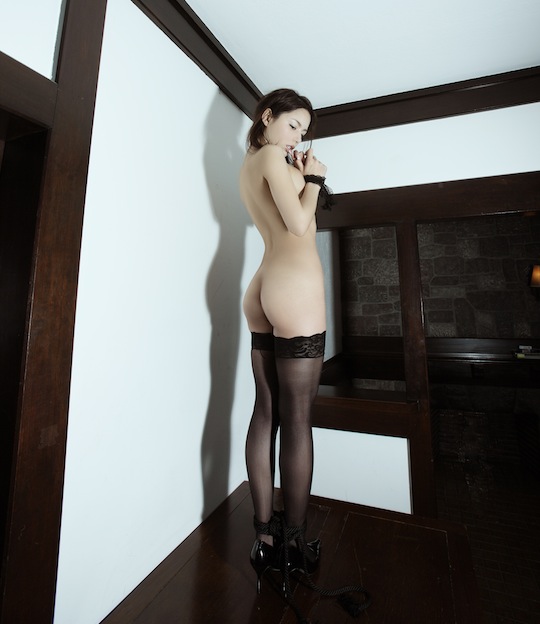 Here Toy Ron converted her moans and other sexual noises into a dubstep dance track.
Original or just a sign of a musician with too much time on his hands — and too much knowledge about Japanese porn?
Tags: Japanese pornography, JAV
Category: Erotic Japan Blog
Other categories: Hands-on Reports, Product Releases
Written by: Tadashi Anahori on October 21, 2014 at 9:37 am | In
Erotic Japan Blog
|
Discuss (1) »
What a waste?! I hope they lock this guy up!
Sadly, police say they are unlikely to charge Hideaki Adachi, who was discovered dumping waste in a public park in Osaka City. This in itself is an offense but it's what he was dumping that has made the headlines: porn. Lots and lots of porn.
Adachi disposed of almost a quarter of a ton of pornography. After he was caught in the act, he claimed the stash was a friend's and he was getting rid of it.
How much is a quarter of a ton of porn? Apparently it's 17 sacks — containing films, magazines, and 500 VHS video tapes (remember those?). He transported the 200kg mountain of porn in his small truck.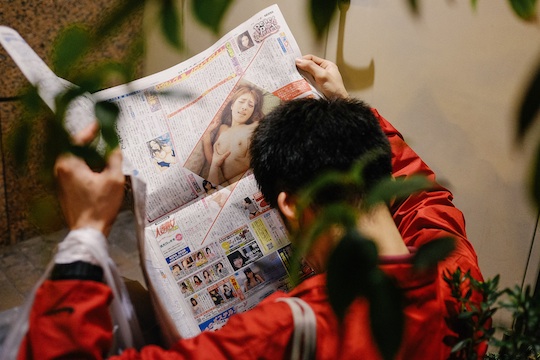 Because the stash was technically not his, police are unlikely to press charges against the 70-year-old man. He was arrested and held for a day but was then released after questioning. Instead of punishment, he is being applauded for his act, which was helping out a friend who is bedridden and at the time in life when he needs to sort out his belongings, including the ones you'd rather others didn't see.
If you're worried about Osaka's youngsters being "corrupted" by black bags of wank rags, Adachi wasn't trying to give the porn away. That's a shame, as we reckon there are lots of people curious about what porn looked like in the non-digital age. He had apparently made efforts to keep it hidden. He actually knew the park well through his other volunteer services — this time helping the homeless — and so his plan was that the treasure trove of old pornos would be taken away as regular trash and disposed of properly.

Tags: Crime, Japanese pornography, JAV
Category: Erotic Japan Blog
Other categories: Hands-on Reports, Product Releases
Written by: Tadashi Anahori on September 19, 2014 at 12:13 am | In
Product Releases
|
Discuss »
We consider ourselves aficionados of some of the weirder sections of the Japanese porn canon. ANd let's face it, there are some oddities out there.
For example, in "World's Kinkiest Nude Library Challenge", an entry in the shuchi "shame" genre, a woman does crazy things while in a public library… totally naked, natch.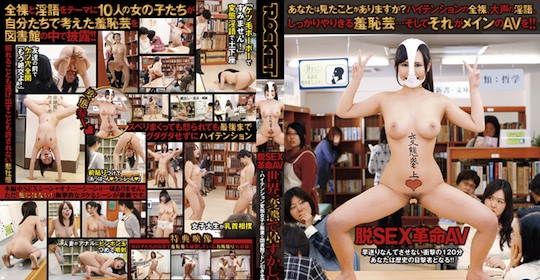 "Elf" sees a man have sex with a fairy-like girl with pointy ears.
"Daddy Quiz Daughter Sex" has a father tied up and forced to watch as his daughter is raped by men in masks if he gets questions wrong.
We think the titles of "Human Farm Cow Girls Orgy" and "Tokyo Manko Pussy Park" are self-explanatory as least of the concept, if not the logic!
There are even JAV porn films starring sex dolls and women dressed in kigurumi masks.
And all this stuff is actually fair mainstream compared to some of the more seemingly dangerous, extreme fetish, and legally dubious titles out there.
Now we want to introduce a brilliant and original subgenre of Japanese porn: The superhero heroine film.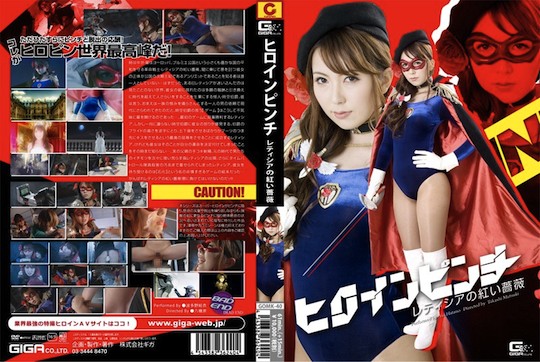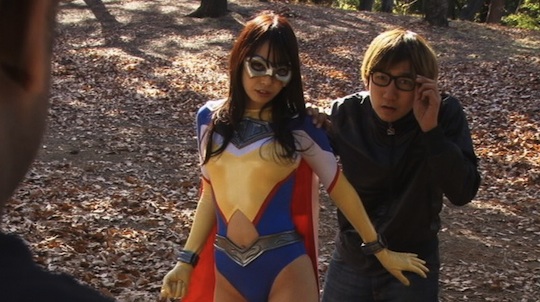 "Heroine Pinch Letizia Red Rose" stars Yuri Hatano while "Heroine Tobatsu 63″ stars Chika Arimura.
Both are very rare JAV films made by a small label and with limited availability.
Both feature the two heroines having to fight the forces of evil while dressed up in costumes resembling a kind of Japanese tokusatsu TV show like "Power Rangers". There are lots of special effects — okay, it's hardly state-of-the-art CGI — and outlandish settings.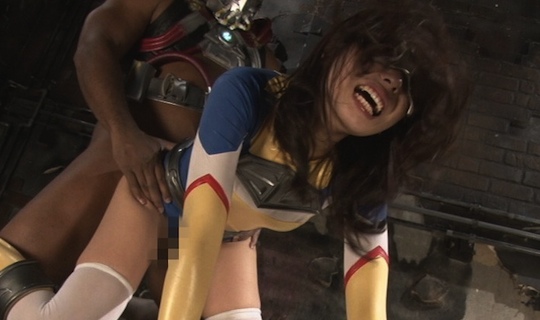 And of course there is sex, usually with our ass-kicking heroines being tortured and having to screw their way out of dire situations. After all, a gal's gotta use what talents and skills she has, right?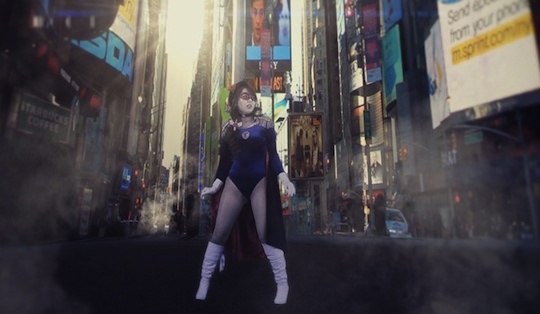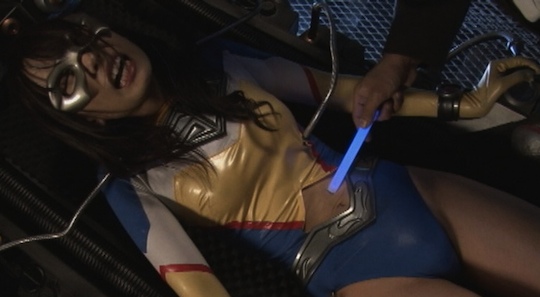 We guess the appeal is partly cosplay — the girl's are dressed up in tight, sexy costumes that have all sorts of appeal to our younger, happier selves. (After all, who doesn't have fond memories of the rubber-suited Cat Woman?) There is plenty of retro kitsch in the visuals but it's emotionally deeper than that, since these ladies are tough. They fight and beat up people, protecting weaker men. And yet they are still be seduced and defeated by men.

If you're lucky enough to get your hands on a copy of one, report back on your impressions. Meanwhile, we will keep our beady eyes on porn label Giga and see if they make more for our viewing pleasure.
Tags: Japanese pornography, JAV
Category: Product Releases
Other categories: Erotic Japan Blog, Hands-on Reports
Written by: Tadashi Anahori on September 13, 2014 at 3:15 am | In
Erotic Japan Blog
|
Discuss (4) »
It would surely be the most-wanted job for any man in Japan.
But incredible as it sounds, there is a shortage of male actors in Japanese porn (known as "JAV").
"There are only 70 or so male adult video actors," Japan's biggest male porn star Shimiken tweeted the other day. "That's less than the number of Bengal tigers." He said that the ones doing most of the work are even less — just 30.
We've always known that there was a relatively small number of men working professionally and full-time in the industry. But we didn't know the men themselves were worried.
Here is Shimiken and some pals.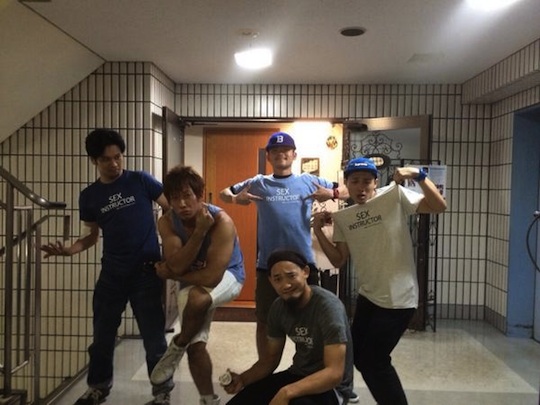 Shimiken should know — he's appeared in around 7,000 titles in 16 years, by Kotaku's calculations.
On the other side, there are (in Shimiken's estimate) 10,000 actresses.
Of course, the disproportionate numbers can partly be attributed to the concept of kikaku joyu, the nameless (and poorly-paid) actresses who appear in the more unusual JAV porn titles that call for dozens of anonymous women to be screwed by a series of men. Plus many actresses change their "name" multiple times in a career, leading to multiple "debuts".
That's why you sometimes here figures like "6,000″ women making their porn debut each year. Well, the industry releases hundreds of titles a month (sometimes you read about "thousands" but this just cannot be true, even for the largest per-capita porn industry in the world).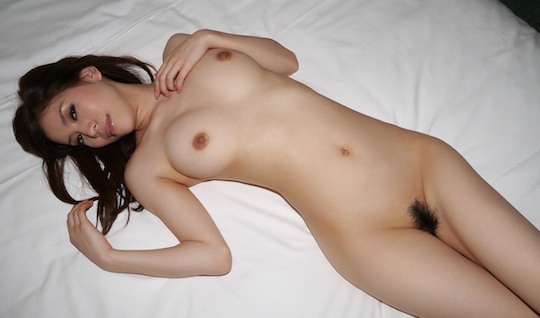 Something like 14 porn films are being made each day. That keeps the low numbers of men like Shimiken very busy. Being harried and stressed is not good in any job but certainly not when you really need to "perform" with your body, and make it look sensitive and interest, and not just your 152nd new girl you are fucking this month.
So, do we have any takers? Anyone want to help share Shimiken's workload for him?
For the record, Shimiken was right in his analogy. There are something like 1,700 Bengal tigers in India today.

Tags: Japanese pornography, JAV
Category: Erotic Japan Blog
Other categories: Hands-on Reports, Product Releases
Written by: Tadashi Anahori on September 12, 2014 at 11:31 am | In
Erotic Japan Blog
|
Discuss »
It can be hard to appeal to school kids, especially when you are trying to teach them a dry subject like mathematics.
So you can forgive someone when they resort to gimmicks to perk students' interest. In the case of one publisher in Thailand, they used a picture of a hot woman on the cover of a textbook.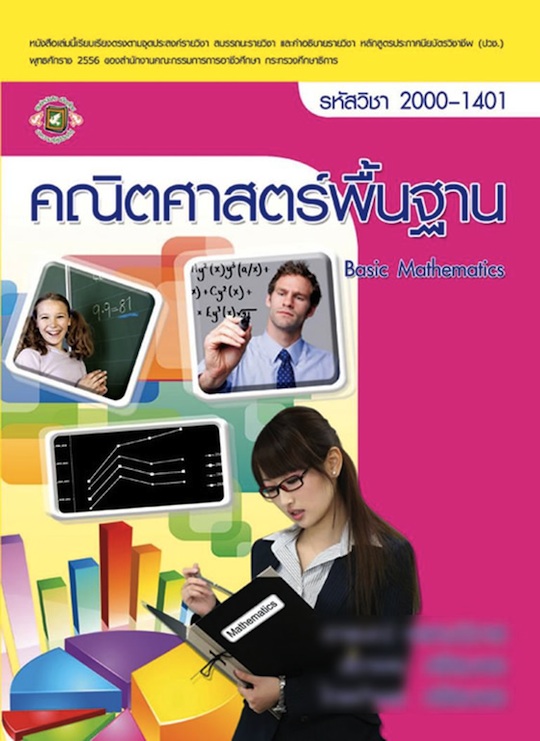 Okay, so not very subtle but it IS going to get the boys in the class interested.
There was only one problem.
Muang Thai Book sourced the image from the web — common in Thailand, apparently — and in fact it turned out to be a promo picture for a Japanese porn film.
Here is the original picture.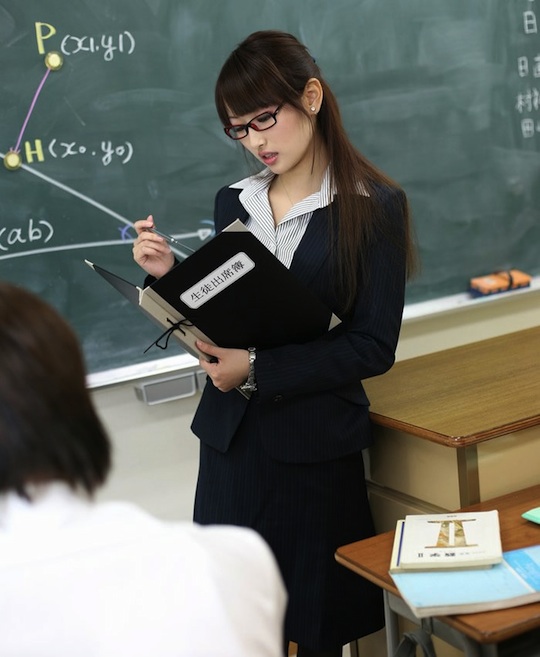 Sure, the image wasn't particularly revealing but perhaps a good-looking woman who can make math more exciting for young boys was too good to be true.
The sultry "teacher" was in fact JAV star Mana Aoki. The film in question is supposedly a title released by DMM's streaming services in April.
The publisher finally realized their error only after 3,000 copies had been printed. That'll teach them for relying on Google Image Search for their cover pictures!
The story broke on September 10th in Thailand and then over here in Japan yesterday and today. There are some differing accounts out there. It may be that the students were actually the ones who recognized Mana and gave the game away (we find that unlikely as Mana is not such a big star), though the consensus is that textbooks hadn't been distributed, alas.
Now being confronted with a Japanese porn star before getting stuck into some arithmetic — would that be off-putting or encouraging?!

Tags: Japanese pornography, JAV
Category: Erotic Japan Blog
Other categories: Hands-on Reports, Product Releases
Written by: Tadashi Anahori on September 11, 2014 at 12:53 am | In
Erotic Japan Blog
|
Discuss (2) »
Japan may well have the largest porn industry in the world and a vibrant sex toys market, but so far it has almost entirely been for the male consumer. Now porn for women is finally catching on in Japan.
Actually part of this is thanks to magazine Anan, which has run regular sex-themed special editions that have generated publicity and mainstream acceptance for fashion-minded women reading about sex. A recent August sex issue featured a freebie DVD from Soft on Demand's Silk Labo porn-for-women brand.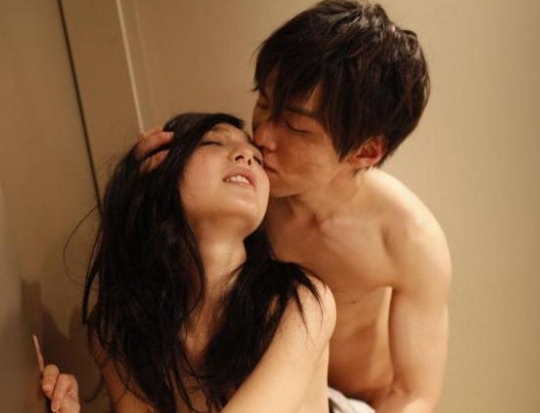 Soft on Demand has also placed women employees in senior positions and started a range of new sex toys and products aimed at the female market, including the Silky Body Soap. Tenga too (now a subsidiary of SOD) created the iroha. SOD's brand Silk Labo releases female porn titles, handled by female directors. There are three labels at the moment: Silk, Undress, Cocoon.
While there have been female sex toy brands in Japan for a while, it is very significant that a major name in an industry dominated by men has joined in the fray. Female porn and female sex toys are now totally mainstream. SOD also has a showroom in Akasaka for its Lovely Pop vibrators. We also saw a lot of female sex and masturbation aids at adult expo Pink Tokyo, mostly from importers, indicating that consumers and local brands want to learn from the designs already available overseas.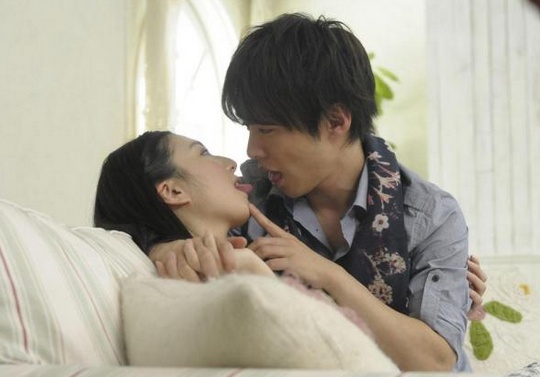 In female-friendly porn, the story leading up to the, ahem, business is important. Communication between the couple is highlighted, as is the way they meet. The male partner is also more sensitive during the sex itself.
What kind of men appear in the porn? It's not the hunky types but rather sweeter-looking men with slender figures.
And who are the viewers for this porn? Housewives in their thirties and forties — the same demographic who turned adultery site Ashley Madison into an immediate hit in Japan.
In the last two or sex years the publishing industry has seen erotic books for women do well, with Kadokawa's "Fleur" online erotic novel series going from strength to strength since 2013.
The small world of Japanese male porn performers has also acquired a following at last, with events where the man talk to fans proving popular. One such event in March in Shinjuku saw 140 female fans gather to list to four male performers talk. One fan said she had come all the way from Nagoya over 10 times!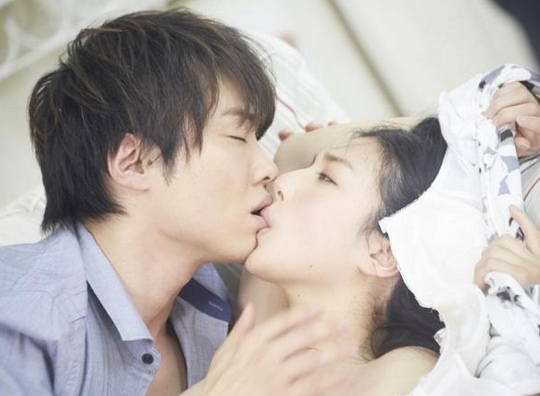 We can't get any solid info on sales for the porn but the fact that SOD et al are pushing on with their belated experiment shows things can't be going badly!
Beyond gender equality, though, what's the really good news about all this? Silk Labo is now recruiting "eromen".

Tags: Japanese pornography, JAV
Category: Erotic Japan Blog
Other categories: Hands-on Reports, Product Releases
Written by: Tadashi Anahori on August 27, 2014 at 1:05 am | In
Erotic Japan Blog
|
Discuss (1) »
There's been a lot of political tension over the last two years between Korea and Japan. Territorial disputes. Yasukuni Shrine. Comfort women.
But when all's said and done, there's one great unifier: sex.
Korea does not have a very vibrant porn industry and Korean men look to JAV to fill their needs.
"Yadong" means a porn video you watch online or on your computer. Whatever they think about certain rocks in the sea between Japan and the peninsula, almost all men in Korea love Japanese anime and Japanese porn.
Due to local restrictions you don't have the major porn makers in Korea like you get in Japan and so most porn is Japanese. "Yadong" by default means Japanese pornography.
What Koreans like about JAV is how there is such a variety of narratives and situations, and how it ventures frequently into the abnormal.
And of course, they love the JAV actresses too… One website lists the most popular JAV stars of 2013, taken from YGOSU, a Korean forum site.
The most popular were Shion Utsunomiya, Minami Kojima, Akiho Yoshizawa, Minami Hatsukawa and Ai Uehara.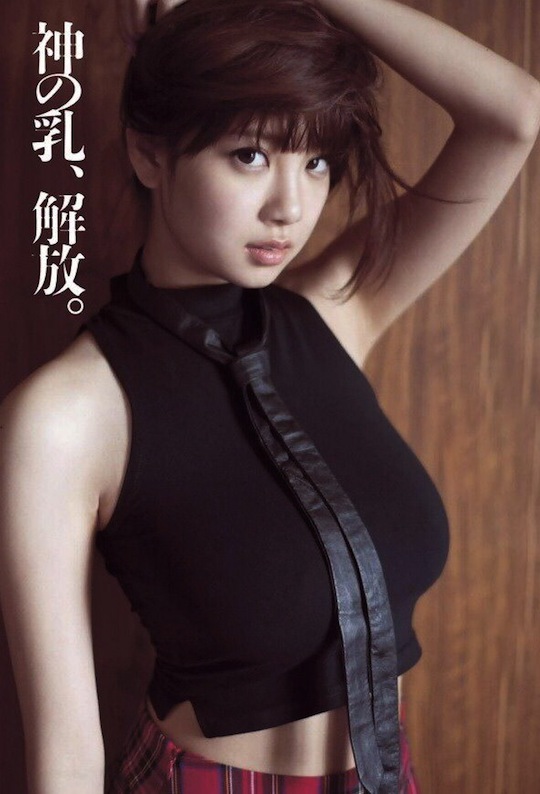 We wonder if it is a mere coincidence that there are two girls with the names "Minami" in the top ranking? "Minami" means "south", obviously an important word for Korea!

Tags: Japanese pornography, JAV, Korea
Category: Erotic Japan Blog
Other categories: Hands-on Reports, Product Releases
Written by: Tadashi Anahori on July 11, 2014 at 12:10 am | In
Product Releases
|
Discuss »
We know this is going to be a divisive release — and that's why we're blogging about it.
Over at KanojoToys they have a JAV porn DVD for sale called "Rina-chan Best".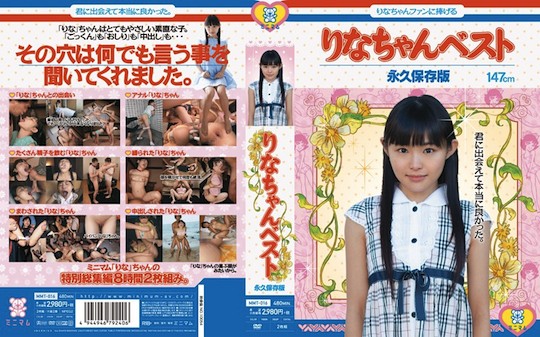 "Rina-chan Best" is a long 480-minute double-disk DVD porn set for the audiences who love eight-hour paipan schoolgirl fantasies. And that's quite a big audience in Japan, it seems.
Rina is a sweet little girl who measures a mere 147cm (4.8 ft) in height. Like small girls with flat chests? She's the one for you. (After all, there's no shortage of them in Japan.)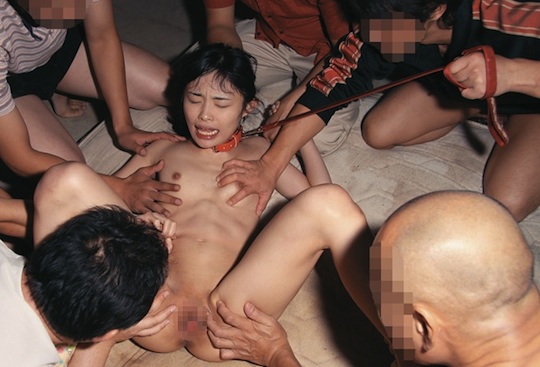 In the series of films in this set Rina is put to the test with many men, sometimes many men at once, as she is manipulated, seduced and controlled.
Of course, we should point out right away that the actress isn't really underage (otherwise it wouldn't be getting a mainstream release) and there's a lot of role-play and parody here (two hallmarks of Japanese porn), from the shojo manga-style cover to all the outlandish situations that Rina finds herself in.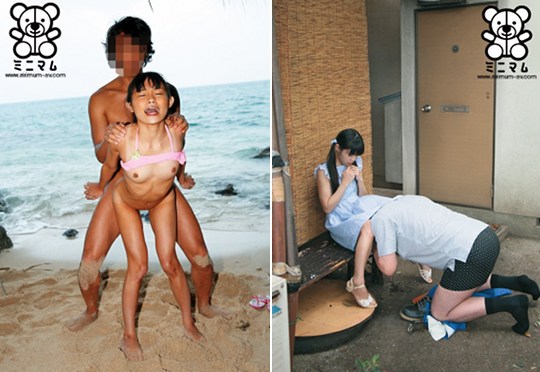 What is the appeal of this kind of film? Is it sadistic? Or a fantasy of being the lucky first guy to have his way with an innocent virgin? As with a lot of stuff in Japan, it's an ambiguous mix of many factors and defies a simple response.
While we'd be lying if we said that the sex in the film was the usual stuff that turns us off, it wasn't just curiosity that kept us watching either.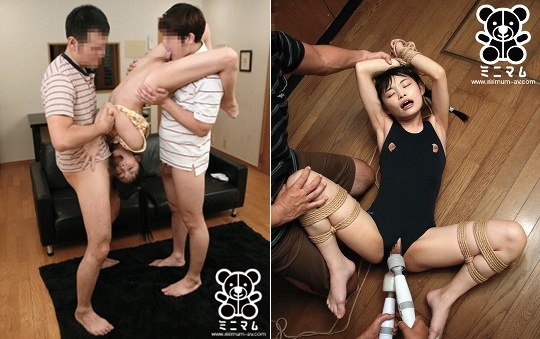 Though definitely not for everyone, even it's if not to your personal taste in porn "Rina-chan Best" is one of those (many!) JAV films you have to see… to believe!

Tags: Japanese pornography, JAV
Category: Product Releases
Other categories: Erotic Japan Blog, Hands-on Reports
Next Page »
Presented by Tokyo Kinky