Kinbaku Academy: Steve Osada's comprehensive online platform for studying shibari Japanese rope bondage
Kinbaku (shibari) rope bondage sensei Steve Osada, formerly known as the photographer Dr D Vice, is the inheritor of the Osada name and tying style (Osada-ryu) from Eikichi Osada.
The late master is one of the people responsible for making kinbaku known in the mainstream. He staged his first kinbaku performance at a ballet school in Asagaya, Tokyo, in 1965, which ushered the previously hidden world of rope bondage into the open. He subsequently moved his performance act to the strip show venue circuit in the late 1970s. In the 1980s, he did many shows with pink movie legend Hiromi Saotome, and continued to operate on both the strip show and BDSM show circuit. He also produced a film, Orgasm, in 1984. He eventually became a manager of strip theaters. His final years of doing live shows in the late 1990s were at a bondage bar in Shinjuku and a swinger's club in Roppongi. He passed away in 2001.
It's thanks to the legacy of Eikichi Osada that people like Hajime Kinoko can stage spectacular and provocative rope bondage displays on buildings in Harajuku (though the controversial response to that event earlier in the year demonstrates the still-divisive nature of kinbaku).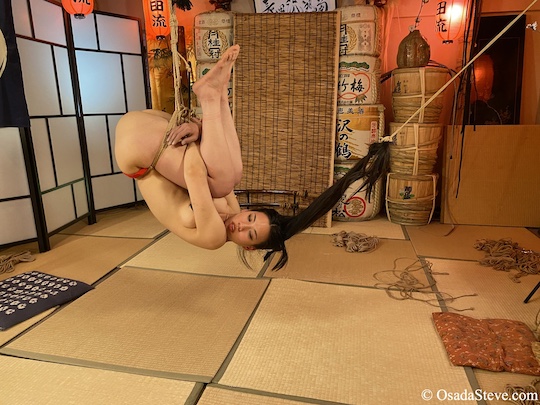 Perhaps for some, such outdoor kinbaku stunts are style over substance; intended to attract attention and go viral, but not much more than that. For the serious student and discerning devotee of Japanese rope bondage, Steve Osada has launched a comprehensive online platform for kinbaku/shibari study: the Kinbaku Academy.
It offers courses with over 500 lessons and more than 150 hours of videos to watch. The platform arrives at the right time. Covid has affected our lives so much and put a real restraint, no pun intended, on these kinds of intimate and group activities. For many, it still feels too early to attend kinbaku shows, which inevitably must be held at close quarters. The one positive corollary of the pandemic may be that it prompted practitioners to make more content and services available online, so now you don't have to go to Tokyo or invite him to your city to enjoy the expertise of Steve Osada.
Kinbaku Academy is apparently used by thousands of students worldwide. As a sign of how popular it is, Osada's latest online tying workshops — one held last month and one scheduled for later in September — sold out.
We are especially interested in the video marking 20 years since the passing of Eikichi Osada and looking back on two decades of changes in the Japanese art of kinbaku. It also features Ren Yagami and Hana Kano.