What happens when you use a Japanese massager vibrator with Pokemon Go?
What happens when you use a Japanese massager vibrator with Pokemon Go?
It's a simple question, yet an essential one. So essential someone had to find out.
The "massager" in question is the Daito Thrive Handy Massager, which is similar to the Hitachi Massager. As we know, this is the massager that started a revolution in Japanese adult toys and porn: it soon acquired a second usage as a vibrator and became a staple of adult video, leading to a slew of massager vibe imitators. Today, "massager" is practically a euphemism for "vibrator".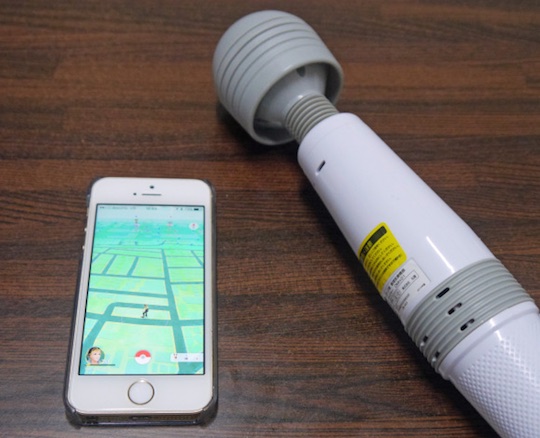 According to the makers on Rocket News 24, they were looking for ways to hatch their Pokemon Go eggs without actually walking around.
Before giving our phone a relaxing massage, we had two Pokémon eggs on our incubator. Both had a hatching threshold of five kilometers (3.1 miles), with one at 4.4 kilometers and the other at 3.9 kilometers of progress.

As the massager did its thing, our on-screen Pokémon Trainer meandered his way around the game map, despite the fact that we hadn't moved an inch in the real world. After 10 minutes, we once again checked our incubator, and found out that we were now 400 meters closer to hatching our eggs!
A few minutes later and the egg hatched.
However, arguably, it's a lot of electricity and effort to achieve something you could do simply by walking around — plus there's the potential for damage to your phone, too.
Still, we love the idea of introducing massagers into the world of Pokemon Go. We wonder what you can do with other sex toys?