Written by: Tadashi Anahori on November 24, 2009 at 5:21 am | In
Erotic Japan Blog
|
Discuss »
Twitter's a funny little thing. While it's been hyped up as the Next Greatest Best Thing Ever for sharing information, it's also been roundly ridiculed for primarily being a way for people to tell the world what they just had for lunch, or that they lost their car keys. Or something like that. Is the world really interested in the day-to-day happenings in the life of…well…everyone?
Well, they should be now. We just blogged about the amazing new Bukkake Generator that makes painting your favorite face as easy as fapping to it. Easier even. In fact, with the new Twitter-app Onatter.jp you can not only tell the world when you start and stop, but keep track of the time for your records. All you need is a Twitter account and you can jump right in!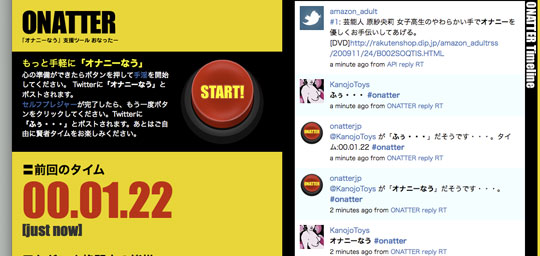 Every time you start to spank your monkey, you simply push the start button and instantly tweet "onani-nau" (オナニーなう) (="I'm about to jerk off"). When you're done, hit the button again and tell the world "fuuuuu" (ふぅ・・・) (="phew"). It records your exact time, allowing you to brag about your speed or your staying power, whichever is more important in the Twitterverse.
On the website and their Twitter feed you can see all the glorious announcements of success! Of course, with the next version we'd like to see an integration with your PC to show everyone what you're fapping to, and then a link to the onahole you're doing it with!
Tags: twitter
Category: Erotic Japan Blog
Other categories: Hands-on Reports, Product Releases
No Comments yet »
RSS feed for comments on this post. TrackBack URI
Leave a comment
Presented by Tokyo Kinky