Written by: Taro on May 28, 2009 at 8:32 am | In
Product Releases
|
Discuss »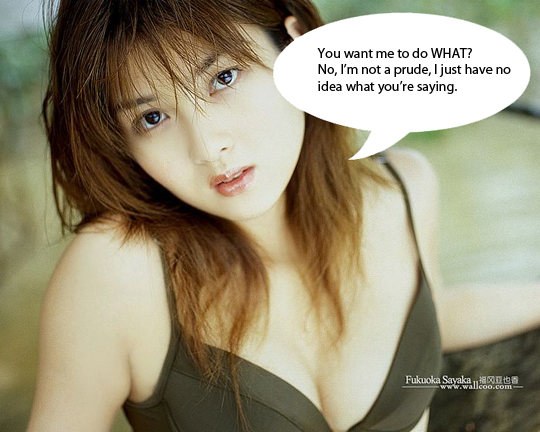 Want to try something new with your favorite J-girl, but can't exactly put your dirty fantasies into words she'll understand? This new paperback by Nate Jensen covers all the naughty vocabulary your standard English-Japanese dictionary misses. You can find "The Japanese-English Guide to Sex, Kink, and Naughtiness" at Amazon, but select entries are also published online at Pink Nihon:
ō eru (オーエル)
An office secretary. Not a sexual term by nature, but used so frequently in mens' enter-
tainment, that the term is worth noting. Office Lady = OL. The OL in Japan is much sought after commodity by countless businessmen and professionals throughout Japan. While the OL may be well-composed and well-mannered during the working day, the wild side comes out in the evenings and on the weekends.

kōnaihassha (口内発射)
(To) come inside a person's mouth. The term kōnai hassha is a good example of a Japanese compound word with a concise meaning that expresses an idea that takes a longer English phrase to represent.

maguro (マグロ)
Literally "tuna fish". A female that does not move very much during sex.
And a sample from the book: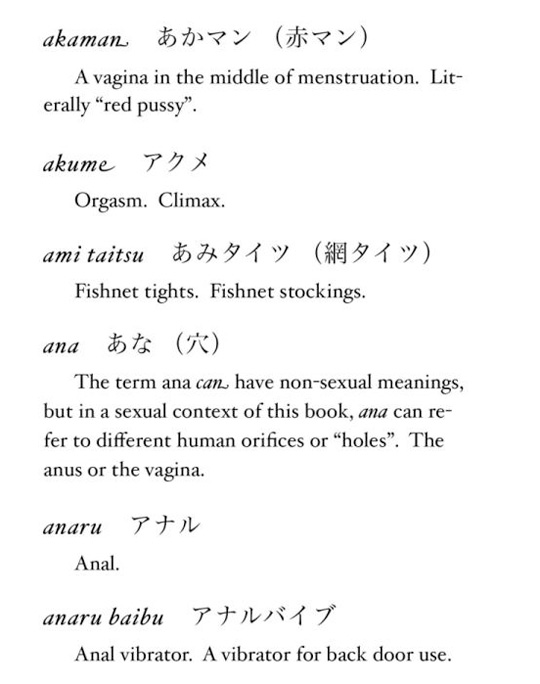 Whether you're looking for seifuku (schoolgirl costume), anaru biizu (anal beads), or a vaibu (vibrator), you can find them all (and more) at the KanojoToys Online Shop.


Category: Product Releases
Other categories: Erotic Japan Blog, Hands-on Reports
No Comments yet »
RSS feed for comments on this post. TrackBack URI
Leave a comment
Presented by Tokyo Kinky