Written by: Megumi on June 14, 2008 at 3:22 am | In
Product Releases
|
Discuss (2) »
Hi again….this is Megumi. It's been a long time since I've written a blog post, I'm sorry. However, we've had some new things that caught my interest, and Taro asked me to write about them…
Japanese bondage maker Tennosuke has a nice reputation for making quality leather goods for Tokyo's S&M scene. Below are several of their items, ranging from the mild (ankle cuffs) to the wild (whips!) to the extreme (cock restraints?!). I'm picking my favorites now
For those who like lingerie, but not necessarily the "cute" variety, Tennosuke's Free Bondage Bodysuit allows for tightening all over but still free movement. Actually looks pretty comfortable^^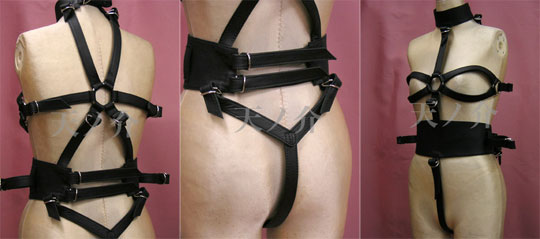 The classic whip. Nice handle, long leather strips, and enough power behind it to make your partner submit…or face the whip^^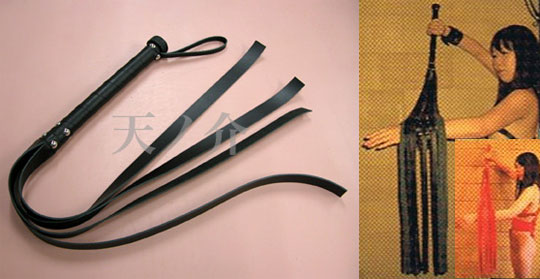 Hmm…maybe I need a mask like this so my favorite guy doesn't know who it is using the whip on his ass! That's not me in the picture…yet.
These ankle restraints are pretty nice, but there's definitely no getting out of them without a little help, especially if you're getting the whip!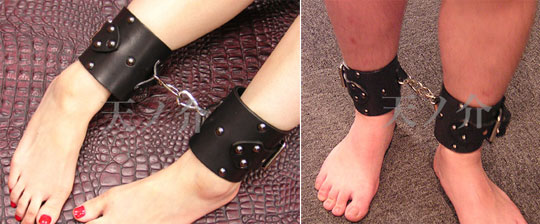 The collar goes perfectly with the ankle cuffs, but doesn't come with a leash. No problem….the pet store is just down the street.

Wow. I think that any guy who would wear this leather dick harness for me would be the ideal man. After all, his dedication is obvious, no? Of course, he'll have to take it off before he gets his reward

Hmm…that's it for now. Back to work for me!
*kisses* Megumi

Tags: costume, japanese bondage, japanese cosplay, lingerie
Category: Product Releases
Other categories: Erotic Japan Blog, Hands-on Reports
2 Comments »
RSS feed for comments on this post. TrackBack URI
[...] has written before about the leather toys this great studio produces. They have cock collars, ankle cuffs, bondage [...]

Pingback by Tokyo Kinky » New toys from Tokyo bondage studio Tennosuke — June 15, 2010 #

[...] always tell me I'm hot but that doesn't mean I don't appreciate a good hood. Tennosuke is a Tokyo leather studio that has a HUGE range of hand-made BDSM [...]

Pingback by Tokyo Kinky » Bondage leather hoods from Tennosuke — July 30, 2010 #
Leave a comment
Presented by Tokyo Kinky