Written by: Taro on March 17, 2007 at 6:25 am | In
Product Releases
|
Discuss (4) »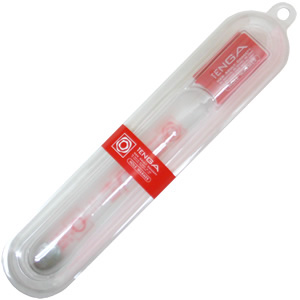 Tenga, the brand that brought us a huge line of masturbation toys (also called onacups) that can simulate nearly any act or (blush) orifice, has come up with a very handy tool to couple with their stylish designer "cups". The Tenga Hole Warmer is a microwavable and REUSABLE insert that warms the toys to the perfect temperature for realistic body warmth.
The hole warmer is small, reusable, and easy to use: Real women can't warm up this easily!
How to use:
* Simply push the metal plate. It warms by itself and can then be inserted into the Tenga.
* To revive the hold warmer for another use, wrap it in cloth and boil for 3-4 minutes. After it cools you can use it again.
OR
* You can revive it in a microwave! Just remember to stop heating when it expands.
* In a 500w microwave, heat for 20 seconds, take it out and massage it, and
microwave again for 20 seconds.
* In a 600w microwave, heat for 10 seconds, massage, and repeat two more times.
After the hole warmer cools it's ready to use again!
**Click to buy the Tenga Onacup Hole Warmer online at Kanojo Toys**

Tags: Onacups, tenga, Tenga Onacups
Category: Product Releases
Other categories: Erotic Japan Blog, Hands-on Reports
4 Comments »
RSS feed for comments on this post. TrackBack URI
Leave a comment
Presented by Tokyo Kinky