Written by: Taro on May 5, 2010 at 2:06 am | In
Hands-on Reports
|
Discuss (2) »
We got our hands on a Tenga Flip-Lite from the folks at KanojoToys.
Watching their demo video wasn't enough. We had to try it out ourselves!
I'm a guy who likes my masturbators gentle and stimulating, so I went for the Melty White first. Its large central air pocket is complemented by the large bumps on the top just as you enter, stroking you on the head and sides…
The Solid Black is a bit more of a total experience — more nubs in all shapes and sizes working their way on you from different angles.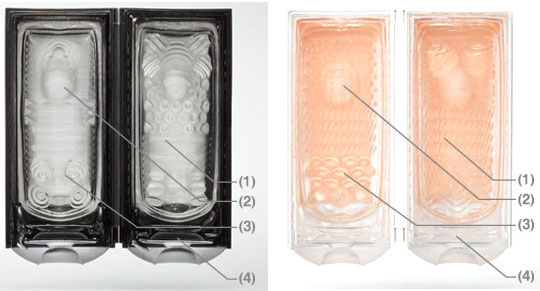 The FlipLite is a compact little thing and you might find it a bit tight. Just remember to press the air release button and then you'll be sliding in nice and snug!
Though it rinses off just by opening it up and washing it with water, there was no way I was going to share this baby with Tadashi. This is not a matter of hygiene, just one of pride! He can get his own!
Tags: tenga, Tenga Flip Lite, Tenga FlipLite
Category: Hands-on Reports
Other categories: Erotic Japan Blog, Product Releases
2 Comments »
RSS feed for comments on this post. TrackBack URI
[...] This post was mentioned on Twitter by Taro Nakadashi. Taro Nakadashi said: Tenga FlipLite Hands-On Report http://bit.ly/bXaXcf [...]

Pingback by Tweets that mention Tokyo Kinky » Tenga FlipLite Hands-On Report -- Topsy.com — May 5, 2010 #

I have one and it´s very very difficult introduce my penis. I have a normal size (between 14.5 and 15 centimeters). I want to know if this product are sold only for oriental market (I don´t know if the japaneses have less size of their penises). I´m from Mexico city.Thanks!

Comment by Dave — May 22, 2010 #
Leave a comment
Presented by Tokyo Kinky