Written by: Tadashi Anahori on September 7, 2011 at 11:50 pm | In
Product Releases
|
Discuss »
Tenga, the best adult toy goods maker in the world bar none, has done it again. After trying their hand at the James Cameron-esque 3D Tenga, they've now gone back to one of their early hits, the simple but very effective Tenga Eggs.
These stretchy silicone eggs can be pulled right over your cock and allow you to pleasure yourself with the delicate and stimulating designs on the inside, while still letting you feel your hand through the material.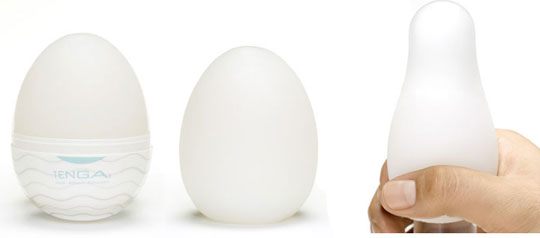 The first two sets were huge hits back in the day and since then Tenga went supernova with its Flip Hole series. Now it has gone back to the Eggs to lay a "third season" batch of these discreet masturbators.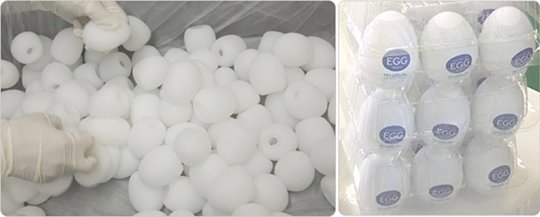 And we really like the way they went about it. In a display of genuine fraternity with their male customers, they crowd-sourced the new eggs! They offered several different designs — each egg's inside is unique — in an online "election" and asked people to choose the ones they most wanted Tenga to make. The top three results became the new eggs. Now, that's what I call politics that connects with the people!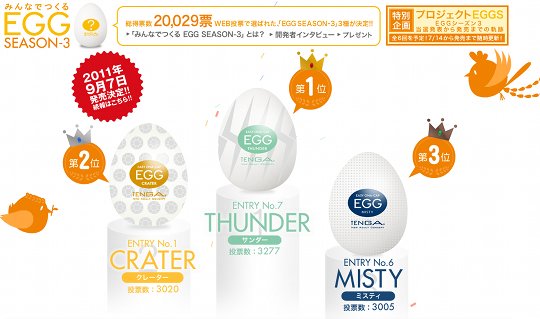 The trilogy of newbies are Thunder, Crater and Misty, and boy do they live up to their names. Each has its own stimulating curves and contours inside to get you off in no time. Sadly, candidates who do not get enough votes include the intriguingly named Spicy, Breaker, Bricker, Zebra and Blaster…Fingers crossed there is another election.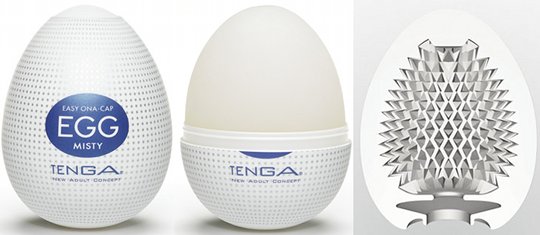 Tags: tenga, Tenga Egg
Category: Product Releases
Other categories: Erotic Japan Blog, Hands-on Reports
No Comments yet »
RSS feed for comments on this post. TrackBack URI
Leave a comment
Presented by Tokyo Kinky