Written by: Tadashi Anahori on August 15, 2011 at 3:44 am | In
Erotic Japan Blog
|
Discuss (3) »
Man, I can't BELIEVE I missed this!
To promote the global release of the Tenga 3D, the new designer masturbator, Tenga held a special exhibition — Tenga 3D Museum of Art — in Harajuku, central Tokyo, to celebrate the art of the world's most stylish adult toy.
It included photos and exhibits from photographer Nobuyoshi Araki, film director Hiroyuki Kado, designer Keisuke Takahashi, and artist Noboru Tsubaki. The works featured suitably stylishly erotic images of dancers like Kim Ito, all holding one (or more!) of the five varieties of the new Tenga 3D.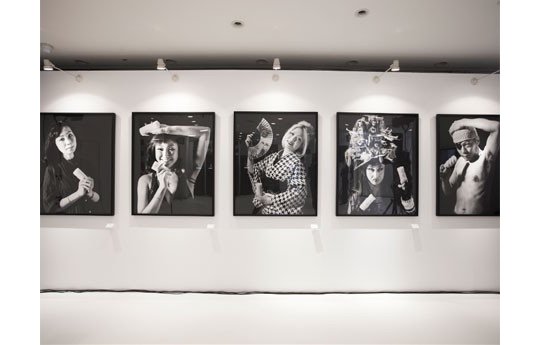 Unfortunately it ran for two days only! I reckon this shows what an enlightened place Japan is — that a sex toy can be taken as seriously as art, can hustle up the collaboration of major photographers and artists, and hold a big exhibition to promote itself. Any western country would see massive protests outside immediately!
Still, if like me you couldn't make it to the show, you can always check out the real thing instead, now available for discerning men across the world!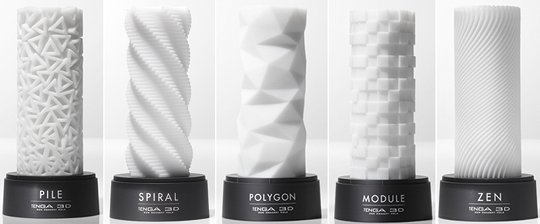 Here's a neat video showing how this new reversible Tenga works…

Tags: tenga
Category: Erotic Japan Blog
Other categories: Hands-on Reports, Product Releases
3 Comments »
RSS feed for comments on this post. TrackBack URI
[...] photography exhibitions to design projects, they dabble their hand in just about anything, whether it has a direct [...]

Pingback by Tokyo Kinky – Sex and Erotic in Japan » Tenga Music Event at Womb, Tokyo! — May 9, 2012 #

[...] art exhibitions, music events at Womb and dozens of eggs, 3D toys and incredible-looking masturbators, Tenga has [...]

Pingback by Tokyo Kinky – Sex and Erotic in Japan » Tenga Hero: Tenga creates manga — October 19, 2012 #

[...] only obsessed with money alone. It is interested in innovation, which is why it also holds art exhibitions and music events — and also launched this special Respect Yourself range for World AIDS Day [...]

Pingback by Tokyo Kinky – Sex and Erotic in Japan » Masturbate with Tenga for charity to fight AIDS — December 13, 2012 #
Leave a comment
Presented by Tokyo Kinky