Written by: Taro on June 8, 2010 at 2:29 am | In
Hands-on Reports
|
Discuss (4) »
We all like a good read, right? Forget all those naysayers who bang on about falling literacy levels and the quality of publications today. I read every day — and almost all of it is porn or porn-related!
Fortunately I am blessed enough to live in Japan, where there is a lot of porn. Gawd, we've got porn manga, porn in newspapers, magazines…and we've even got girly mags that give away used panties!
One of the most famous and popular of these is called, not unsurprisingly, The Best.
Every issue is filled with juicy pics of lovely ladies scantily clad in lingerie, bikinis…or less. And you can also get your very own set of panties with your copy!
Of course the type of panties varies but there's one included with every issue. This isn't some pervert, obscure mag either! It's sold in normal stores all over the country. That's the kind of enlightened place I like living in!
You can get your own copy of the latest issue of The Best Used Panties Magazine from KanojoToys.
And if a magazine alone isn't enough to satisfy your needs, we recommend you try entering an auction to get a porn star's pair of panties!

Tags: Used panties, Used underwear
Category: Hands-on Reports
Other categories: Erotic Japan Blog, Product Releases
Written by: Tadashi Anahori on April 12, 2010 at 3:42 am | In
Erotic Japan Blog
|
Discuss (1) »
Wow, it seems that recently everyone's talking about used undies!
Back in 2006, Japan Probe pointed out a shop in Akiba selling used panties. In 2007 Danny Choo was on the case of a shelf of school girl underwear up for the taking.
Yawn, not exactly new, right? We all know the Japanese penchant for possessing — and doing things with — underwear that's been worn by school girls or sexy models.
Well, you may have read Tokyo Reporter's blog about JAV stars' panties up for sale online. The site, SEXUS, runs auctions for the used underwear of top models like Saori Hara and Yukiko Suo (pictured).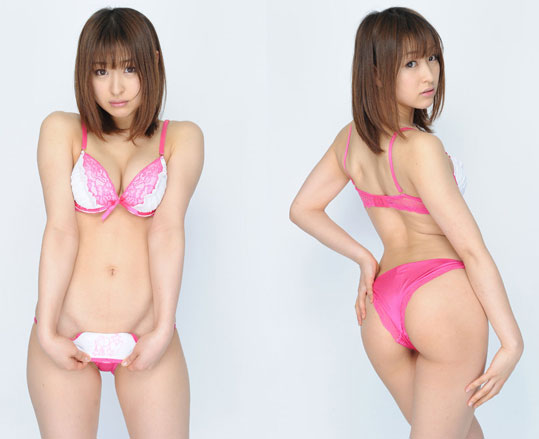 Apparently the site has membership of 18,000 and rising. It even sells items like necklaces, used drink bottles and old chopsticks collected from the actresses.
People are willing to pay a lot it seems. When we checked, bids on several items of lingerie were going for over 100,000 JPY ($1000)!
For those of you who don't want to fork out that much cash, we recommend the Used Undies from Kanojo Toys. The discreet online store stocks stimulation used panties from three Tokyo girls, including a housewife, a university student and a young convenience store worker.
Scented, seductive and sexy — these pairs of used underwear will do the business for you without setting you back $1000!

Tags: Used panties, Used underwear
Category: Erotic Japan Blog
Other categories: Hands-on Reports, Product Releases
Presented by Tokyo Kinky