Written by: Taro on May 5, 2010 at 2:06 am | In
Hands-on Reports
|
Discuss (2) »
We got our hands on a Tenga Flip-Lite from the folks at KanojoToys.
Watching their demo video wasn't enough. We had to try it out ourselves!
I'm a guy who likes my masturbators gentle and stimulating, so I went for the Melty White first. Its large central air pocket is complemented by the large bumps on the top just as you enter, stroking you on the head and sides…
The Solid Black is a bit more of a total experience — more nubs in all shapes and sizes working their way on you from different angles.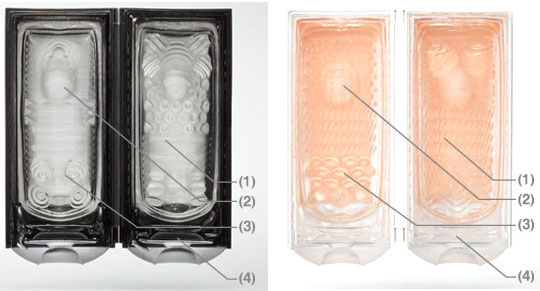 The FlipLite is a compact little thing and you might find it a bit tight. Just remember to press the air release button and then you'll be sliding in nice and snug!
Though it rinses off just by opening it up and washing it with water, there was no way I was going to share this baby with Tadashi. This is not a matter of hygiene, just one of pride! He can get his own!
Tags: tenga, Tenga Flip Lite, Tenga FlipLite
Category: Hands-on Reports
Other categories: Erotic Japan Blog, Product Releases
Written by: Taro on April 27, 2010 at 4:12 am | In
Hands-on Reports
|
Discuss (1) »
We've found the first online demo video for the new Tenga FlipLite. Those folks at KanojoToys.com were quick to get their hands on the latest masturbation masterpiece from Tenga — and they kindly put up this detailed demo video for our enjoyment!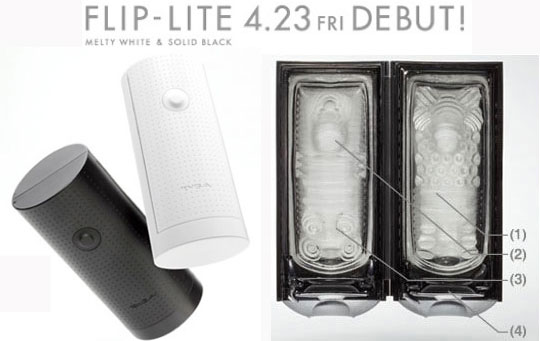 I love the test they made with the Princess Kaleidoscope, a "clear dildo magnifier". It lets you see right inside whatever is getting some action!
I popped over to their office and they had a batch of the FlipLites ready to be sent out. You can get yours by going to their online store and ordering one straight to your door.
Tags: tenga, Tenga Flip Lite, Tenga FlipLite
Category: Hands-on Reports
Other categories: Erotic Japan Blog, Product Releases
Written by: Tadashi Anahori on April 26, 2010 at 3:16 am | In
Product Releases
|
Discuss (2) »
We spotted this when it was announced a few weeks ago — and now comes the great news that it is finally available for the hungry consumer.
The Tenga FlipLite is the follow-up to the now legendary Flip Hole, a light-weight, easy-to-use masturbator for the discerning male.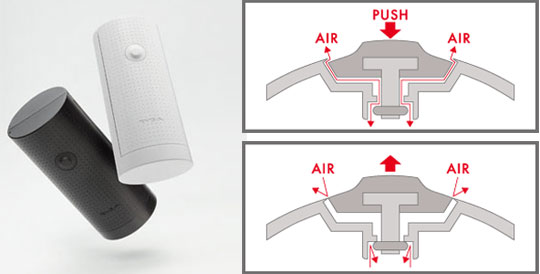 At the heart of the Flip Lite's design is its "flip"-off cap — just add the gel, close it up and you are ready to getting going. Notice the button on the outside: that's the devilish air release switch which will add vacuum oomph to your pleasure!
The compact Flip Lite comes in two stunning versions, each one designed with unique features and molding.
The Melty White is for the man who likes it soft and gentle. Inside you will encounter a large air pocket, with delicately stroking nubs in the middle and large bumps just beyond the entrance to warm you up.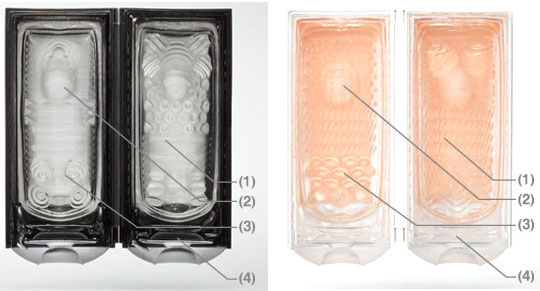 The Solid Black is a tougher, harder experience, complete with four "wall" constructions in the middle and four swirls at the front. Finally, it ends in a large ball mold that will pump you to the max.
You can get the Flip Lite from Kanojo Toys NOW!
We promise to have a full review soon!

Tags: masturbator, tenga, Tenga Flip Lite, Tenga FlipLite
Category: Product Releases
Other categories: Erotic Japan Blog, Hands-on Reports
Presented by Tokyo Kinky