Written by: Tadashi Anahori on November 6, 2014 at 12:03 am | In
Erotic Japan Blog
|
Discuss »
The Japan Times has run an interesting story about "JK Industry" sex workers.
It focuses around two teenagers who are schoolgirls working in Akihabara in services ambiguously close to being full-on prostitution but often allowed by the letter of the law.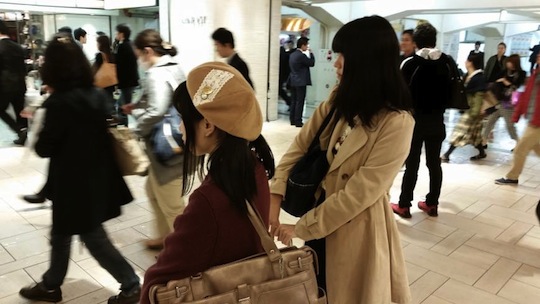 Seventeen-year-old Momo knows that her customers are keen on doing more with her than the official things she offers.
Momo is among the schoolgirls whom experts warn are prone to gravitate toward the notorious "JK" business — JK being short for "joshi kosei" (high school girls) — rampant in Akihabara and other parts of central Tokyo.

Even though police have cracked down in recent years, experts say the shady part-time job industry featuring high school girls remains a hotbed of teen exploitation and sex trafficking. And the traffickers, ever wary of law enforcement, appear to be changing their tactics to stay one step ahead of the police.

The JK business has variants, including JK "rifure" (reflexology), where the girls give massages and lie next to their clients, and JK "osanpo" (tour guide), where the girls stroll with customers as if on a date.

But be it massaging or sauntering, the men often exploit their privacy with the girls to pressure them for sex or outright assault them, experts say.
Japan has come up to international criticism from America for what is categorized as child prostitution elsewhere. Looking ahead to the 2020 Olympics, Tokyo is trying to act at least to hide what it fears may offend some visitors.
In January 2013, Tokyo police raided 17 JK rifure parlors in pursuit of alleged violations of the labor standards law.

The following April, they began to take girls who work at such establishments into custody to persuade them to quit the industry.

Last December, police started rounding up girls who engaged in osanpo.

In response to the heightened police surveillance, traffickers who hire the girls have changed tactics to make their business look more innocuous.

Instead of asking male passers-by if they want a massage or to take a stroll, many girls distributing fliers now say their job is simply to "chat" with the men, or, bizarre as it may sound, "tell their fortune" in a cafe-like setting.
Of course, this is a ruse for guys to meet girls who they meet again for more intimate encounters. As the regulations get stricter, so the way for people to meet becomes more disguised.
In the latest development, two men were reportedly arrested in October for running what they touted as a JK "komyu" (communications) parlor in Tokyo's Takadanobaba district. Despite its name, it invited customers to help the girls change into bathing suits and then sniff them.
"Unlike professional hostesses in the adult entertainment business, these girls are still naive in a way that they, for example, recoil in fear when guys try to touch them," said one campaigner. "The men apparently find this kind of naive reaction a turn-on."
The girls often come from vulnerable backgrounds and suffer from depression.
15-year-old Kaori is similar to Momo. Her parents divorced when she was young and she lived with her father, though he was rarely home. She started her career in the JK business in order to gain attention.
"The traffickers run their businesses in a way that keeps them just within the law. So it's hard to bust them," said the police.

Tags: Enjo kosai, Prostitution, Schoolgirls
Category: Erotic Japan Blog
Other categories: Hands-on Reports, Product Releases
Written by: Tadashi Anahori on September 16, 2014 at 12:56 am | In
Erotic Japan Blog
|
Discuss »
A civilian group has been formed for dealing with the problem of stalking among sex workers.
Following several high-profile murders, the issue of stalking by men in Japan has been big news recently.
The creation of SWASH in Osaka would be important in that respect alone but it's actually aimed at helping protect the working environments of sex workers, which is very rare. Although prostitution per se is not illegal in Japan — only profiting from prostitution — it is nonetheless almost unheard of for sex workers to be acknowledged in this way.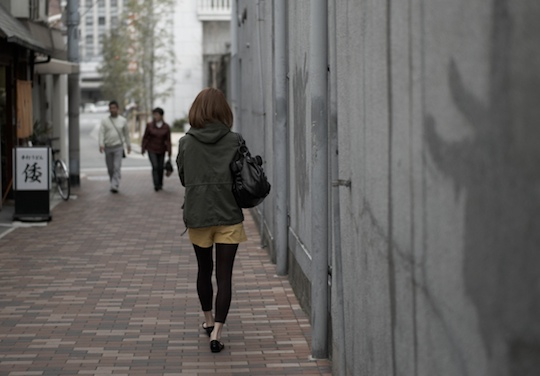 However, prostitutes working in Japan's fuzuoku (sex clubs, everything from a handjob or blow job parlor to a soapland or full-out brothel) are at risk of attracting stalkers and yet it is also much harder for them to press charges due to their profession. (It is rare to see prostitutes soliciting on the streets, though. Typically those that you can see, such as in Dogenzaka in Shibuya, are Chinese.)
According to the police, other people at risk include doctors and celebrities. Of the latter, Mitsu Dan and Nanao have suffered from stalker fans recently. There has been a increase of stalking cases of 53% since 2012, a jump of 1,103 cases. However, the actual number is likely much higher since sex workers will often not report stalking to the authorities.
Police say there were some 21,000 cases of "damage" caused by stalkers and some 49,000 cases of domestic violence in 2013. Both are new records for Japan. These issues are not going away.
Over half of stalking cases are said to involve a former lover or partner, over 10% a friend or acquaintance, and 9% a colleague or someone from your workplace.

Tags: Prostitution, Stalker
Category: Erotic Japan Blog
Other categories: Hands-on Reports, Product Releases
Written by: Tadashi Anahori on July 17, 2014 at 12:05 am | In
Erotic Japan Blog
|
Discuss (1) »
It's probably uncontroversial to say that Japan is a culture in which more men use professional sex services than in many other countries. Japanese men have few qualms about using call girls and prostitutes. Japan is also a country with a vast porn industry.
All in all, this creates men less embarrassed by their liking for porn stars or pictures of naked, or semi-naked, women.
Some men even customize their own loafers so they can have such images on their feet!
Take this anonymous netizen who has apparently created these shoes. Can you tell what the pictures are?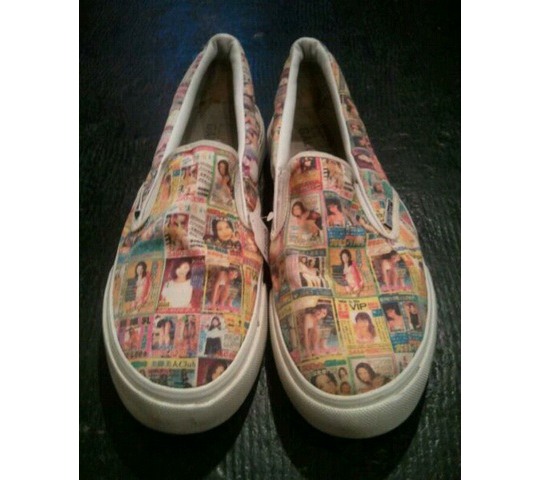 They are supposed to be based on actual call girl flyers, you know the kind that occasionally arrive in your mail box in your condo.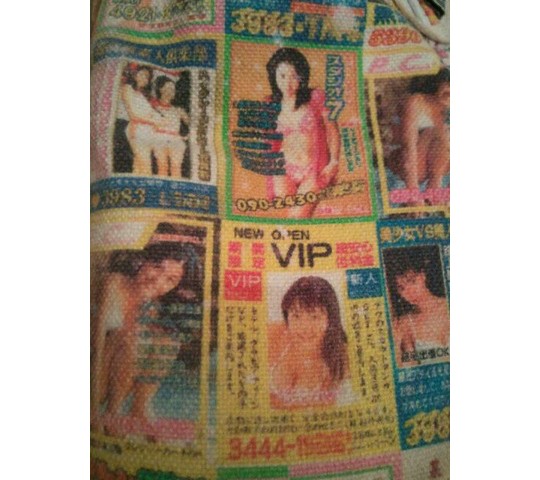 Beat that, Jimmy Choo!
Most of the flyers look a bit retro now so we expect the source material isn't so recent, but we're still very curious to find out who did it, how, and whether they have actually worn these around town!

Tags: Prostitution
Category: Erotic Japan Blog
Other categories: Hands-on Reports, Product Releases
Written by: Tadashi Anahori on May 21, 2014 at 12:50 am | In
Erotic Japan Blog
|
Discuss »
We all have fantasies about the sexy nurse who knows how to tuck you in.
Well, at least one nurse in Osaka really did have the know-how, cultivated through experienced at her second job.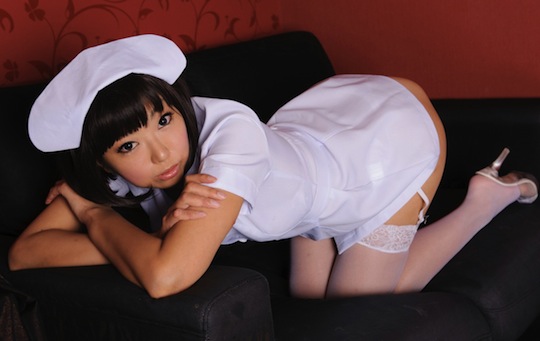 Tokyo Reporter has picked up a nice story from the media about the Osaka Medical Center and Research Institute for Maternal and Child Health, which has suspended a 24-year-old nurse from work because the young nurse was also employed at an Osaka "fashion health" (a type of sex club) from August 2013 to April this year.
The nurse was accused of violating internal regulations regarding side employment.

The matter came to light in early April, when the center received an anonymous tip regarding the women's side work.
So the issue is more one of moonlighting, not so much the ethical (or medical) one of what the nurse was doing at the Kita Ward club. Since it was only a fashion health, the nurse was probably only giving oral sex to patrons rather than full sex.
She apparently earned 1.6 million yen through administering the occasional handjob or blow job.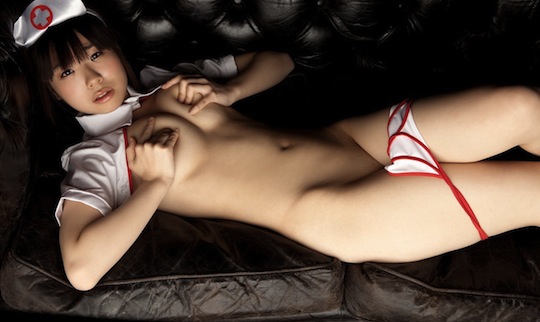 She has only received a one-month suspension, though, no doubt because the senior doctors want to sample her extra skills in the near future!

Tags: Nurse, Prostitution
Category: Erotic Japan Blog
Other categories: Hands-on Reports, Product Releases
Written by: Tadashi Anahori on May 2, 2014 at 12:08 am | In
Erotic Japan Blog
|
Discuss »
Good old Ikebukuro. That big hub of sleaze. The last gateway of Tokyo before the descent into the burbs of Saitama et al has more than its fair share of sex clubs and Chinese hookers prowling the streets.
And now comes news that three years ago a 24-year-old man had sex with a 14-year-old junior high school girl in a love hotel in Ikebukuro. Japanese schoolgirls in trysts with older guys in Ikebukuro… Why does this not surprise?
But it gets better.
The unemployed Shun Ikeda has been arrested recently not only for committing indecent acts with a minor in the summer of 2011 but also for selling pictures of his exploits online.
News reports are saying he was even quite prolific, having sex with at least 10 girls and photographing 35 girls naked. These were discovered by Osaka's cops, which led to the end of Ikeda's career as a pornographer and deflowerer of teenaged girls.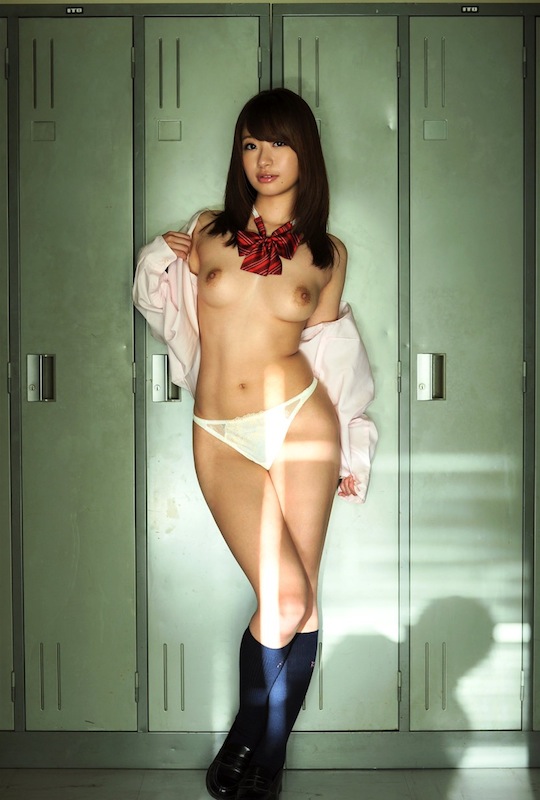 Of course, he used the normal deai-kei websites (a type of dating site) as the way to meet his victims and we can assume that money changed hands at some point.
Apparently he had quite a fetish for schoolgirls and his home in Setagaya Ward in Tokyo had school uniforms and maid cosplay outfits, says Tokyo Reporter.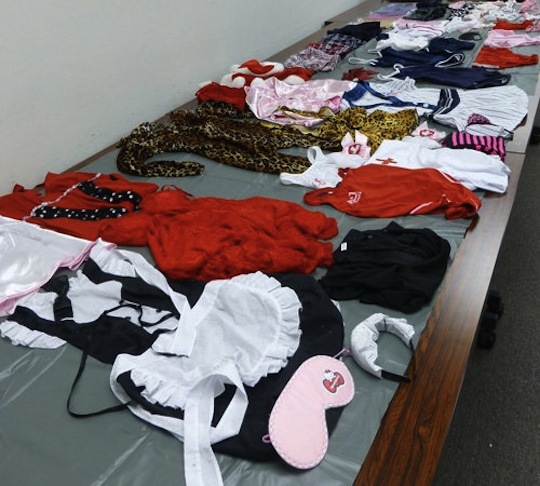 Quite a hoard!

Tags: Prostitution, Schoolgirls
Category: Erotic Japan Blog
Other categories: Hands-on Reports, Product Releases
Written by: Tadashi Anahori on April 2, 2014 at 10:41 am | In
Erotic Japan Blog
|
Discuss »
Line is one of the most popular apps at the moment, especially in Asia. But it's not just for using cute characters to communicate. It's also for prostitution.
That is, if you are a 39-year-old guy looking for underage girls.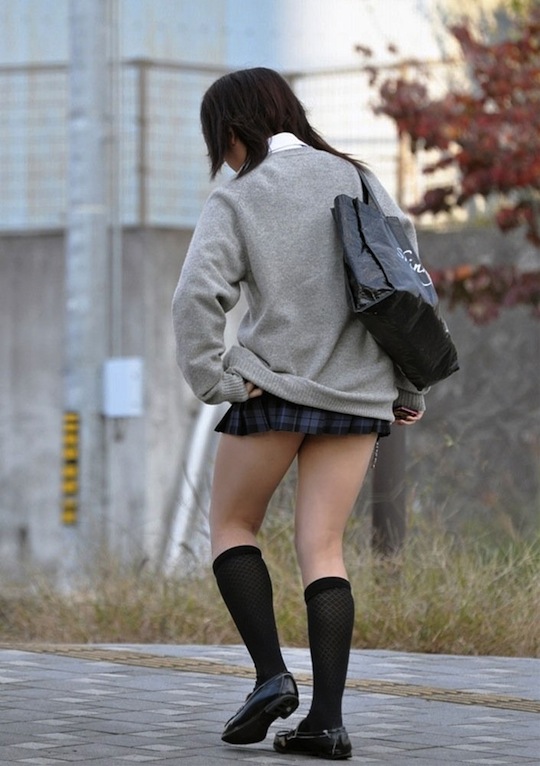 Restaurant worker Koji Kanmera got to know the 16-year-old high school runaway over Line. He then paid her 15,000 yen in cash and they retired to a hotel in Ome City, on the outskirts of Tokyo.
The girl advertised herself on Line as a "runaway with no money, in need of support" — which might be taken as bait enough.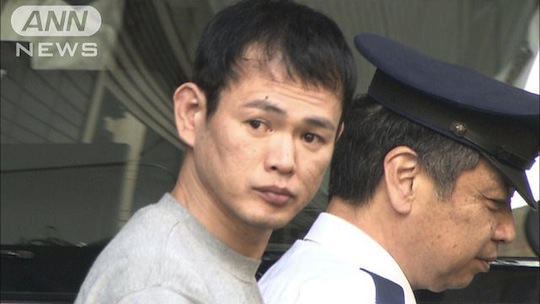 "I wanted to have fun with a young girl so I did it," confessed Kanmera. Hey, who can blame him?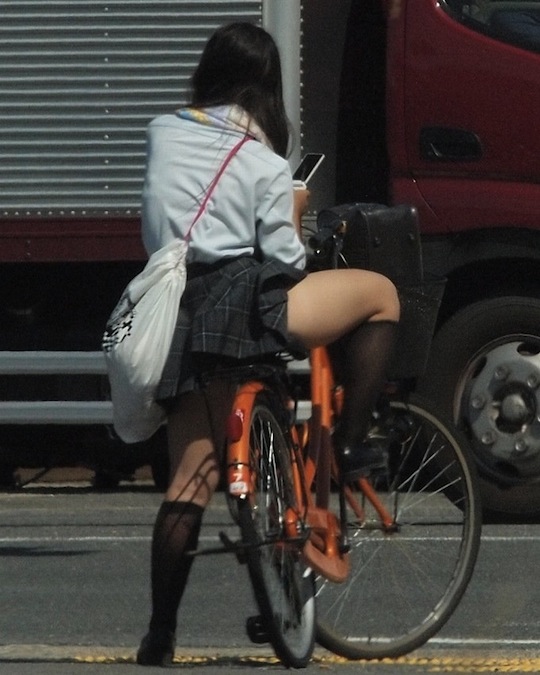 Tags: Prostitution
Category: Erotic Japan Blog
Other categories: Hands-on Reports, Product Releases
Written by: Tadashi Anahori on March 21, 2014 at 12:34 am | In
Erotic Japan Blog
|
Discuss (2) »
In the latest Olympic "clean-up" operation, now Chiyoda Ward — a large district in central Tokyo — is following the efforts of police in Akihabara to crack down on "walking dates" passing new local legislation to ban them from April 1st.
In so-called "JK osanpo" men meet with girls they believe are high school students (the "JK" stands for joshi kosei) and go on a "walk" with them, often culminating at a love hotel. These may be services that are prostitution in disguise or they may be more covertly arranged through individuals over websites. Some people don't just want sex, though. Patrons might want to purchase the girls' clothes or other items to satisfy their fetishes.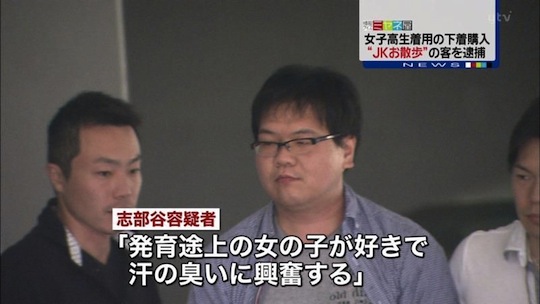 This man is Akira Shibetani (30), who was arrested last October for paying ¥18,000 (about $175) for the underwear of a high school student during one Akiba walking excursion. She was 17 and he had met her through an internet bulletin board, where she offered to sell her underwear to people who reserved her services at a "JK Osanpo cafe". Shibetani and the girl's promenade ended at a karaoke place in Chiyoda Ward, where she took off her panties for him and also let him touch her genitals.
Shibetani confessed that he liked girls who hadn't reached maturity yet and got excited by the smell of sweat.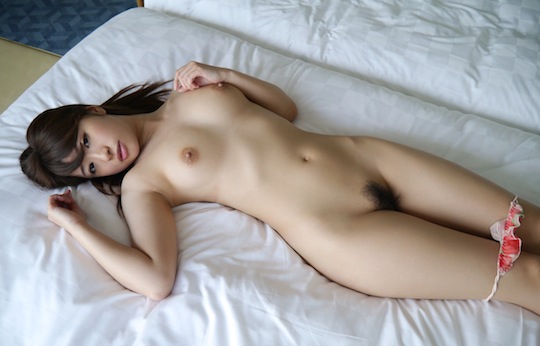 No penalty for the Chiyoda ban has yet been announced, though there will be people patrolling the streets to hunt for high school girls walking with older men.
What's next? High school girls banned from chatting to members of the opposite sex?

Tags: Enjo kosai, Prostitution, Schoolgirls
Category: Erotic Japan Blog
Other categories: Hands-on Reports, Product Releases
Written by: Tadashi Anahori on December 20, 2013 at 12:03 am | In
Erotic Japan Blog
|
Discuss (5) »
As widely reported in the media, the police have begun a new campaign cracking down on so-called "walking dates" in Akihabara in Tokyo.
On Monday night, a dragnet of 100 police officers raided the famed electronics shopping and otaku subculture district in search of girls of schoolgirl age standing on the streets.
Apparently ten girls under 18 were taken into "protective custody". Their crime? Wearing a school uniform on the streets of Akihabara.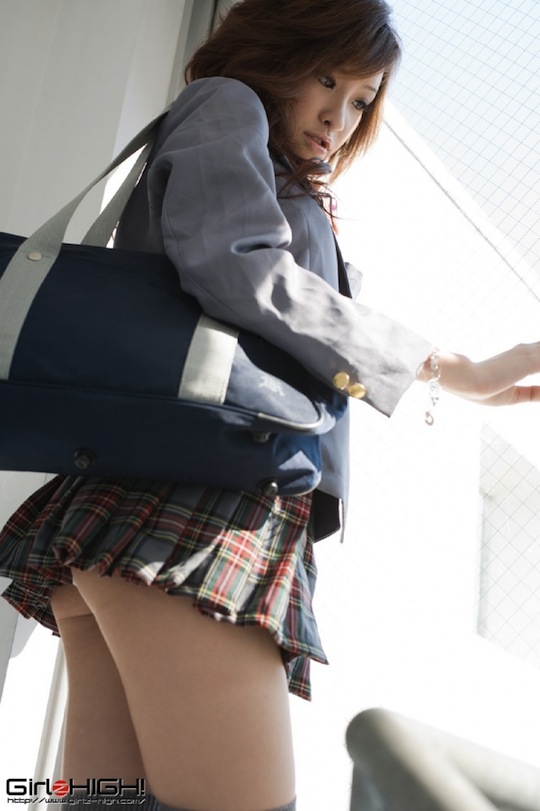 Recent concerns about walking dates recall the media frenzy on enjo kosai in the 1990′s, though this is supposed to be the first major crackdown by the national police on the phenomenon.
It follows previous raids on maid cafes and schoolgirl "reflexology" massage parlors in Akihabara and Ikeburo in January.
Osanpo is a service offered by establishments where a customer can head out onto the streets with the schoolgirl (or a maid). Of course, where they go from there is up to the pair. Frequently this will involve a trip to a love hotel for a tryst. Needless to say, the customers are adult men. It is a similar service to douhan, offered by hostess clubs where the lady and the male client will dine together before going to the club.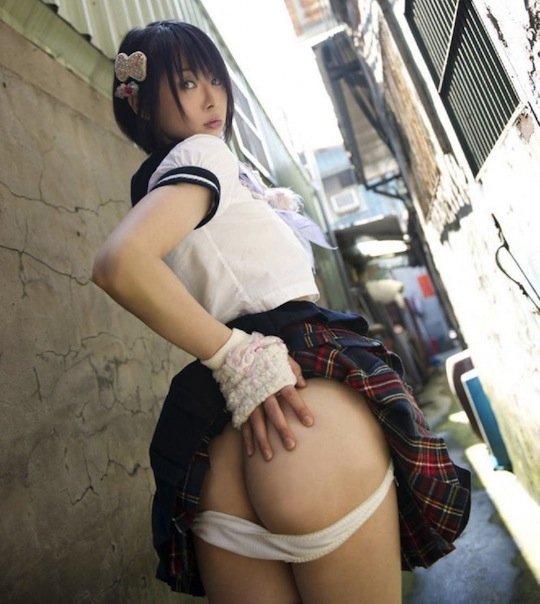 Schoolgirls on the streets of Akiba may well be soliciting osanpo walking dates outside of these kinds of massage parlors and shops, which will be happening more since the police began to target them.
An osanpo date will cost around 5,000 yen for 30 minutes or 8,000 yen for an hour, so if you are heading to a love hotel, you need to be quick or you will be paying double time (both the hotel fee and the "walking" fee).
As the city gears up towards 2020, the fear is that the government and police will seek to crack down more and more on subcultures and subversive areas like Akiba, as well as overt signs of sex and prostitution in Japan, including the wealth of porn mags to be found in most convenience stores.

Tags: Akihabara, Prostitution, Schoolgirls
Category: Erotic Japan Blog
Other categories: Hands-on Reports, Product Releases
Written by: Tadashi Anahori on December 9, 2013 at 12:41 am | In
Erotic Japan Blog
|
Discuss »
Soft on Demand (SOD) are some of our favorite people in the world.
Not only do they make fantastic Japanese porn, they are also a retailer who sells and distributes other production companies' products.
Kaku-butsu is SOD's incredible fuzoku (sex club) portal site, providing information and rankings on hundreds of clubs in Japan.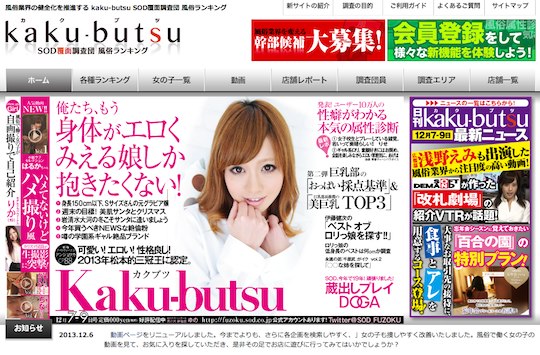 The name literally means "every thing" and it lives up to its boasts of comprehensiveness.
You can see the club's prices, their area, their services (i.e. can the girl be "delivered" to your love hotel or apartment, or do you pick her up at the club?), and the girls' upcoming schedule and availability.
You can search for all the girls listed in the clubs, and this can be done by area, body, busy, "genre" and more!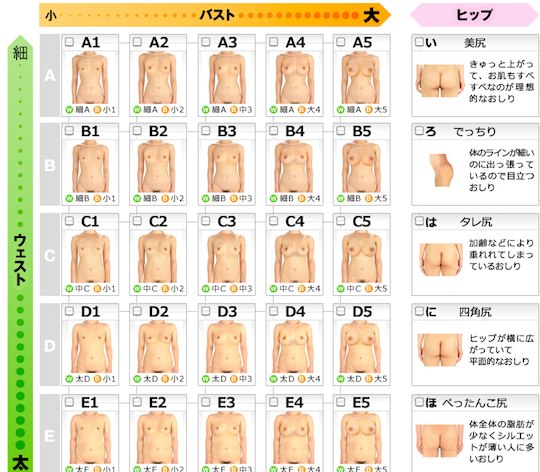 There are videos and, of course, a brilliant rating and review system so you can see what other patrons think of the girls.
We also love how the registered users who make a profile and record their reviews of girls and clubs are given the brilliant euphemism of "inspectors".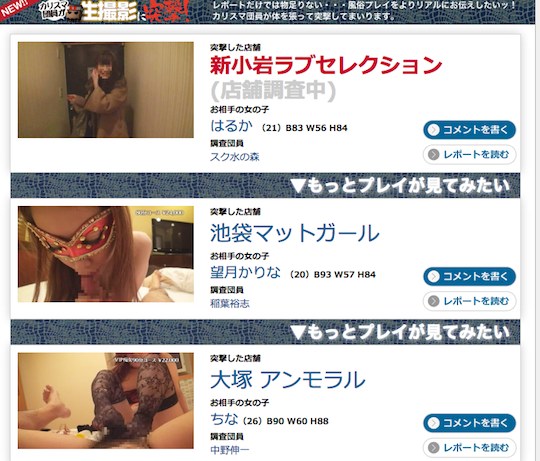 So, the question now is — are you ready to join the inspectors and test out some of the fantastic clubs?
At the time of writing, the club with the best ranking for its girls is "Ikebukuro Nurse Oshigoto" with Rio and Yua, both a nubile 23 years old. If you want a bit of nurse action for a very cheap price — some of the most reasonably priced sex clubs in Tokyo can be found in Ikebukuro and other parts of north Tokyo — then head to these clinical ladies.

Tags: Prostitution, SOD
Category: Erotic Japan Blog
Other categories: Hands-on Reports, Product Releases
Written by: Tadashi Anahori on November 27, 2013 at 9:01 am | In
Erotic Japan Blog
|
Discuss »
They might look like sweet, innocent girls. But they're not.
And now their secret has been calculated.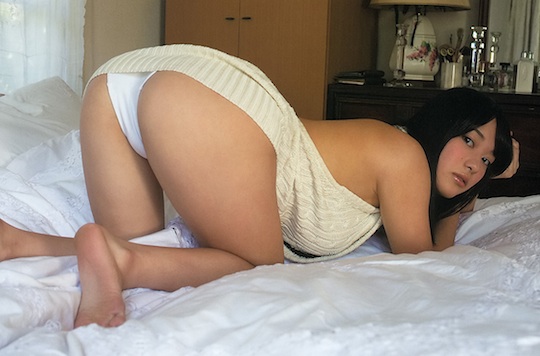 In September, the economist Yasuyuki Iida published a book, Yoru no keizaigaku (Nightnomics), in which he worked out the number of women in Japan who have worked in prostitution in some form, based on analysis of real data.
He says that 1 woman in every 20 is likely a sex worker or has been a sex worker.
"At present, there are around 10,000 sex clubs/shops (fuzoku) operating in Japan. If we look at their websites at who is working there, we could say that there are around 30 women per club. In other words, calculating 10,000 shops by 30 people, we have a total of 300,000 women currently working as prostitutions in fuzoku."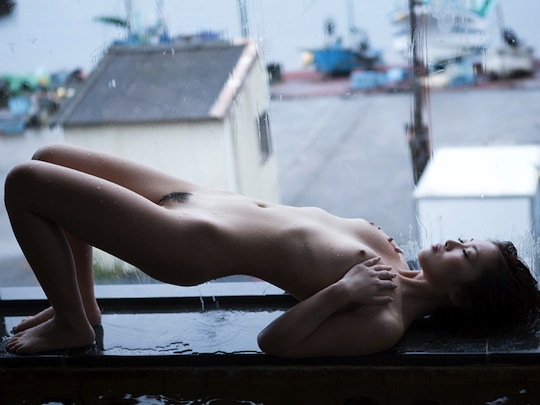 It goes without saying that not every woman in fuzoku clubs and parlors goes the whole way — by law they are not supposed to — and of course, there are lots of shadier sides of fuzoku, such as hostesses and so on who cross over the line from time to time. Plus there are the uncounted numbers of women operating in establishments that don't have websites or are not registered, or who are simply plying their trade on the streets (many of these are foreign).
Iida, though, is more logical and sets about thinking about numbers who have retired. He postures that a ten-year career in fuzoku seems rational, based on data from the 1960s and 1970s about women placed in correctional facilities.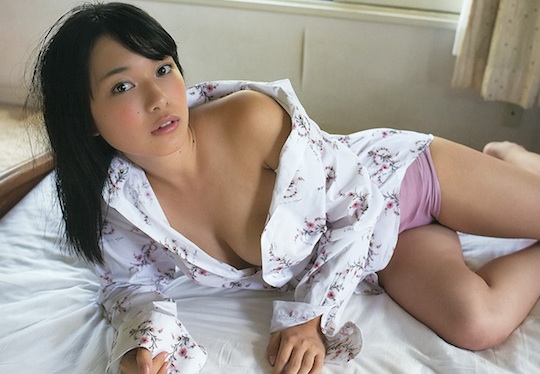 Iida goes on to calculate that roughly 30,000 women would be joining each year and 30,000 leaving the profession. Using 2012′s population figures, there were around 700,000 women aged 25-29, of whom (if we presume all prostitutes are that young, which is not always the case), around 30,000 would have been working in sex clubs. That comes to around 5%.
And this is how we arrive at the 1-in-20 figure, though the Shukan Post, a weekly tabloid, is a bit skeptical due to all the margins for error.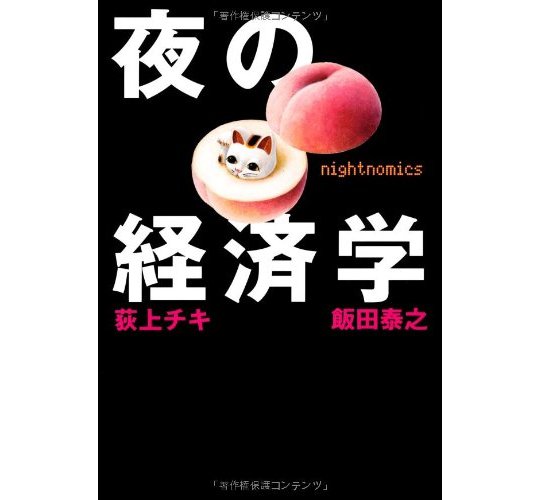 Iida also concedes that his data is old and that since 1989, less and less women have been arrested and put into correctional facilities. This makes his job harder and our imaginations go into overtime as to the real numbers! "The '1-in-20′ figure should just be a reference," he says.
Tags: Prostitution
Category: Erotic Japan Blog
Other categories: Hands-on Reports, Product Releases
Next Page »
Presented by Tokyo Kinky