Written by: Tadashi Anahori on January 9, 2015 at 12:07 am | In
Erotic Japan Blog
|
Discuss (1) »
The BBC has weighed in on the whole "Is-manga-child-porn?" argument with an online article and radio show with the balanced headline: "Why hasn't Japan banned child-porn comics?"?
James Fletcher reports from Tokyo on this now slightly tired issue.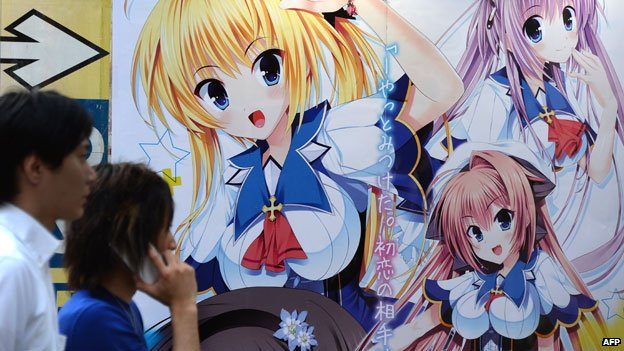 Posters of elfin-faced, doe-eyed cartoon heroines, many of them scantily clad and impossibly proportioned, turn the cavernous space into a riot of colour.

We stop at one table where the covers on display feature two topless girls. To my eyes they look to be in their early or pre-teens, and the stories show them engaged in explicit sexual acts.

Several other stands are selling similar material. It would certainly be considered controversial, and possibly illegal, in the UK, Australia or Canada, but here it's no big deal.
He quotes an organizer of a manga event: "Everyone knows that child abuse is not a good thing… But having that kind of emotion is free, enjoying imagining some sexual situation with a child is not prohibited."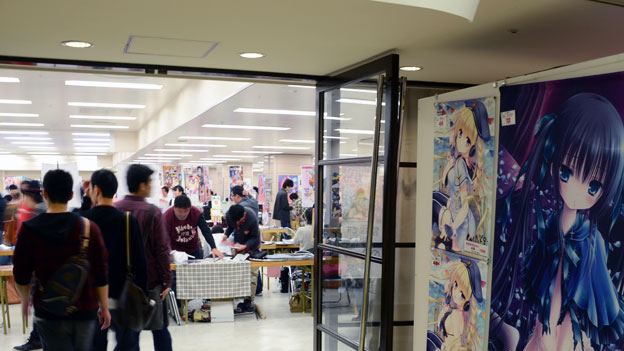 The reporter then learns about Lolicon, apparently for the first time.
Of course, the "pervert" who loves Lolicon has a wife who "loves young boys sexually interacting with each other". The BBC hammers home the Japan-is-wacky myth again.
To be fair, they make it clear that they are talking about a "tiny part" of manga and anime.
Last year it finally became illegal to possess images of child sex abuse in Japan, though produces and distributing them has been illegal since the late 1990's.
Tokyo government notoriously also tried to ban "virtual" images too by revising the current city law to include "non-existent youths" (非実在青少年 hijitsuzai seishonen). Thankfully, Shintaro Ishihara was defeated by the Assembly and that part of the revision was rejected.
The BBC speaks to a few people, even a girl who works the counter at a manga store selling adult content.
They even interview Dan Kanemitsu: "I'm not comfortable with [manga depicting child abuse], but it is not my right to tell people how they think or what they want to share," he says. "As long as it doesn't infringe upon people's human rights, what's wrong with having a fantasy life?"
Kanemitsu wrote a long, logical argument against the revision of the Tokyo law: "A culture grows richer through addition, not by subtraction."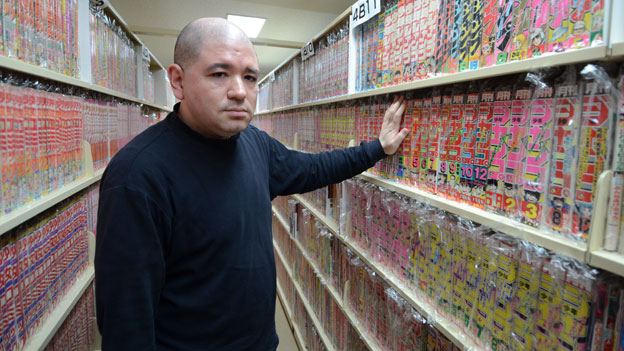 The BBC then ventures into the world of Junior Idol porn.
Among the manga shops of Akihabara, child protection campaigner Kazuna Kanajiri takes me to see something she thinks is a much bigger problem than cartoons and comics. We climb a flight of stairs off the main street and emerge into a room packed full of DVDs.

Kazuna picks one off the shelf — it features real images of a girl she says is five years old, wearing a skimpy swimsuit and posing in sexually suggestive positions that mimic adult pornography. All the other DVDs in the shop also feature real children.

"I feel sorry for the children," Kanajiri tells me.

These so-called "Junior Idol" DVDs became popular after the production of child pornography was outlawed in 1999. They dodged the law as long as the children's genitals were covered, but Kanajiri argues they're now illegal after the law was strengthened last June.

"People who exploit should be punished properly," she says. "It's completely illegal under the law, but the police haven't cracked down."
As we know, a certain famous pop singer used to be a Junior Idol, a fact conveniently forgotten by some.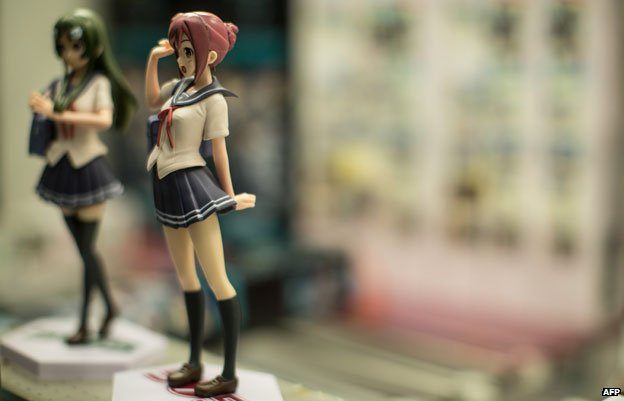 Either way, while we don't condone some of the content, we are fearful for redundant police crackdowns and government "clean-ups" that will surely increase as we head towards the 2020 Olympics. Articles like this in the overseas media can only add to the pressure on the authorities to do something, even if it's pointless.

Tags: Anime, Crime, Junior idol, Lolicon, Manga
Category: Erotic Japan Blog
Other categories: Adult Toy Releases, Asian Movie Sex Scenes, Erotic Asia Blog, Gravure & AV Idols, Hands-on Reports
Written by: Tadashi Anahori on August 28, 2012 at 11:22 pm | In
Erotic Japan Blog
|
Discuss (4) »
Just when you think Yasushi Akimoto and his minions cannot go any further… they do.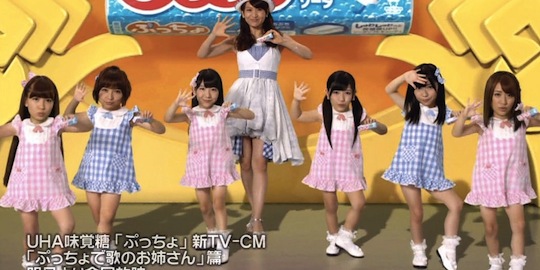 AKB48's latest sell-out, a TV commercial for Puccho, sees them dancing to the sounds of their own "music" as they eat the product being advertised. But, this being AKB, nothing is simple and everything is queasy.
The heads of the young girls are pasted in the Most Obvious Photoshopping of the Year Award-winning style onto the bodies of dancing children. Yes, children. This time there is no mistake.
We simply cannot fathom what ad agency chicanery came up with the concept that the juvenile-like AKB should made to appear even younger (how is this making the product look good?!), creating either a sort of Robocop-lookalike bizarre mutant image — or, depending on your taste, every pedophile or Lolicon fan's fantasy.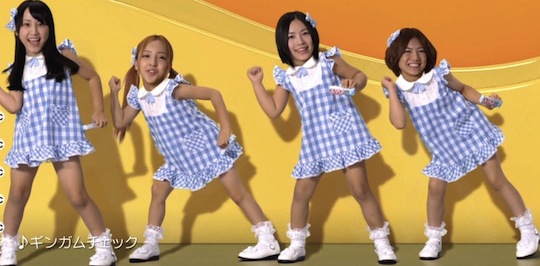 AKB are of course famously not a real band but a massive commercial machine designed by Akimoto to make money from otaku or otaku-leaning consumers through relentless spin-offs (propaganda films, sick TV commercials), mountains of merchandise and much-hyped events (hand-shaking, the "elections"). But when will they just go too far and land up in jail?
The reaction among even otaku on Twitter and elsewhere has been horror at the new lows. What can they possibly give us next?

Tags: AKB48, Lolicon, Otaku
Category: Erotic Japan Blog
Other categories: Adult Toy Releases, Asian Movie Sex Scenes, Erotic Asia Blog, Gravure & AV Idols, Hands-on Reports
Written by: Tadashi Anahori on August 12, 2012 at 11:19 pm | In
Erotic Japan Blog
|
Discuss (5) »
It seems that it's not just us guys who find Japanese schoolgirls too hot to handle.
Police have arrested a 25-year-old female teacher at a school in Kunitachi, a suburb in west Tokyo. She was found to have nude videos of 11-year-old girls in her class and has been charged with possession of illegal pornography. Not sure what sentence she might get but we reckon it's safe to say her teaching career is over.
It was in June this year that the young woman, Kaori Yamakawa, apparently made the videos as her own personal, bizarre skin flick. It features female sixth-grade students using a communal hotel bath while on a school trip to Nikko, a big tourist site in Tochigi Prefecture.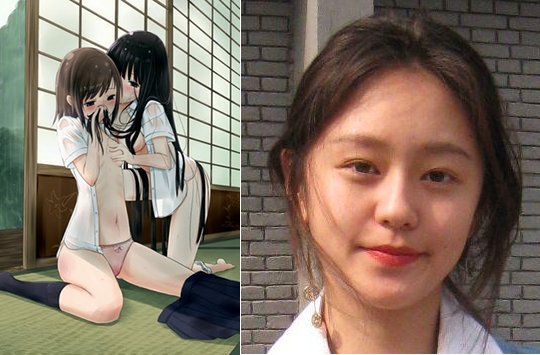 This might sound like a big fantasy to many people. But then the teacher got greedy. She apparently was seen taking photos of young girls in the changing room at a swimming pool in Tokyo. This led to a tip-off to police, who searched her apartment and found the videos and photos.
Yamakawa defended herself by saying she just likes to look at and touch pubescent beautiful breasts. 11 years old?! How much a chest could these girls have had? Perhaps someone should have told her about Gravure idols!
Japanese netizens, however, are showing sympathy for Ms. Yamakawa ("we should be lenient to her!"), no doubt because, given her the chance, they would have done the same and find the idea of a young lesbian school teacher rather enchanting, to say the least!

Tags: Crime, Hentai, Lolicon, Schoolgirls
Category: Erotic Japan Blog
Other categories: Adult Toy Releases, Asian Movie Sex Scenes, Erotic Asia Blog, Gravure & AV Idols, Hands-on Reports
Written by: Tadashi Anahori on August 7, 2012 at 12:21 am | In
Erotic Japan Blog
|
Discuss (4) »
As you know, we are about as liberal as you can get on Tokyo Kinky. And we also think that even just a cursory glance at history and past civilisations shows that concepts of sexuality are not universal but are contextual.
We don't think you can define what is right or wrong — or normal or abnormal — by simple black-and-white lines.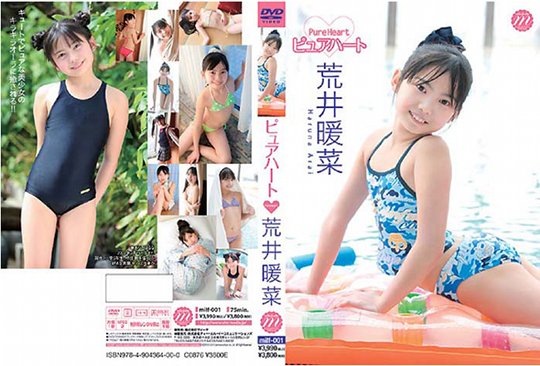 And so we've had a fairly relaxed and non-pensive view on the lolicon ("Lolita Complex") evident in Japanese society, from its more innocent forms — teenagers like Ai Hashimoto or Aira Mihana posing for bikini shots — to the deliberate "coy virgin seductress" look of AKB and all their ubiquitous spin-offs.
Check out some of Aira Mihana's DVDs, which even on the cover make no secret that she is just 14 or 15 at the time.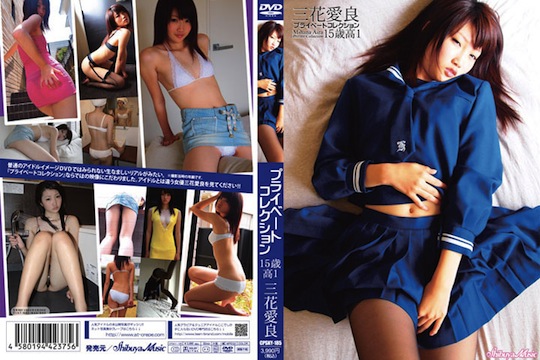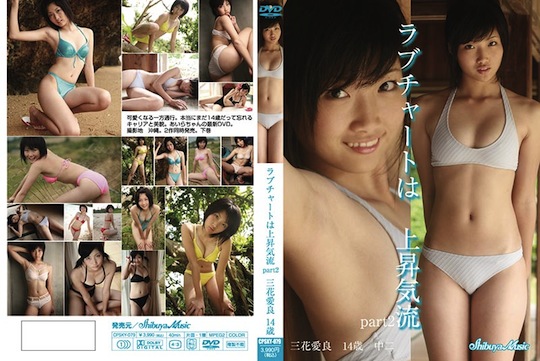 We never judge it but sometimes we do have trouble understanding the appeal. We ask ourselves: What's all the fuss when there are far sexier girls a little older?
These questions are passing through our minds as we browse the website of Oimoya, an idol shop in Akihabara which specializes in "junior idols", teenagers (and we mean, really young teenagers) who are models.

The store is one of many bricks and mortars outlets, not to mention digital ones, that sell merchandise related to "child idols" (chidol), in the form of thousands of DVDs and photo books. They also organize events like meet-and-greet sessions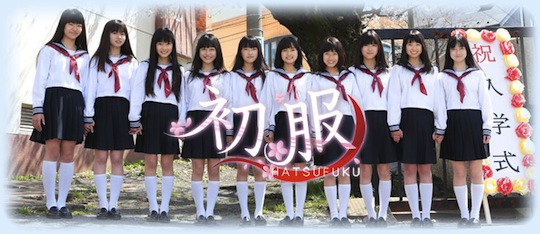 We're not sure what label to put on some of this — pedophilia, hebephilia, or ephebophilia — and besides, such name-calling is rather academic. Japan is an ambiguous place and always will be.
One thing's for sure; it's not our personal preference! And if it never goes beyond these DVDs and photo shoots, does it need to be a problem? Our jury's well and truly out!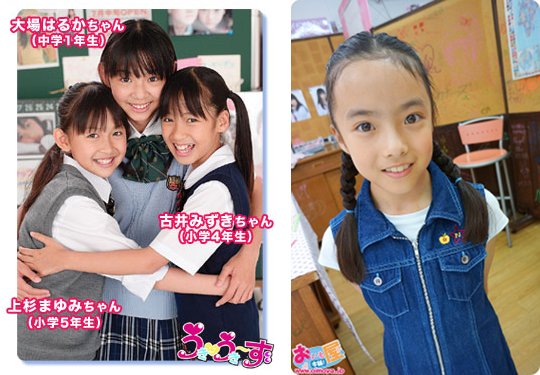 Tags: Junior idol, Lolicon
Category: Erotic Japan Blog
Other categories: Adult Toy Releases, Asian Movie Sex Scenes, Erotic Asia Blog, Gravure & AV Idols, Hands-on Reports
Written by: Tadashi Anahori on January 23, 2012 at 1:55 pm | In
Erotic Japan Blog
|
Discuss »
One of Japan's most popular "entertainers" these days is Mana Ashida, a child actress aged just seven years old.
In her latest TV advertising campaign, some innovative ad guys came up with the idea of having Mana dance in a sexy move reminiscent of Korean girl band KARA.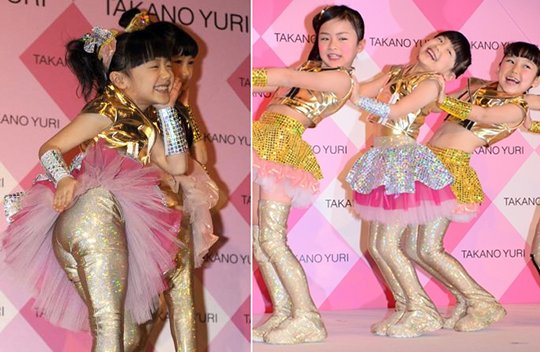 So we get to see Mana-chan gyrate her "thighs" while wearing a short skirt. K-pop group KARA alone have caused a sensation here and in their native Korea for their too-sexy dance moves. So apparently getting a young infant to imitate their groove was a good idea…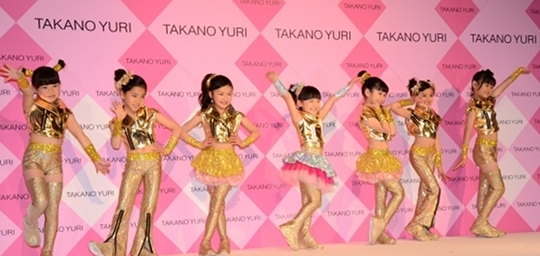 We guess the gimmick is the fun of marrying one popular icon with another booming trend. But boy, did you guys screw this up! This is about as low as it can get — overtly sexualizing a seven-year old just to sell some beauty products!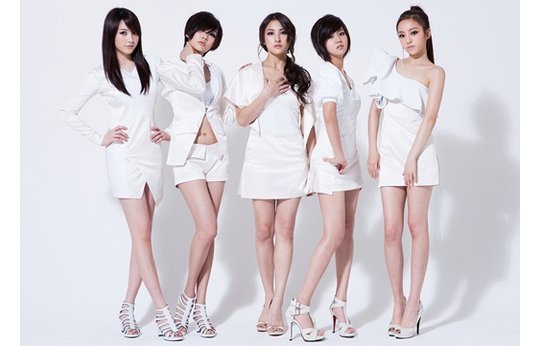 Tags: K-Pop, Kara, Lolicon
Category: Erotic Japan Blog
Other categories: Adult Toy Releases, Asian Movie Sex Scenes, Erotic Asia Blog, Gravure & AV Idols, Hands-on Reports
Presented by Tokyo Kinky