Written by: Tadashi Anahori on October 16, 2012 at 11:25 pm | In
Erotic Japan Blog
|
Discuss »
Underworld investigative blogger Tokyo Reporter has shared a story about the arrest of three Yakuza gangsters on suspicion of introducing a 17-year-old girl to men for sex at love hotels in the Kabukicho red-light this March.
According to police, the teenage girl ran away from home in February. While walking through the streets of Kabukicho, she was approached by Doi, who asked, "How old are you? Will you have sex?" Miyashita then arranged an apartment the victim used while she engaged in prostitution. The girl told officers that she provided sexual services to about 100 men over a one-month period.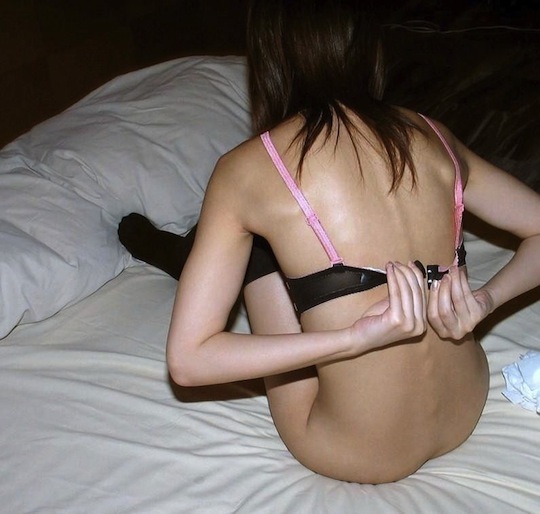 Apparently the financial arrangements worked so that the girl got about half the money paid by her customers in her new role as one of the multitudes of Kabukicho prostitutes working the sleazy love hotels in the district. Needless to say, the suspects took the rest.
She was kept at Miyashita's accommodation and they also took her health insurance card so that she would find it harder to escape.
We can presume that eventually she did get away and report her captors, and is now in a safer place.
The sad story also reminds us of the so-called Kamimachi girls who sell sex in exchange for a roof over their heads.
Runaways wandering around Kabukicho — you have been warned! Stay away unless you want to get enslaved.
Tags: crime, kabukicho, prostitution
Category: Erotic Japan Blog
Other categories: Hands-on Reports, Product Releases
Written by: Kazuki Kintama on November 23, 2010 at 6:04 pm | In
Erotic Japan Blog
|
Discuss »
A recent study suggests that one of the top professions young Japanese ladies are going for these days have nothing to do with an office and everything to do with using their feminine charms to get into mens' wallets.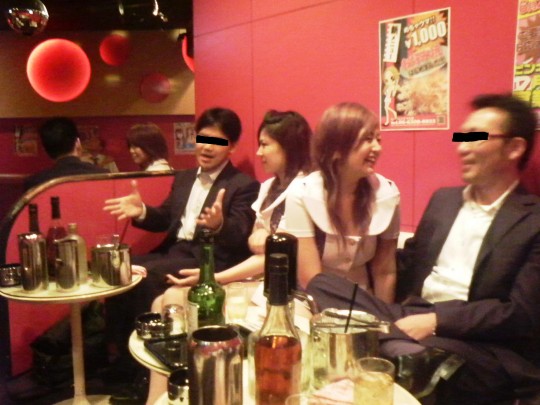 According to News-Post Seven a study was taken back in 2007 and found that many lower class ladies strove to become cabakura (cabaret club) girls due to the lack of prerequisites to enter the job and the great steady salary. When the study was redone recently, they found that this trend has spread to young girls all over Japan. Some even as young as elementary school think that is the job for them.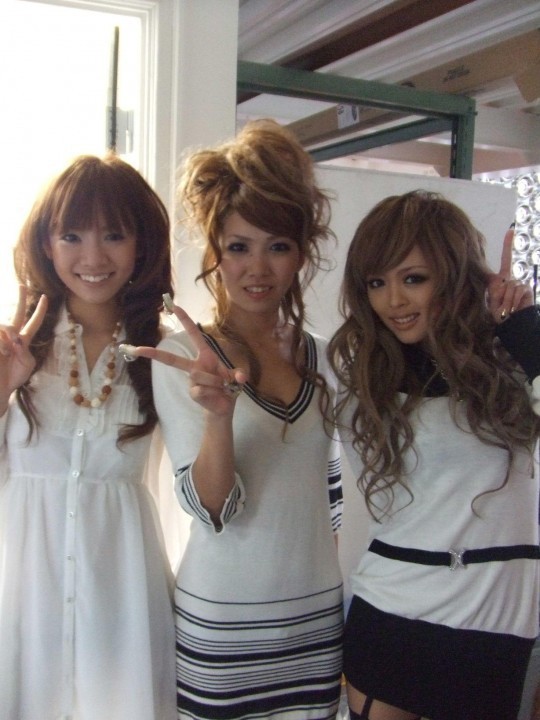 For those of you not familiar with cabakuras in Japan, it is basically a date you pay for. Mind you it is not a prostitute, but generally a very pretty young girl who will listen to any incessant ramblings, work complaints or unfounded flirtations that their customers can dish out. The girls can be selected from a list or assigned at random. More regular customers will generally get the same girl and will begin to form a kind of "relationship" with them. They will buy the girls gifts and even invited them out on dates outside the bar. The girls who are more dedicated can offer certain services for an extra cost. I said they're not prostitutes but some of them are. The really good ones get famous and you can use their molded parts on your excited parts. Check out the hostess onaholes over at Kanojo Toys if hostesses and cabakura girls peak your interest.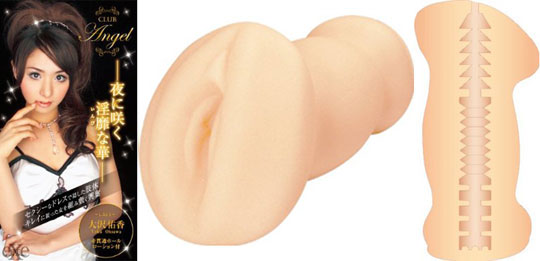 The study also went as far as to check on the average salary of these Japanese ladies of the night. The average low-end salary is about $32,000 a year with $120,000 a year being the higher end. The girls who make the most are the girls who offer special services and have several regular customers a night. Reasons the girls gave for wanting to become cabakura girls were not limited to being spoiled and drooled upon by rich old men but also to travel, make money for school and to help put food on the table from a young age.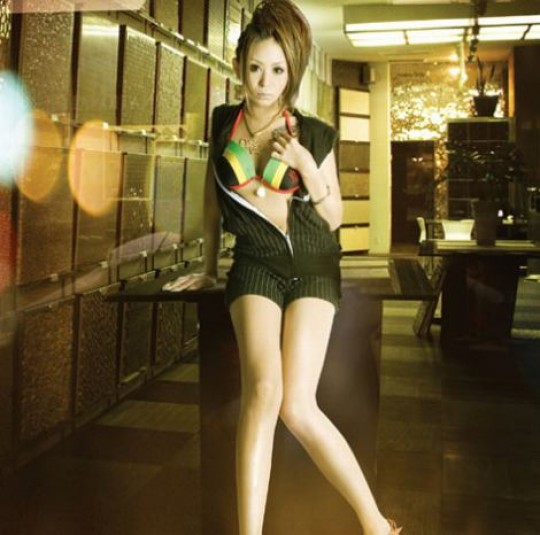 Though not the ideal career choice, it is actually an honest living where girls who weren't given the benefits of a gifted childhood can make some great money with almost no education or training. I can also say from personal experience that the cabakura girls are also a lot more fun to hang out with when you're not paying for their company or their services. I do so love cabakura girls free services.

Tags: crime, hostess, kabukicho, Onaholes, prostitution
Category: Erotic Japan Blog
Other categories: Hands-on Reports, Product Releases
Written by: Kazuki Kintama on September 10, 2010 at 12:28 pm | In
Erotic Japan Blog
|
Discuss »
Have you ever wanted to share a drink with your favorite AV actress? Well it's about time everyone got their wish. We read over at Tokyo Reporter that veteran AV actress Reiko Yamaguchi has recently opened a snack in Kabukicho.

[Pic source: Pink Eiga]
Having been a hostess herself, she's got the experience and wanted to create an arena to connect with her customers. She also knows all too well how to please her customers. One of the services Bar Nude's Mama-chan offers is a bottle of sparkling wine for 3000 yen ($30) which she rubs between her G-Cup breasts before she pours for no additional charge.
As a side note, back in 2007, Yamaguchi played a snack mama in one of her 500 AV endeavors called "A Dripping Wet Snack Mama". I wonder if she takes any pointers from her own video. I'd be at Bar Nude every day.

Tags: hostess, JAV, kabukicho
Category: Erotic Japan Blog
Other categories: Hands-on Reports, Product Releases
Written by: Tadashi Anahori on July 26, 2010 at 2:20 am | In
Erotic Japan Blog
|
Discuss (2) »
Is this everyone's dreams come true?
Rina Nakanishi (中西里菜) used to be one of the minor members of idol group sensation AKB48 but has since left the world of idols for far more rewarding work in…porn!
The 22-year-old has taken on a new stage name, Riko Yamaguchi, as part of her new career.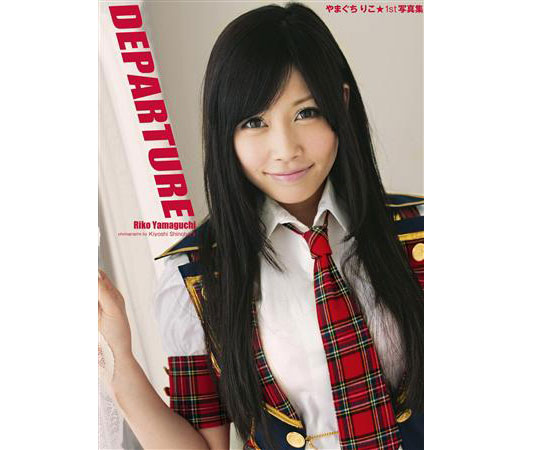 She has also released a nude photo book called, appropriately enough, Departure. However, this gained the furor of her former employers at AKB48, who, though make the idols dress very skimpily, oppose actual nudity. They are now suing Nakanishi!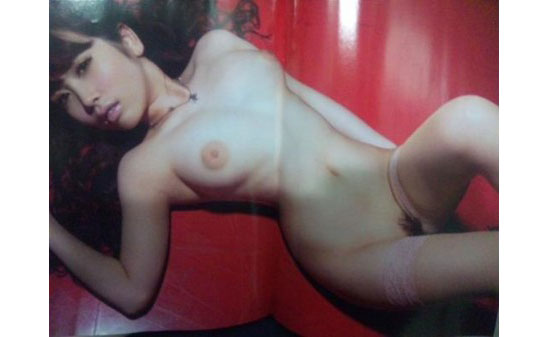 This reminds us of the case of former gravure idol Minako Komukai (小向美奈子) who, after retirement, blew the lid on the industry, telling the press it is common for idols to basically work as prostitutes. (Come on, we always suspected!)
She ended up a drug-user — of course the crime of all crimes in Japan — and after a run-in with the police her career was in ruins.
Cue taking a job as a stripper in Kabukicho!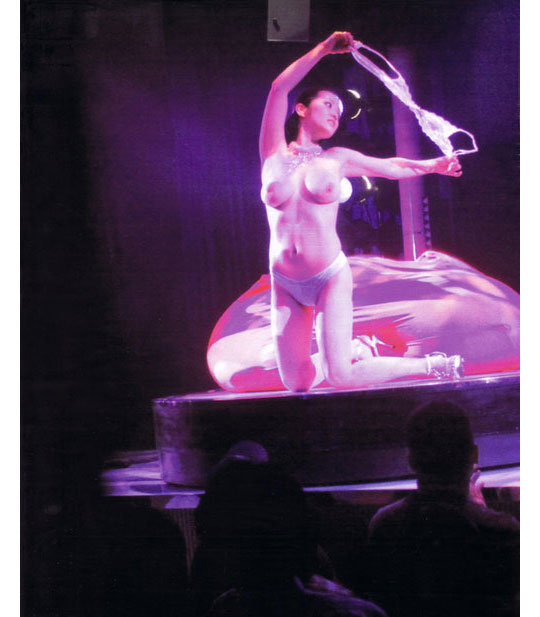 Unfortunately her former agency caught wind of this and tried to sue her, taking out a court order to prevent her from showing the world what they all wanted to see…
Thankfully she ignored the courts, performed many shows and has since released nude photo books galore.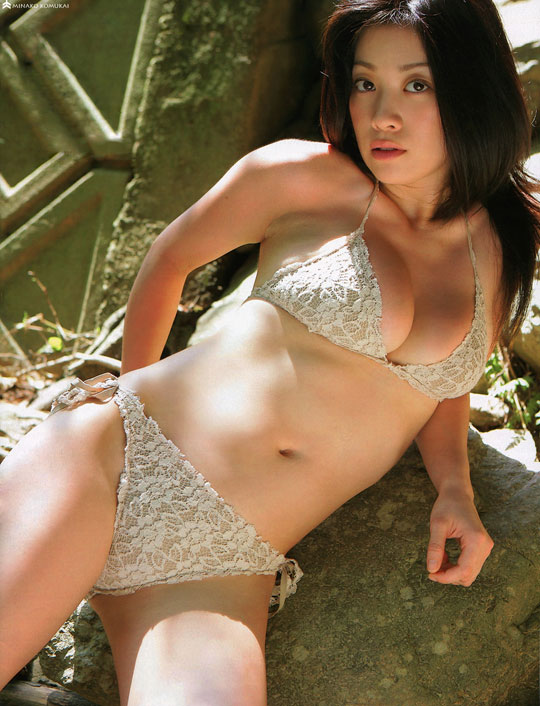 Tags: AKB48, idols, JAV, kabukicho, pornography, sex scandal
Category: Erotic Japan Blog
Other categories: Hands-on Reports, Product Releases
Written by: Tadashi Anahori on June 29, 2010 at 2:06 am | In
Erotic Japan Blog
|
Discuss »
Last week two girls were arrested in Shinjuku's notorious Kabukicho sex district for credit card theft. The pair of femme fatales stole the card from the dead body of a man they had been cavorting with in a threesome.
Naturally these ladies are suspected of being ladies of the night, not least because they are Chinese! The dead gentleman was a 46 year-old who had been picked up on the street by the 46 and 35 year-old ladies, and together made their way to a nearby love hotel.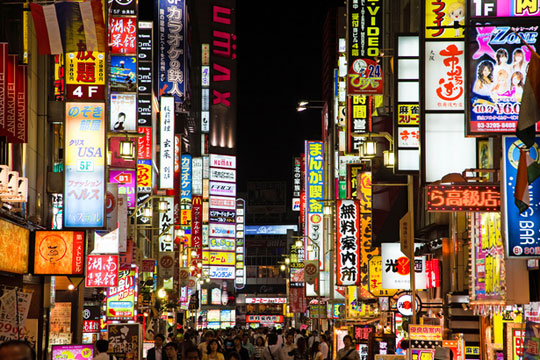 [Pic via Ganref]
However, somehow he ended up dead and they took his credit card, withdrawing over five hundred dollars in cash. You can run but you can't hide — the next day the body was discovered in the room by hotel staff.
Apparently the man had drunk very heavily and this probably led to his fate. However, it just goes to show how dangerous a few drinks and a night out in Kabukicho can be!

Tags: crime, kabukicho, love hotel, prostitution
Category: Erotic Japan Blog
Other categories: Hands-on Reports, Product Releases
Written by: Taro on March 26, 2009 at 5:44 pm | In
Erotic Japan Blog
|
Discuss »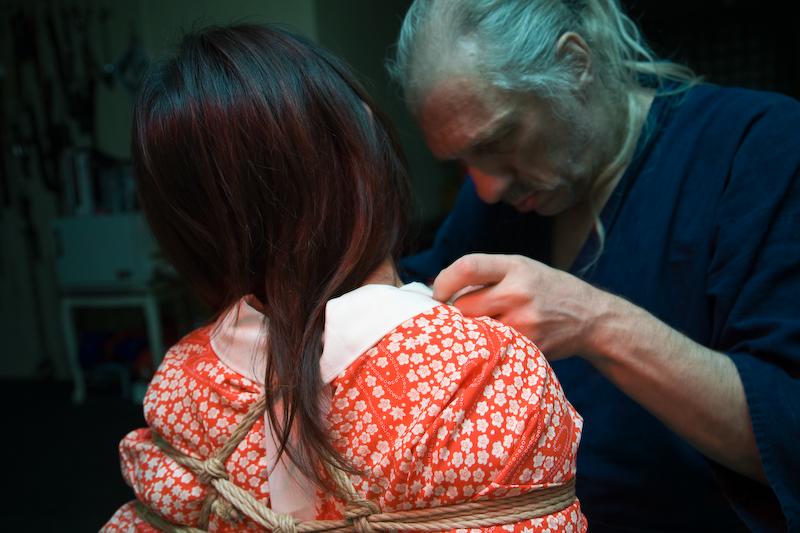 (Photo copyright Max Hodges)
Ever heard of Osada Steve? If you're not a regular on the traditional Japanese bondage scene, you may not have, but within the shibari houses of Tokyo's seedy Kabukicho district, he's the Man. Shibari, also known as kinbaku, is the Japanese art of erotic bondage, differentiated from Western bondage by its focus on ties that actively pleasure the bottom, as well as its minimalist, often asymmetric, aesthetic. While not the only culture to enjoy tying their lovers up, the Japanese may be more open about it than most; here's a demonstration of the shibari "rope harness" on the prime-time comedy show Yarisugi Koji:
Osada Steve is one of the few living grandmasters of this art (yes, in Japan there's a grandmaster for everything), and he teaches classes, performs live, and runs a great Shibari-oriented website.
The star student of Osada Eikichi, usually recognized as popularizing shibari and bringing it into the Japanese mainstream, he is the first and last word in traditional Japanese rope arts, and mesmerizing to watch- his hands dance over his subject, rhythmically and deliberately, as he combines sexual power-play and minimalist art. A review of Osada Steve performing at Loft Plus One captures the essence of performance shibari, a stage art exclusive to Japan:
A moonlit stage and a large, gently moving, white cloth bag create an air of mystery and conjure up a world of the surreal where anything might happen as if in a dream. Luckily for us this pouch contains and this dream revolves around the ravishing Asagi Ageha, Steve's partner of choice of late and a beautiful girl that's fast becoming a major star in the Tokyo SM nightclub scene.
After emerging from her silky cocoon the butterfly Ageha is captured in a beautifully executed Tasuki shibari before being lifted aloft by Steve into a graceful Aomuke zuri (face-up suspension) and spun as if on a silken web. This is a gorgeous image of kinbaku and worthy of the great Akechi Denki. Without missing a beat Steve then folds his partner into a graceful ball and suspends her head down for more vertiginous spins. The effect is dramatic as the sensei propels the bound and spinning girl out and over the audience before treating her to a thorough waxing that leaves her dazed.
By now these partners have performed so often that every move is picture perfect and the intimate understanding between them always results in great drama and beauty. This is one dream it's a shame to wake up from.
Hear an exclusive interview with the man himself, as well as walking narration that unlocks the secrets of all the dark stairwells and neon facades just east of Shinjuku station, with the Tokyo Realtime: Kabukicho guide from White Rabbit Press.

Tags: bondage, kabukicho, kinbaku, osada steve, shibari
Category: Erotic Japan Blog
Other categories: Hands-on Reports, Product Releases
Written by: Taro on March 4, 2009 at 4:51 am | In
Erotic Japan Blog
,
Product Releases
|
Discuss »
Tokyo's red light district of Kabukicho is renowned as being the hub of sin and vice in heart of Shinjuku. It's not the only area of course, but it does have a very large concentration of host and hostess clubs, bars, restaurants, soaplands (brothels), and lots of fun-loving crowds of men and women out for a good time.
Setting foot in this area can be intimidating for foreign visitors. Aside from the fact that foreigners are subtly prohibited from entering the more fun places, the types of folks in Kabukicho are very different from what you'll find in Ginza, Shibuya, and other tourist-friendly places. Even for those well-acquainted with Tokyo, Kabukicho still has its mysteries hidden behind big doors with scary guys wearing earpieces standing in front of them. You won't find a swingers club unless you already know where you're going.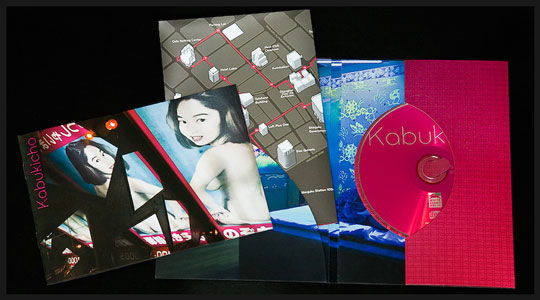 While it's not an erotic guide to getting you into the best Tokyo soaplands, White Rabbit Press' Tokyo Realtime: Kabukicho is a new audio guide aimed at letting you know what on earth is going on in that den of fun and sin.
The including an area map and photo book, the audio guide is perfect for putting onto an audio players and taking to the streets for an hour of highly educational wandering whether you're coming to Tokyo or not.
Now, once you've arrived and are comfortable with the area, you can take the next step and venture through some of those forbidden doors. We have, but like the rest of the locals we prefer to keep our favorite swingers club secret
Get your own audio guide to Kabukicho, acclaimed by Playboy magazine, from KanojoToys.com.

Tags: crime, hostess, kabukicho, prostitution
Category: Erotic Japan Blog, Product Releases
Other categories: Hands-on Reports
Presented by Tokyo Kinky