Written by: Kazuki Kintama on September 17, 2012 at 10:37 pm | In
Erotic Japan Blog
,
Product Releases
|
Discuss »
The Japanese onsen or hot spring. And sex. These two things always go together.
The Japanese go to hot springs to enjoy the healthy waters, to relax and then have a feast at the attached Ryokan, or Japanese inn.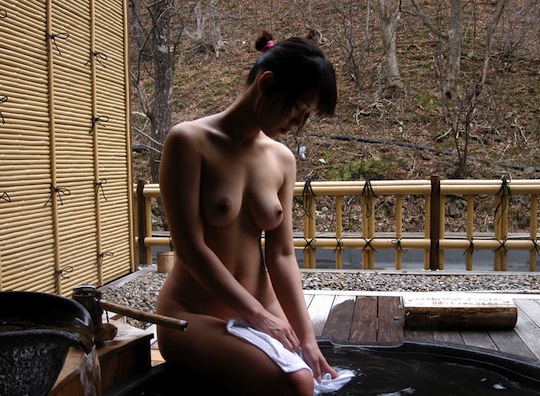 And this is always followed by a serious bout of fucking, either in the privacy of your room — or, if you are lucky, in a special private co-ed hot spring itself!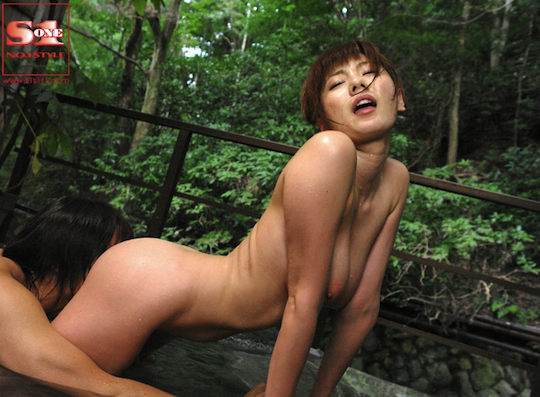 For the Japanese, being clean is very linked to being horny, since ancient cultural taboos against dirtiness prevent you from doing anything unless totally spotless (this can be frustrating if you ever just want a quickie). Plus water is a traditional sexy element (one word for "sex scene" is nureba, or "wet place"). Combine these together and you have guaranteed explosions.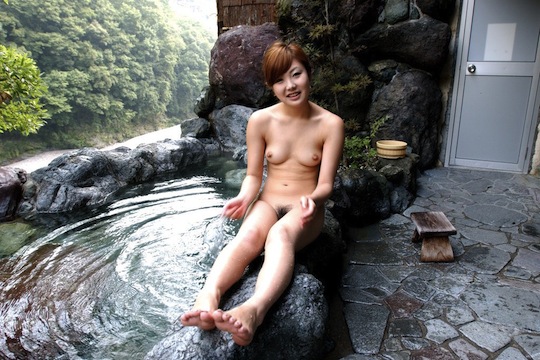 It goes without saying that there is a host of Japanese porn, the most inventive adult industry in the world, set in a variety of hot springs.
Sure, there are plenty of plain hot-JAV-star-fucking kind of titles. But we like something more unusual. How about taking some gyaru from Shibuya and taking them to an onsen resort? The result if Gyaru Slut Onsen Hot Spring Orgy.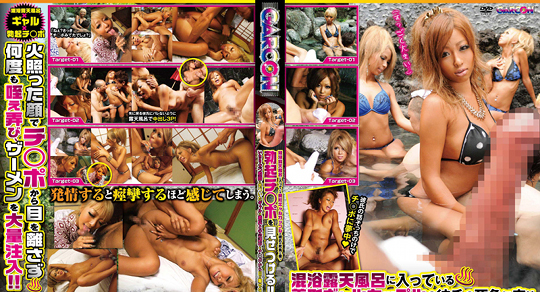 With clean nubile (tanned bronze) bodies, these hot and slutty gyaru will do anything, no matter how many guys turn up!
Finally we have a whole different species of girl, the cute Japanese university student. How can you make a girl more embarrassed than just being naked? By having her dressed in see-through bikinis and swimsuits!

Japanese College Girl Onsen Outdoor Exposure takes such a concept and applies to a group of sweet young students, parading them among a group of lustful men who grope, pock and fuck the helpless ladies.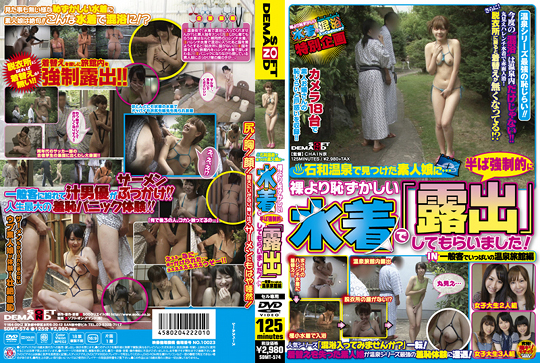 Tags: Gyaru, Japanese pornography, JAV
Category: Erotic Japan Blog, Product Releases
Other categories: Hands-on Reports
Written by: Kazuki Kintama on February 14, 2011 at 7:15 pm | In
Erotic Japan Blog
,
Product Releases
|
Discuss »
As a little Valentine's Day present from us here at Tokyo Kinky, I present to you the amazing heart shaped ass of JAV gal superstar Rumika.
I personally hadn't found this little sex kitten until last year. The reason being that she only made her porn debut 2 years ago when she turned 18. This round-assed tan cock riding goddess has been all over the AV scene ever since and for very good reason.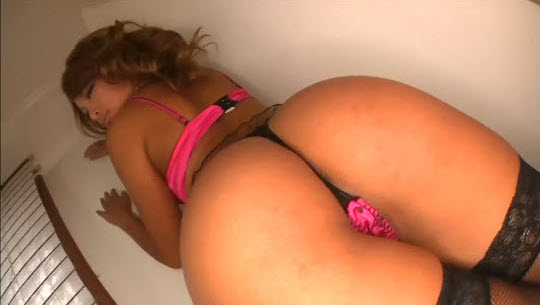 Although she doesn't have the titties of some of the AV elite, she more than makes up for it with her thick thighs and phat ass. If you haven't checked out any of her videos, I HIGHLY recommend taking a look at what she can do. I usually have a hard time lasting through a full scene.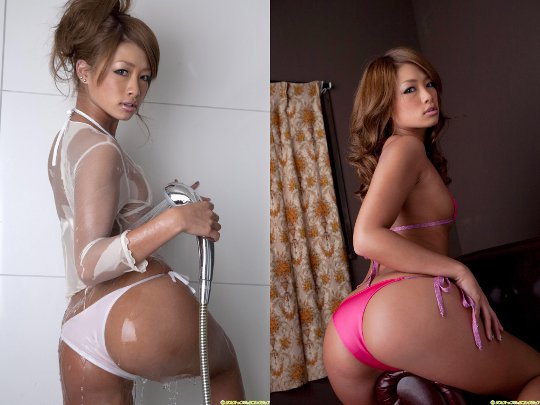 What I wouldn't give to be this guy…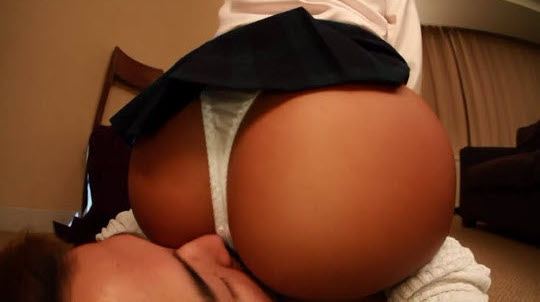 And if gal (or gyaru) are your thing, why don't you take a look at the custom molded Rina Aina Onahole over at Kanojo Toys. It's a tanned Shibuya skank that fits in the palm of your hand. Gal pussy without having to buy an expensive brand name purse? I'm sold!

Tags: Gyaru, Idol of the Week, JAV, masturbator, Onaholes, Rumika
Category: Erotic Japan Blog, Product Releases
Other categories: Hands-on Reports
Written by: Megumi on August 31, 2010 at 4:11 am | In
Erotic Japan Blog
|
Discuss (1) »
Sometimes looking at airbrushed, pristine models all day can get boring, right?
That's where the Bijin Tokei (Hot Girls Clock) comes in! It's an online project that tells you the time with boards held up by an ordinary girl. The makers find a new lass every day somewhere in the country and take snaps of her. The photos are on a stream so you get a new picture every minute!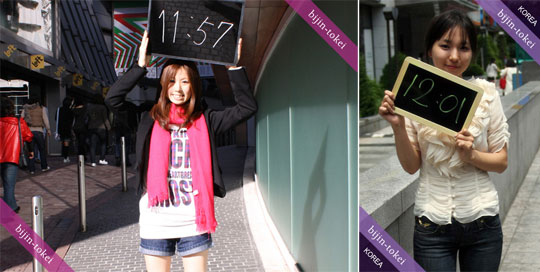 The ladies can be downloaded as an app or are available as a widget for your desktop or blog.
It's been so successful that it's inspired gyaru, race queen, Korean, pretty boys versions!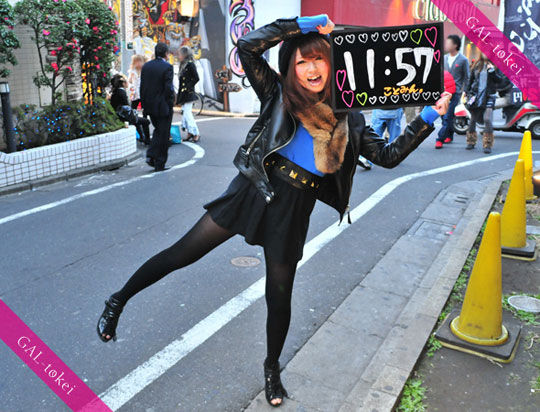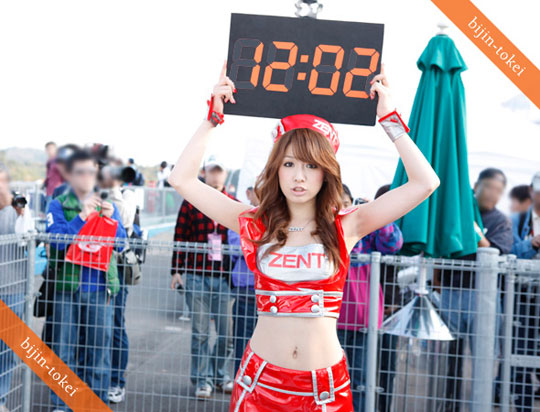 Best of all…there's even one now with porn stars! In this one they're not even bothering to hold up the time since that's hardly the point.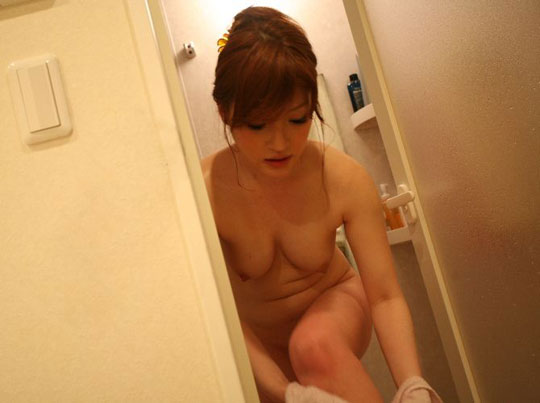 Tags: Gyaru, JAV, Korea, race queen
Category: Erotic Japan Blog
Other categories: Hands-on Reports, Product Releases
Presented by Tokyo Kinky