Written by: Megumi on January 26, 2012 at 1:55 am | In
Product Releases
|
Discuss (2) »
Okay, ladies. If like me you like to stay satisfied clitorally speaking, then it's absolutely essential to carry around your personal mini vibrator, right?
Those clever chappies at SOD have stopped making great Japanese porn for a moment and turned their attentions to the ladies. They came up with this Mobile Mini Denma, a funky and pop design vibrator that looks like a little capsule dangling from your phone.

But open this up and you have a buzzing miniature vibrator that will hit just the right spots on your you-know-where. Perfect for when you're feeling just a little bit horny at work and need a quick fix… And the best thing is you can have it brazenly hanging on your phone and no one will know!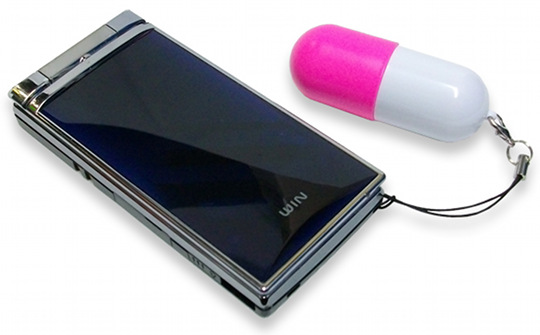 SOD brought in porn star Azumi Harusaki to try it out and she seemed mighty pleased with the results!
I'm a girl with serious needs so I've now got three hanging from my keitai!

Tags: japanese sex toys, SOD, Vibrators
Category: Product Releases
Other categories: Erotic Japan Blog, Hands-on Reports
2 Comments »
RSS feed for comments on this post. TrackBack URI
Big deal, I've been hanging a 9 inch vibrating dildo on my cellphone since 1989. The phones were huge back then and so they matched. I even beat off a robber once with my phone-dildo numchuks!

Comment by Traci Lordes — January 28, 2012 #

@Traci Lordes

Sounds like you should be in the adult toys business!

Comment by Tadashi Anahori — January 29, 2012 #
Leave a comment
Presented by Tokyo Kinky