Written by: Taro on July 30, 2008 at 6:23 pm | In
Product Releases
|
Discuss »
Onacups just took another step forward…..and up-down, up-down, up-down….
You get the idea. To be honest we're often in doubt as to how much longer this onacup boom can go in Japan without the makers running out of ideas. After all, at its core we're talking about cups filled with silicone used for masturbation! However, there are so many new and improved models that we're constantly surprised!
These new onacups from Toys Heart called Shakers (product page) look a bit extreme at first, but they're far more advanced than we thought.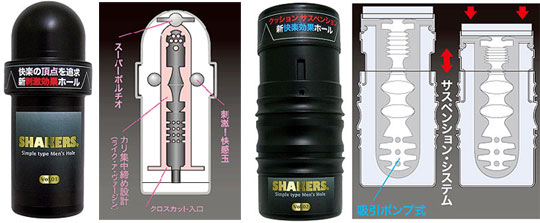 The cups come in three "volumes", each of which is different. Volume 1 is simple, but is supposed to replicate the feeling of a virgin (not that any of us remember that anyway). Volumes 2 and 3 are more interactive, including really innovative interiors as well as pump-action casings that allow you to increase suction on your little guy.
Check out the graphics below, and you get the idea. These are almost too high tech to masturbate with. Was NASA behind this?
Get your Shakers online at KanojoToys.com.

Tags: japanese sex toys, masturbator, Onacups
Category: Product Releases
Other categories: Erotic Japan Blog, Hands-on Reports
No Comments yet »
RSS feed for comments on this post. TrackBack URI
Leave a comment
Presented by Tokyo Kinky