PickUp Asia: Nampa seduction masters of the Far East
Note from Taro: I've met RedpoleQ and other crew members of PickupAsia before, and can attest to their skills. We spent an afternoon in Shibuya testing out the "day game" techniques with very surprising results. I never would have thought that J-girls would respond like that, but they did… and I was happy
Ever see a guy walk into a Seoul nightclub or a Shibuya bar, and make out with a stunning girl ten minutes later? If he doesn't look like Tom Cruise, there's a good chance that he's studied with PickUp Asia, the masters of the Asian pick-up scene.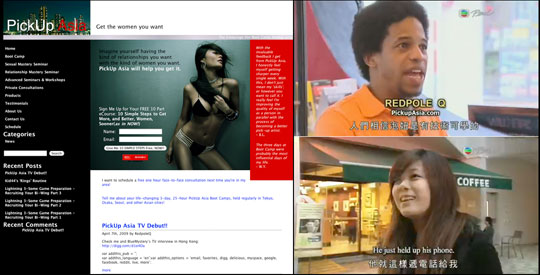 Nampa. Speed seduction. Sarging. Whatever you want to call it, the art of the pick-up has turned from a unconscious ability of a few lucky guys to a precision science and a booming industry. Across the world, seduction gurus like Mystery and Neil Strauss teach "average frustrated chumps" how to win girls beyond their wildest dreams. Like a lot of internet gurus, it sounds too fantastic to be true, but they've got the videos to back up their claim. YouTube has hundreds of clips of these guys turning a five-minute conversation into a phone number, a kiss, or even a trip to the apartment (or a love hotel) right then and there.
Asian girls may seem different at first, say the guys at PickUp Asia, but in the end they've got the same chemistry, desires, and feelings as any other women, and can be picked up in the same way. There are various schools of seduction in Europe and the Americas, but PickUp Asia is the first to operate in Hong Kong, Seoul, and Tokyo, the biggest metropolises in the East. From nightclubs to train rides to street corners, they use intensive weekend boot camps to acclimate guys to "the game" and get them out and meeting women by the hundreds. While the group started small, it recently caught the eye of a Hong Kong TV station (interview HERE).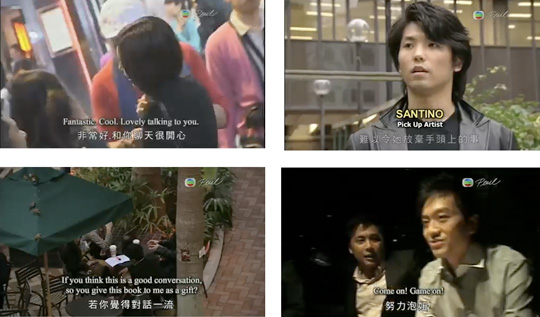 Even if you're not in Tokyo, Osaka, Seoul, or Hong Kong, these guys are worth checking out. They have a free 10-part course on Asian women, a forum for learning and meeting wingmates, a weekly Skypecast, and various articles on their website.