Photo shoot behind-the-scenes video accidentally reveals Haruna Kojima paipan
Someone shared a behind-the-scenes video of Haruna Kojima at a photo shoot while she is getting ready. She's standing in her panties as members of her staff attend to her body and clothing. Though she's sadly wearing a top to preserve her modesty, her slinky panties reveal more than perhaps the people present expected.
Japanese netizens, perhaps with too much time on their hands, have paused the video and zoomed in to see that it might show Haruna Kojima's paipan (fully shaved) pussy.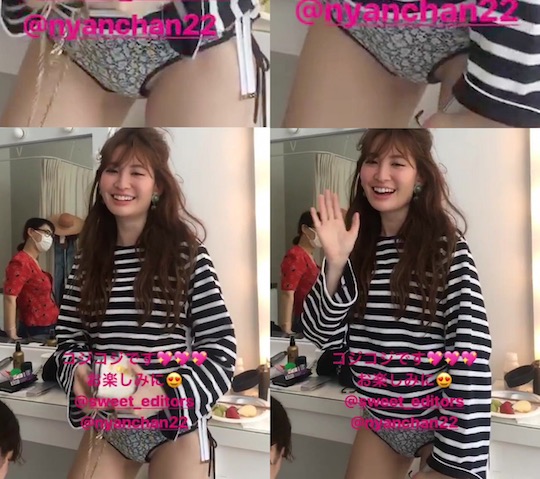 To be fair, you don't seem much — but that's the point. If she wasn't fully shaved or waxed down there, you would probably see some muff. The fact that you can't suggests the she's paipan. Given the amount of skimpy photo shoots she does, it probably shouldn't surprise anyone.
Haruna Kojima, or Kojiharu, is now 30 years old. The former AKB48 has continued to work regularly as a model since leaving the supergroup, appearing in plenty of advertising and fashion magazines. That said, her career hasn't exactly taken off and she hasn't established herself as a singer or actor like some of her former colleagues have.
Well, as we know, there are more adult ways for her to pursue a post-AKB career and a decent number of her fellow idols have carved out names for themselves in porn and gravure.