Written by: Taro on July 5, 2007 at 6:19 am | In
Product Releases
|
Discuss (1) »
First there was the Robotech Thruster, but then the ladies felt left out of the fun.
Now the women can get in on the action as well with the Robotech Reviber from Tokyo Wins, a compact and versatile way to get hard-hitting action that's totally at your control. It operates exactly like the Thruster, with manual speed controls and easy mounting.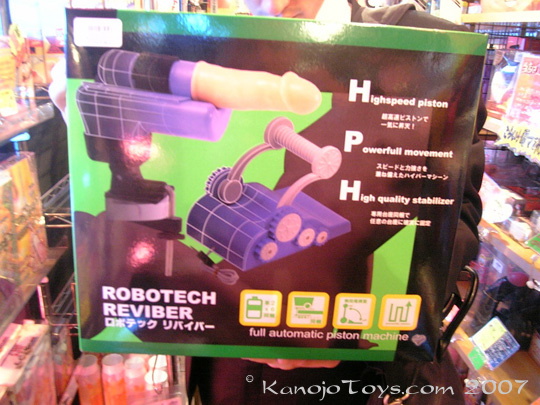 It can also be pointed straight up for creative positions, and from what we can tell, you should be able to use third-party dildos in the mount to fit your tastes. We see this as being great for both women and men who like penetration on their own terms and want something a bit cheaper than the amazing Ona Max Revolution.
Mostly, we're looking forward to teaming it up with the Robotech Thruster for some hot Robo-on-Robo action.

Tags: Sex machines
Category: Product Releases
Other categories: Erotic Japan Blog, Hands-on Reports
1 Comment »
RSS feed for comments on this post. TrackBack URI
Blogged @ Secret Japan (http://www.eigoninja.com/secretjapan)
Leave a comment
Presented by Tokyo Kinky