Written by: Taro on July 10, 2009 at 9:44 am | In
Product Releases
|
Discuss »
Tenga has just come out with a new 6-pack of their Tenga Egg series, including three new versions and three new commercials!
It had been a while since Tenga put out some of their classically hilarious commercials, so it's nice to see the new ones out. I love how they sell masturbators the way marketers would sell shampoo!
These little guys are exactly the same size as real eggs, and even look like the real thing when you open them up. The only difference is that there isn't a yolk (or Easter candy for that matter), but a handful of fun for you!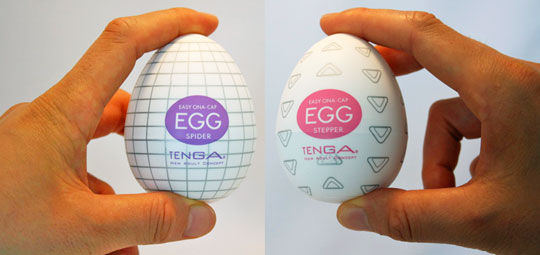 The three new models have new shapes from the originals, but the same great feeling. You can get a full six-pack online in the Tenga section of the KanojoToys online store.


Tags: Onacups, tenga, Tenga Eggs
Category: Product Releases
Other categories: Erotic Japan Blog, Hands-on Reports
No Comments yet »
RSS feed for comments on this post. TrackBack URI
Leave a comment
Presented by Tokyo Kinky