Written by: Taro on November 22, 2007 at 4:23 am | In
Product Releases
|
Discuss »
Every onahole needs good lotion, so Toy's Heart is coming out with a wide variety of choices for their seemingly endless supply of holes. Mink is one of the more popular brands, and is often included in small samples with the onaholes. Now you can get Mink, in it's most popular forms, with the 3-pack.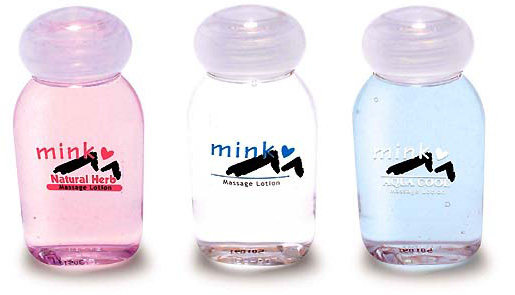 The 3-Pack Set includes regular, Natural Herb, and Aqua Cool lotions for a variety of sensations. Perfect for use on your own, with a partner, or in one of the many onaholes on the market.
Buy online HERE from KanojoToys.

Category: Product Releases
Other categories: Erotic Japan Blog, Hands-on Reports
No Comments yet »
RSS feed for comments on this post. TrackBack URI
Leave a comment
Presented by Tokyo Kinky