Written by: Tadashi Anahori on September 11, 2012 at 10:56 pm | In
Hands-on Reports
,
Product Releases
|
Discuss (3) »
A few years back there was a very popular sex machine called the Mens SOM Rocket Type, a kind of thrusting onacup which performed an awesome job of jerking you off while you did nothing but watch — and enjoy!
The Rocket remains a very popular seller but the same makers have also come up with an alternative version, which has now finally become available for people overseas.

It is the same principle as the Rocket, only this time it is a hand (holding a kind of "cup") that literally gives you a handjob. Not surprisingly, then, it's called the Men's SOM Hand Type.
You can adjust the rate and pace of oscillation from around 80 thrusts per minute to a mega 110, depending on the kind of handjob you want — fast or superfast. The height is also adjustable because people have different bodies (and bellies), plus then you can achieve varying angles.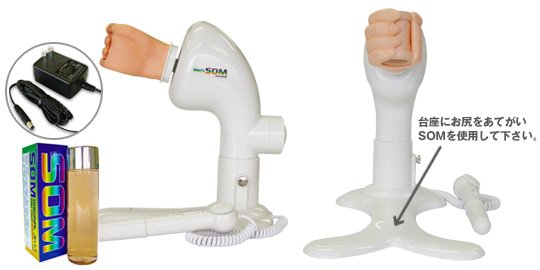 The best results, as we found, are to be had by putting the base down between your legs (you can rest your butt on the legs). Then liberally apply some gel into the cup. Then the pumping "hand" will do the rest!

Tags: Sex Machines
Category: Hands-on Reports, Product Releases
Other categories: Erotic Japan Blog
3 Comments »
RSS feed for comments on this post. TrackBack URI
You would think somebody will have invented a bobbing head blowjob machine by now. Something that resembles a girl's head and mouth with sucking and cum catching ability. Come on Japanese nerds! Start designing!

Comment by Goruk Tull — September 12, 2012 #

@Goruk Tull

Good point but we reckon that might be a bit like the "uncanny valley" of masturbation toys… Perhaps TOO realistic?

Comment by Tadashi Anahori — September 12, 2012 #

[...] is already a classic, one of the most effective blowjob machines on the market. There is also a special "hand" version [...]

Pingback by Tokyo Kinky – Sex and Erotic in Japan » Adult (se)Xmas guide from Japan… — December 1, 2012 #
Leave a comment
Presented by Tokyo Kinky