Written by: Taro on November 25, 2007 at 7:56 pm | In
Erotic Japan Blog
|
Discuss (1) »
These are the most popular onaholes in Japan at the moment according to several sources. The Meiki no Hinkaku is a full-size, super soft onahole that is very realistic in their shape, texture, and size. Two versions are available, "regular" and "tight".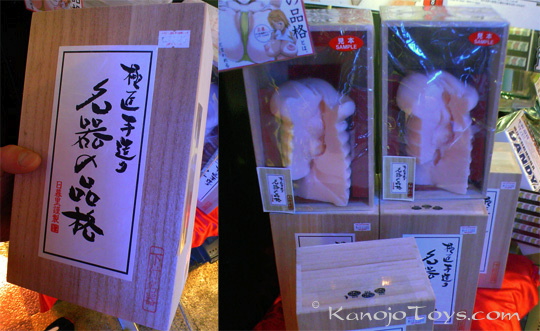 Aside from these great points, a major selling point of Meiki no Hinkaku is the old-style Japanese design of the packaging. Each onahole comes in its own wooden box for storage, which gives a feeling of high quality (they are, indeed, very good) as well as a sense that you are getting a piece of the classic Japanese woman.

Click to get Meiki no Hinkaku online at KanojoToys.

Category: Erotic Japan Blog
Other categories: Hands-on Reports, Product Releases
1 Comment »
RSS feed for comments on this post. TrackBack URI
look like the 1 they call the flesh light, i try by 1 b4 but no can beat using 1 peace of steak to jerk off with

Comment by Mike Paahana — June 9, 2008 #
Leave a comment
Presented by Tokyo Kinky