Written by: Tadashi Anahori on August 25, 2011 at 12:20 am | In
Erotic Japan Blog
|
Discuss (3) »
AKB48, eat your heart(s) out!
Marshmallow 3D are the new sexiest idol group in town. They even let you have a fondle of their breasts!
While the AKB48 meet-and-greet sessions with their fans regularly descend into chaos (fans not interested in certain group members, others not wanting to let go after shaking the hand of the idol), I reckon this kind of idea could be even more disastrous.
They're letting people have a good grope on television, for a price, naturally…Certainly is a little bit more 3D than the likes of Avatar managed!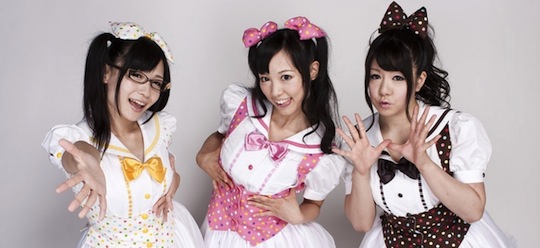 Amazingly this was not just gratuitous misogyny. This was for a good cause! It was part of the "Erotics Save the Earth" porn-themed telethon event on August 21 to raise awareness of the need for condoms in our hours of fun. AIDS and other STDs are on the increase in Japan and these gals are here to remind us.
Apparently last year there was a "Handjob Goddess", live auctions of used underwear, and more!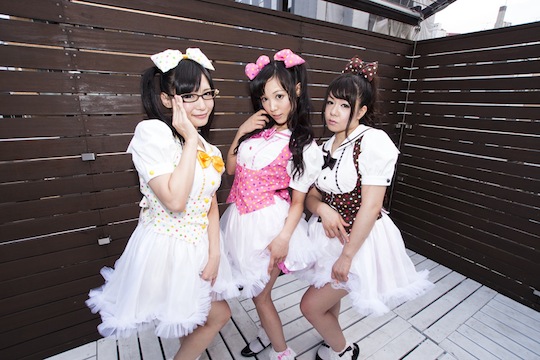 Tags: chikan, idols
Category: Erotic Japan Blog
Other categories: Hands-on Reports, Product Releases
3 Comments »
RSS feed for comments on this post. TrackBack URI
[...] This month at a concert, a member of another otaku idol group, Momoiro Clover Z, had her breasts fondled by a zealous fan. (Although some groups are doing a lot to encourage this kind of intimate fan-idol interaction!) [...]

Pingback by Tokyo Kinky – Sex and Erotic in Japan » AKB48 fan thinks he is idol Rie Kitahara's — July 19, 2012 #

Hm the prettiest member has the smallest breasts while the least attractive has the largest ones. Guess it's fair. They're definitely not all D cups. Also, damn it's hard to find the oppai momi pictures.

Comment by Anon — October 10, 2012 #

P.s: tbh I'd probably pick the most average member in pink w the average sized boobs and average looks in the group.

Comment by Anon — October 10, 2012 #
Leave a comment
Presented by Tokyo Kinky