Written by: Tadashi Anahori on August 31, 2011 at 12:32 am | In
Erotic Japan Blog
|
Discuss »
Japan's parking lots are pretty cool, especially the tower ones that take cars up for storage in cool elevator machines.
It seems it's a competitive business as the owners are now getting imaginative. So much so that Osaka's Nipponbashi has come up with a novel scheme to attract young male drivers. We've heard of maid cafes. Now we have a maid parking lot!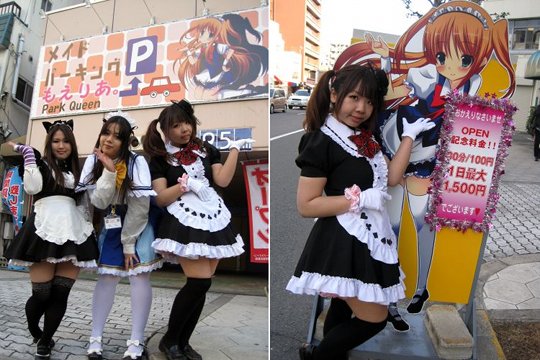 Usually these tower parking lots feature a old gent or other member of staff to help guide your car in and onto the right place to be taken upstairs (you get out of the car of course). But the team greeting you at "Maid Parking Moeria" are all dressed as maids. The girls even have their own blogs.
Akiba, eat your heart out! Osaka's maids are ahead of you! There are several ladies who work on different days to encourage you to park your car regularly no doubt. And how much nicer it must be to told how to park your car by a young lass in a costume!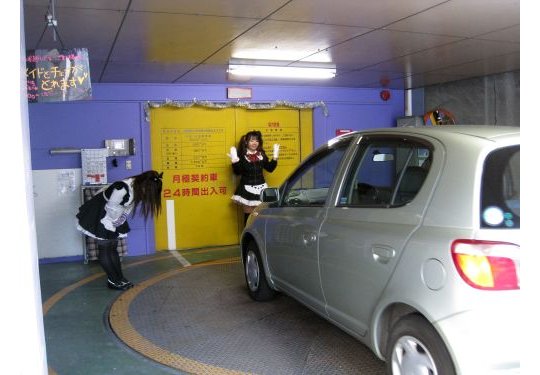 Being Tokyoites (hence this blog's name!) we spotted the car park on this blog and plan to make our own trip over there in the near future.
Judging from this video, they don't have a problem with patrons filming them either!

Tags: fetish, japanese cosplay, maid
Category: Erotic Japan Blog
Other categories: Hands-on Reports, Product Releases
No Comments yet »
RSS feed for comments on this post. TrackBack URI
Leave a comment
Presented by Tokyo Kinky