Written by: Tadashi Anahori on July 2, 2012 at 12:29 am | In
Erotic Japan Blog
|
Discuss »
Police have raided and arrested 15 staff at a self-proclaimed "super luxury" metropolitan call girl service and club, "Jukebox".
Of course, Dogenzaka is literally chocker-block with sex services, love hotels and porn shops, which begs the question why this one?
The high class service had been operating for around 13 years and had some 17,000 members (i.e. customers). It certainly was luxury; while picky people scouring for a bargain can probably find a blow-job in the same area from a Chinese lady for just a few thousand yen, Jukebox was charging at its lowest price ¥35,000 (over $400) for one hour! Fees could then go up to ¥50,000 (over $600) for an hour and there were even special "courses" of ¥150,000 (approaching $2,000) for 300 minutes. Clearly this was aimed at CEOs and the elite.
Its ladies were aged between 22 and 29, and included strictly selected race queens and university students — apparently some 200 girls in all. Plus apparently a famous celebrity, according to fellow sex club staff rumours.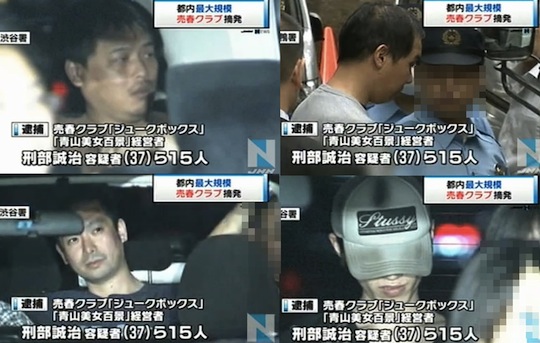 The Shibuya club, a "delivery health" dispatch service, allegedly employed at least one gravure idol/celebrity, known for her large bust, and who has released a photo book and often appears on TV shows.
It's an open secret how minor porn stars moonlight in various stages of prostitution in Japan and also how even minor celebrities and gravure idols regularly earn extra cash in this way (not to mention, the elephant in the room re. idols is that you need to sleep with your agency bosses to advance). The few who break the code of silence and speak out find themselves conveniently enveloped in scandals.
So what went wrong for the guys at Jukebox? Did they forget to pay off the wrong people? Or did someone snitch on the celeb?

Tags: prostitution
Category: Erotic Japan Blog
Other categories: Hands-on Reports, Product Releases
No Comments yet »
RSS feed for comments on this post. TrackBack URI
Leave a comment
Presented by Tokyo Kinky