LGBT revolution: Genderless clothing and toilets appearing in Tokyo
Overseas there has recently been a lot of talk about making things like public toilets "genderless" so as not to show bias towards people who do not identity by binary genders.
Japan has not embraced this kind of debate in the same way, not least because the LGBT community is largely reduced to being a subculture without real legal rights. On the other hand, fluid gender identity has been part of Japanese culture for a long time in Kabuki and so on. In many ways people just don't need all the labels and legal discussions that have obsessed other countries for the past generation.
Things are changing, though, as we see more and more local governments giving legal recognition to same-sex couples, not least Shibuya and Setagaya wards in Tokyo, and the growth of Tokyo Rainbow Pride, whose march had record attendance this year of over 6,000.
The discount store Don Quijote has recently said that it has installed unisex restrooms at its flagship Shibuya store.
The business federation Keidanren also conducted a survey and announced this month that found that over 40% of major corporations are doing something to make it easier for LGBT people to work.
We also heard about a Tokyo-based website that offers genderless clothing alterations.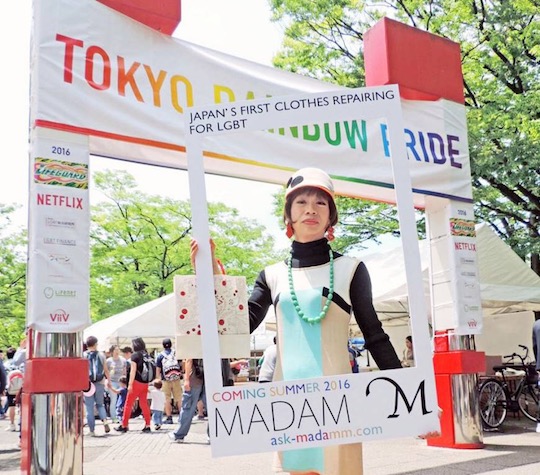 Some lesbian, gay, bisexual and transgender customers might be reluctant to visit a store to ask for alterations to their clothes, so an online service has stepped in.
Tokyo-based En Coton set up the website Madam M last year. It claims to be Japan's first genderless clothing repair shop. The picture shows the website at the 2016 Tokyo Rainbow Pride.
"There are many places in cities where LGBT people interact, but there are also people in regional areas who are afraid to speak (about their concerns) to those around them," said Koki Hashimoto, who runs the Madam M website.
The shop has provided a way for anyone, regardless of gender identity, to arrange alterations anonymously over the internet.

For transgender individuals, ready-made clothing they had hoped to wear might not fit properly, such as in the shoulder width or sleeve length.

Even if the clothing is resized to fit at a regular clothes repair shop, it might be lacking a particular femininity or masculinity that can only be handled by making more substantial alterations, the company said. Indeed, requests will vary greatly, it said.

Customers may feel reluctant to explain these details to store clerks or in front of other customers. A man who wishes to have his skirt altered might lie and say it is for his wife, while a woman who brings in men's clothing might claim it belongs to her brother.
They want to make it an open service ideal also for the gender-curious or the beginner. "We want to make this a place where people feel free to consult with us," Hashimoto said. Customers unsure about taking their own measurements can ask questions by email.