Written by: Megumi on May 18, 2010 at 1:59 am | In
Erotic Japan Blog
|
Discuss (1) »
Keitai (cellphone) straps are HUGE here, almost everyone has some kind of cute thing dangling from their handset. Kinbaku (緊縛) — traditional Japanese bondage — is a bit more underground, but there's no reason why mainstream can't meet subculture for some fun.
And that's what the makers of Kinbaku Strap think too!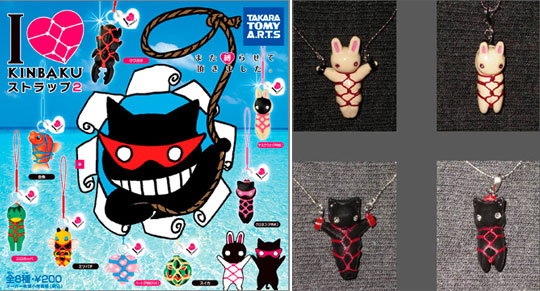 These are decorative phone straps for your cellphone in the guise of traditional Japanese bondage. As you can see from some of the range above, you get a naughty-looking figurine tightly bound in the customary way. Attach it to your keitai and you can advertise your sexual tastes to the rest of the world!
Amazingly it seems that Takara Tomy is even producing some of them. Perhaps there's a bigger market for bondage goods than we figured!
We've long been an admirer of kinbaku and shibari on this blog, and once visited Steve Osada's amazing Tokyo bondage dungeon for a show.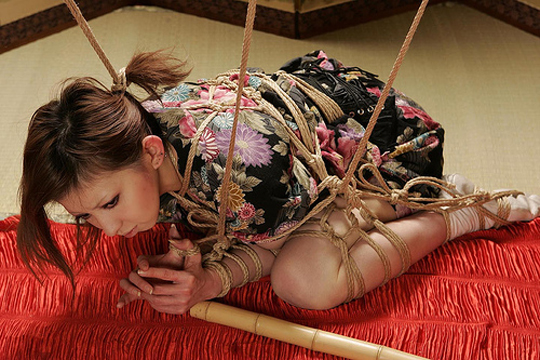 Nothing beats seeing a young lady trussed up with the shibari rope techniques — but we also like the idea of reminding ourselves of the joys of bondage every time we look at our cellphone!

Tags: bondage, japanese bondage, kinbaku
Category: Erotic Japan Blog
Other categories: Hands-on Reports, Product Releases
1 Comment »
RSS feed for comments on this post. TrackBack URI
[...] This post was mentioned on Twitter by Taro Nakadashi. Taro Nakadashi said: Kinbaku Japanese Bondage Phone Straps http://bit.ly/dAT2dq [...]

Pingback by Tweets that mention Tokyo Kinky » Kinbaku Japanese Bondage Phone Straps -- Topsy.com — May 18, 2010 #
Leave a comment
Presented by Tokyo Kinky