Written by: Megumi on February 14, 2012 at 12:29 am | In
Product Releases
|
Discuss (1) »
For the ladies who like both the cute and the ugly — like a cock on a nice-looking guy, in many ways — this is an interesting vibe for you!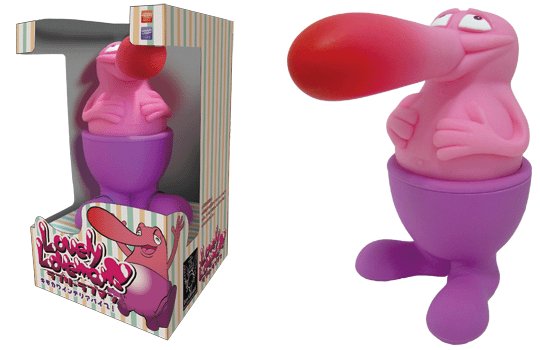 When I first got this in the mail I thought it was a kind of odd Japanese mascot or character toy for an anime series I hadn't seen yet. But then I took the "Lovely Loveman" off his stand and discovered the switch underneath.
When his long nose started buzzing, though it seemed a bit strange at first, I soon learnt how I could maneuver and steer it inside my you-know-what. My god, that nose is mighty long and what a shape! "Wacky Japan"? Maybe but it sure as hell works.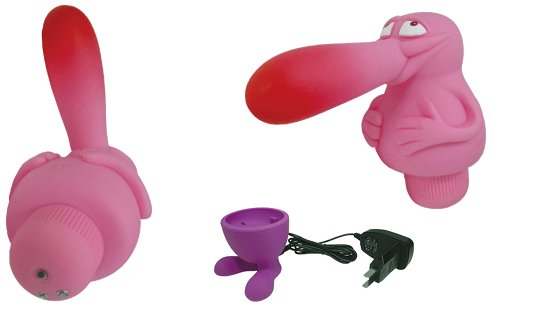 This is the vibe version of the kimokawaii trend in Japan, which mixes the cute (kawaii) with the ugly (kimoii) for grotesque but fun results. The closest I guess you western folk get is with Stitch from Lilo and Stitch, but I reckon this is more exciting for us girls.

Tags: Vibrators
Category: Product Releases
Other categories: Erotic Japan Blog, Hands-on Reports
1 Comment »
RSS feed for comments on this post. TrackBack URI
[...] that look like character or mascot toys are all the rage in Japan these days. After introducing the Lovely Loveman earlier this week, now we find this new ToysBoys waterproof [...]

Pingback by Tokyo Kinky – Sex and Erotic in Japan » ToysBoys vibe & other sexy adult Japanese mascots — February 17, 2012 #
Leave a comment
Presented by Tokyo Kinky