Written by: Tadashi Anahori on August 27, 2012 at 12:08 am | In
Erotic Japan Blog
|
Discuss »
K-Pop girl group KARA were asked at a recent press conference what they thought about Takeshima/Dokdo.
Naturally, not being politicians, it is unfair to call on them in this way… but journalists are cruel and cannot resist stirring up a hornet's nest.
KARA are on of several K-Pop bands who are active in Japan and have fans are both sides of the ocean. A wrong word on these thorny issues can alienate people forever.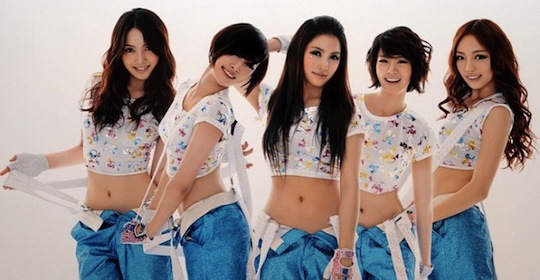 Korean actors and music artists who work in Japan have been submitted to this trial recently, compared to "fumi-e" — where in the Tokugawa period, Shogunate authorities would test the faith of suspected Christian renegades by making them step on a picture of Christ or the Virgin Mary.
Many Korean celebrities have chosen the less of two evils, probably knowing how little thought mainstream Japanese seem to give to nationalism, and have given comments that the rocky outcrop is Korean territory.
KARA were holding a press conference in Seoul last Monday when the dreaded question was thrown at them. Apparently all five members' faces changed immediately. The lead singer, Gyuri Park, chose her words carefully, saying how they were held in affection in Japan and it was their first time to come back to Korea and work in a while.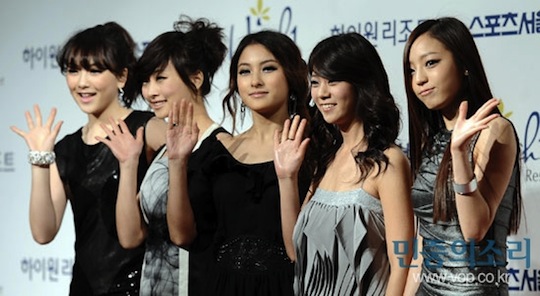 This skillful circumnavigation of the question, though, was greeted with derision by certain sections of the Korean press and internet. The girls were swiftly denounced as pro-Japanese traitors, whose only interest is making money in Japan and protecting their interests there.
All this fury and fuss over a few rocks in the sea…
KARA are just about to release a new album in Korea and are planning to do promotional work in their home country for a while.
No strange to controversy, KARA have previously had trouble with their management, with a changing line-up, and even with accusations from the government that they are just too sexy! Now they have the wrath of ultra-nationalists to deal with too! Hang in there, girls!

Tags: K-Pop, Korea
Category: Erotic Japan Blog
Other categories: Hands-on Reports, Product Releases
No Comments yet »
RSS feed for comments on this post. TrackBack URI
Leave a comment
Presented by Tokyo Kinky