"I got tired of regular bars with old women": JK business high school girl dating bars in Tokyo
We wonder how many articles we are going to see like this as we get closer towards the 2020 Tokyo Olympics.
The Washington Post is the latest media outlet to step into the controversy over osanpo (walking dates) and JK business (high school girl dating) with an article somewhat provocatively headlined "For vulnerable high school girls in Japan, a culture of 'dates' with older men".
It sets the tone early on: "Here, 'high school dating' matches girls in uniforms with men in their 40s and 50s and beyond. And it means money changing hands."
It goes on to explain that the dates may be a drink or a walk, but will "more often" involve sex.
Beyond the sensationalism, perhaps the most interesting nuggets are the quotes the article manages to get from customers frequenting so-called JK business establishments, the current version of enjo kosai (compensated dating) that has actually been an issue for decades.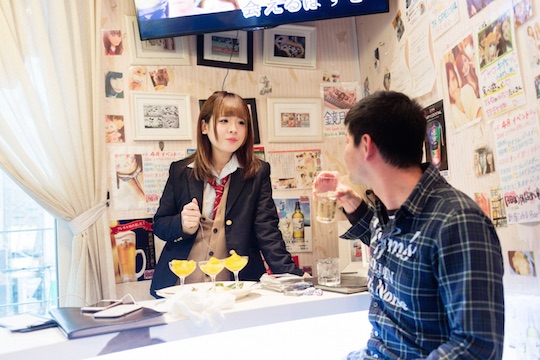 "It's easy to talk to these girls."
"We actually find regular bars uninteresting these days. I got tired of regular bars with old women."
"They look so cute. The uniforms make them look one and a half times cuter than they actually are."
Of course, JK businesses have been condemned as child prostitution and sex trafficking in all but name, and the police have been cracking down by arresting and closing down many establishments. Expect this to continue until at least the end of the Olympics. But the demand remains and when there's demand, there will always be supply.
The article interviews Yuki Aoyama, who has made a whole career out of "schoolgirl complex" photographs.
"There are men who want to spend time with high school girls, and there are girls who want to make money," he said. In other words, it's just business.
Why do the girls do it? "There are girls in difficult situations — they could be coming from a poor family or could be sexually abused at home — and find it hard to live their lives," a campaigner said. "Some say they are so lonely that they want to die and disappear. Often these girls don't have a place to stay, so they get into the JK business."
What do the actual girls have to say? The article lands a great insight when interviewing one of them.
Mio, a 17-year-old in her second year of high school in Tokyo, started in this business last year, having sex with a man in a karaoke room for $30.

"When I'm at home at night, I get lonely and want to be needed by someone. That's when I do it," said Mio, asking to be identified only by her work name.

Now she posts on a messaging app on weekends — when she's not at dance or band practice — and finds an eager audience, sometimes college students, sometimes men in their 50s, the same age as her father.

Once, a man choked her during sex. Another, she said, "wouldn't stop when I said no." But generally, the men treat her well, she said.

"I feel accepted and needed, and I don't have these feelings otherwise," Mio said.
As a campaigner notes in the article, more legislation will just push the JK businesses further underground and out of the public eye. So far many of the tactics have been aimed at the girls, such as by imposing curfews, rather than penalizing customers or business owners. Even the recent slew of arrests are often essentially related to labor laws rather than actual sexual exploitation, which can be harder to prove.
The only solution is to help the truly vulnerable schoolgirls who are taking part for the wrong reason. To do that, you need to understand why they ended up there in the first place, which it is harder. It means confronting some unpleasant aspects about society.