Written by: Kazuki Kintama on November 30, 2010 at 10:08 am | In
Erotic Japan Blog
|
Discuss »
If you are sick of the recent flood of useless iPhone apps as of late and feel they just aren't sexy enough, say hello to Idol Poker.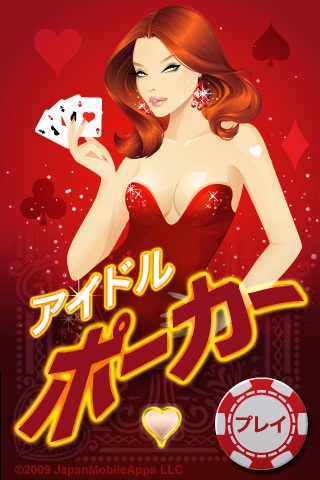 A relatively new app has been created to bring you a host of sexy Japanese porn superstars such as Maria Ozawa and Rio. It started off as a Japanese app but was soon translated into English to spread the love amongst the rest of us perverts.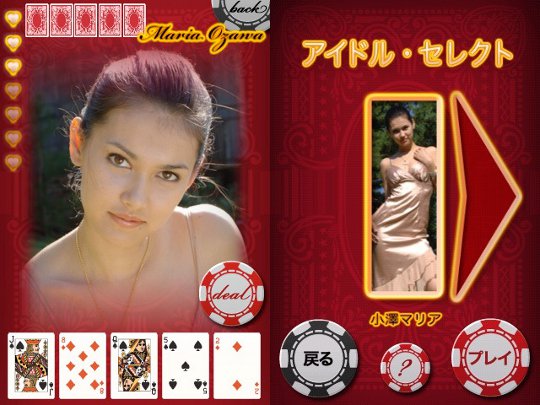 The app is really just a simple game of five card draw poker which will give you a new pose with every hand you win. Once you clear one girl, you unlock the next and open up the possibility of unlocking her sensual poses.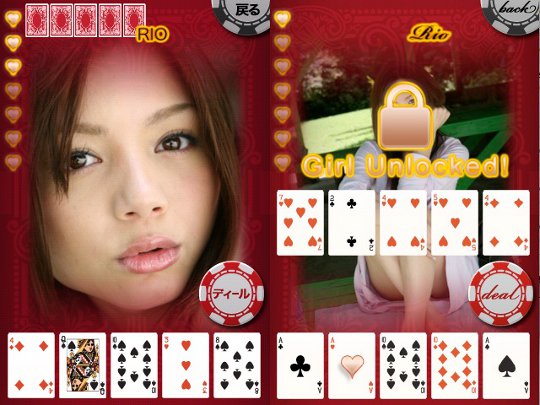 Take a look at the demo video to see how easy it is to do as you please with the lovely Miss Ozawa.
And take a look at Kanojo Toys if you'd like to enjoy Maria Ozawa on more than just your tiny iPhone screen with her very popular scale model Meiki Onahole. The more Maria the better!

Tags: idols, Onaholes, pornography
Category: Erotic Japan Blog
Other categories: Hands-on Reports, Product Releases
No Comments yet »
RSS feed for comments on this post. TrackBack URI
Leave a comment
Presented by Tokyo Kinky