Japanese slave fetishist in leotard is walked around Tokyo on leash like a dog
Just another day in Japan's capital city…
If you like playing the role of a sex slave, then you may well envy this man, who has been amusing large numbers of Tokoyites by dressing up in a leotard and being walked around outside on all fours like a dog. The results are as surreal as they are erotic.
We wonder if Omaru Uwabaki may find himself arrested if he's not careful. Strutting around Tokyo in a tight leotard and even letting his master walk him like an oversized poodle on a leash as he scrambles along the ground on all fours, he's about as nude as it is possible to get without being actually nude.
He's certainly succeeded in attracting plenty of attention and the recent tweets with videos and images have exploded on social media.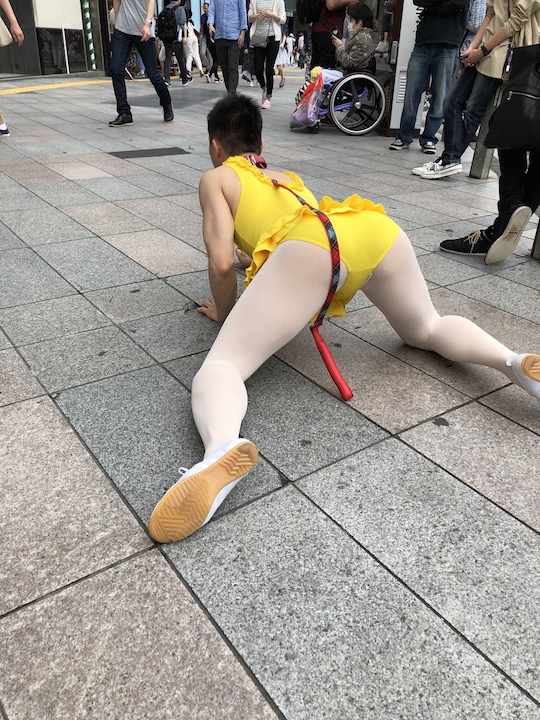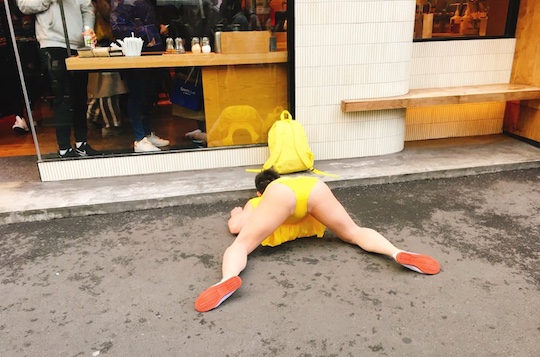 He's actually been doing this schtick for months (even years), popping up in various crowded urban areas in either a leotard or schoolgirl clothing to pose for strangers to take photos. He varies the colors of leotard and other outfits he wears, though he always stands out.
He's nothing if not brave and inventive. He may even put on a little dance routine for the crowds, such as here in central Shibuya. Now that's what we call omotenashi.
And if you think this is strange or attention-seeking, wait till you spot the foreigner who likes Japanese girls to step on his face in public.