SOD makes porn turning women into horses
Despite being the biggest producer of Japanese porn in the land, Soft on Demand (SOD) still manages to keep surprising audiences. No Hollywood-style reliance on tired formats for SOD!
Here's one we're loving at the moment.
It uses that trope found common to a lot of Japanese kikaku porn (literally "project films", features that focus on an unusual setting and situation rather than a star), the countryside.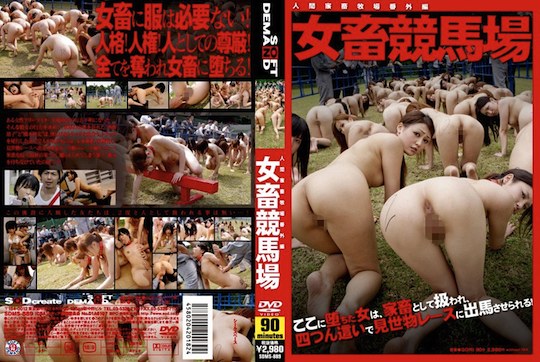 Deep in the rural hinterland, there is a horse stables and racecourse where they train and keep mares and stallions.
Only these are not ordinary horses.

No, in Human Farm Girl Horse Racetrack the "horses" are girls in captivity who have been changed into mounts by their gaolers.
One of the girls is a former journalist who went to report on the racecourse and got sucked into its world.

Another TV crew goes to find her and this film is what they discover.

The "horses" are fed, exercises, checked VERY thoroughly for physical defects… and naturally they are also raced and even mated with "stallion".