Japanese porn star takes part in lesbian sweet nyotaimori feast
What do AV actresses do on their days off? This is a question we often ponder. How many of the hot ladies wandering around Shinjuku and Shibuya are actually minor porn stars doing some shopping?
We've searched the archives a bit and found this revealing gem, which offers a tantalizing hint about what some of the more adventurous ladies get up to.
In April 2015, porn performer Sara Shinomiya spent her day off having her lovely body coated in cream and other sweet things — all for her friends to slowly lick off.
They also used some sort of sweet topping to write insults on her legs in the ryoujoku "shame" porn style. (Though a less edible experience, you can also get stockings like this.)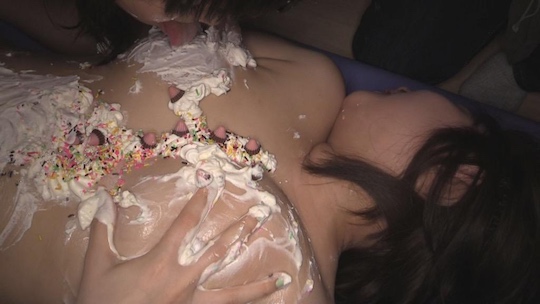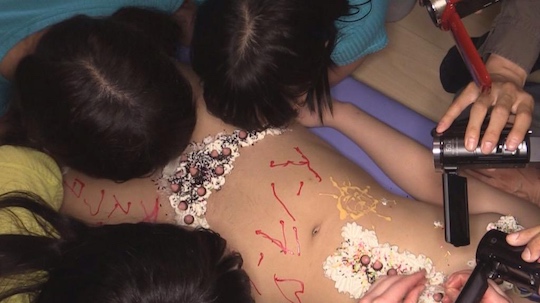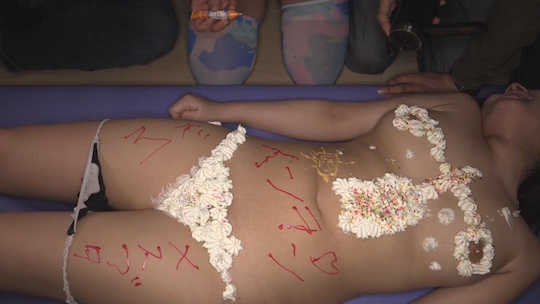 Shinomiya is hardly the biggest name in Japanese porn, so let's not get too excited. But still, this is a very nice image indeed.
Even better, the friends licking cream off her pussy are supposed to be female, making this a lesbian nyotaimori feast.
Let's hope she invites us the next time she holds a creampie party.