Japanese idols wear hazmat suits to hug fans at meet-and-greet event in Tokyo
As we know, the popular meet-and-greet events that idols organize is one of the main reasons they attract such strong fan bases: you can actually meet and shake your idol's hand!
But they can go wrong, badly wrong. Fans say horrible things. They are, quite literally, dirty. And they may even attack the idols, as AKB48 found out in 2014 when two idols were attacked with a saw. As such, these days there is often increased security at the events.
CY8ER seems to be taking a tongue-in-cheek attitude towards this physical aspect of the idol industry. At a two-hour meet-and-greet event held at Budokan over the Golden Week holiday, the six members of the idol group dressed up in quasi-hazmat suits — complete with air-filtration masks and colorful gloves.
Fans were told to turn away from the idols and shuffle along sideways, waiting for the idols to briefly hug them from behind one by one.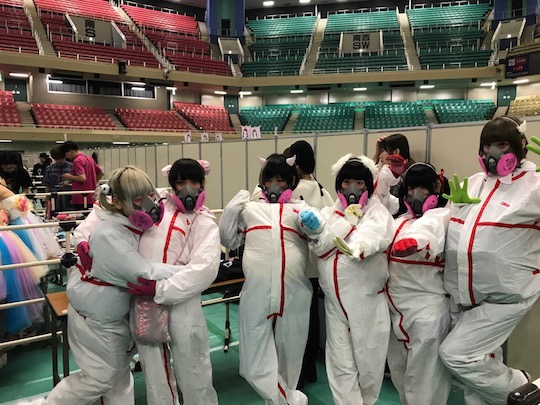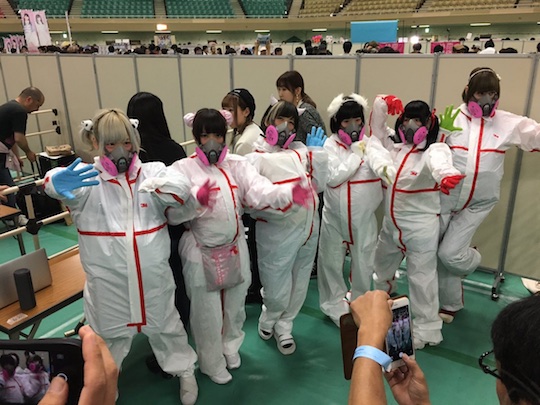 For this privilege, you could pay ¥100 and also get a Polaroid-style snapshot of your joyful encounter for ¥2,000. Well, there's one born every minute, as they say. (To be fair, originally CY8ER wanted to offer the hugs for nothing but the rules of the idol event at Budokan prohibited free services so they had to do it for a nominal charge.)
See a video of the intimate and personal hugging experience below.
What do you think? Would you pay for this? Or is it a novelty gone too far?
Pictures via @haseyoung_3rd and @shiii77.