Written by: Megumi on November 2, 2011 at 1:19 am | In
Product Releases
|
Discuss (1) »
What is one of the most bizarre porno situations you can think of? Plenty, right? Well, here's one that I never imagined possible and it truly happened.
A Japanese porn company took a sweet, innocent Japanese girl in school uniform, dumped her in LA with no money or help, and told her to seek shelter with the homeless. The tramps were happy to take the cute lass in and she repaid them in the only way she knew…All filmed for the cameras of course!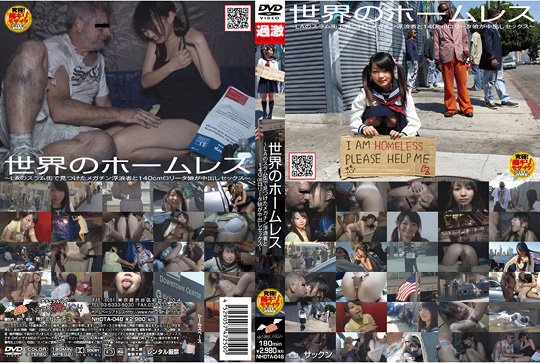 World Homeless: LA Slum Big Cock Tramp & Japanese Girl is the resulting porn film, running a mammoth three hours. After all, there are a lot of homeless in LA!
And then, after this remarkable cinéma vérité style semi-documentary, the girl indulges in a three-way interracial epic outdoor session on top of a car with a black man and blonde girl. That's what I call building international relations.

Tags: Japanese pornography, JAV
Category: Product Releases
Other categories: Erotic Japan Blog, Hands-on Reports
1 Comment »
RSS feed for comments on this post. TrackBack URI
[...] in 2011 we saw our first title, where a young J-girl is homeless in L.A. and has to sleep with tramps to get a place to [...]

Pingback by Tokyo Kinky – Sex and Erotic in Japan » Japanese Homeless Porn — March 6, 2013 #
Leave a comment
Presented by Tokyo Kinky