Written by: Megumi on June 21, 2010 at 1:43 am | In
Erotic Japan Blog
|
Discuss (1) »
Whales — or whale flesh — appear to be worth more than just money! It has been alleged that Japan bought IWC votes through showing some poorer countries' members a good time with "girls".
The International Whaling Commission is holding a conference from today in Morocco where Japan wants to get approval to do more whaling.
But, so some papers are claiming, a host of developing nations have allegedly been treated to aid grants by Japan in exchange for pro-whaling votes. Some of the favors dished out include call girls and prostitutes!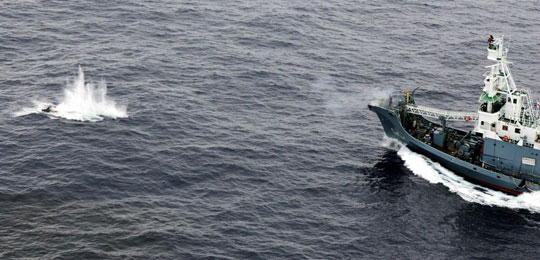 Lucky recipients of this "aid" include St Kitts and Nevis, Grenada, the Marshall Islands, Kiribati, Guinea and Ivory Coast. Tanzania especially has made it plain that its representatives were provided with hookers when visiting Japan!
We're not so shocked by the "vote-buying" (which the anti-whaling nations also indulge in, it seems) — we're more shocked than the government could find so many Japanese ladies to entertain the foreign officials. Usually if you're a foreigner you get stuck with a Chinese girl if you're not turned away completely!

Tags: crime, prostitution
Category: Erotic Japan Blog
Other categories: Hands-on Reports, Product Releases
1 Comment »
RSS feed for comments on this post. TrackBack URI
[...] This post was mentioned on Twitter by CScout Japan, Taro Nakadashi. Taro Nakadashi said: IWC Members Bribed With Prostitutes http://bit.ly/aJZ2hU [...]

Pingback by Tweets that mention Tokyo Kinky » IWC Members Bribed With Prostitutes -- Topsy.com — June 21, 2010 #
Leave a comment
Presented by Tokyo Kinky