Interview with Japanese bondage practitioner and doctor about the dangers of BDSM injuries
Is Japan's naughty knotty BDSM scene too dangerous?
This was the question asked recently by Jake Adelstein, the Tokyo-based reporter who has made a career out of being the foreign media's go-to guy for yakuza stories and gossip.
Adelstein's article for the Daily Beast website is an interview with Golden-san, aka Golden Rule S.M. or Doctor Golden, who is calling for a "gentler, wiser, and kinder BDSM."
Doctor Golden, who is an S&M practitioner and also a chiropractor, has been taking care of people, mainly women, injured in the pursuit of their pleasure for over two decades. Next month, the book he lovingly edited and oversaw, The Illustrated Manual Of Japanese Bondage: Avoiding Risk Edition, should finally be available in bookstores.

In a mere 129 pages, the safety essentials for binding your partner or client with rope are explained in great detail, with easy to understand illustrations. The sexy cover and comic book nudity inside don't exactly make it a great coffee table book, unless that coffee table is located inside a shady bar frequented by Japanese politicians or your own home dungeon. But it's a volume that is long overdue.
Starting with a chance encounter with a hurt girl at an orgy held inside a luxury hotel, the doctor started treating people in the BDSM scene who suffered from injuries caused by their hobby. Now he is a part-time bondage chiropractor who has helped over 400 people since 2000, always treating them in his private home.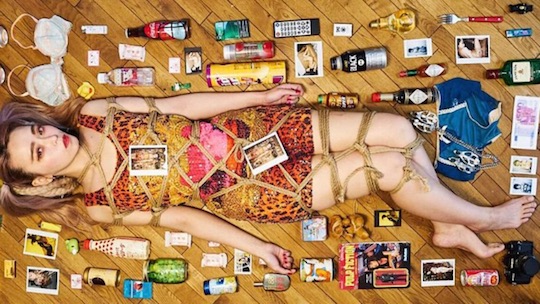 "Women in Japan are embarrassed to admit that their boyfriend ties them up or that they like it," the Doctor says. "Men are ashamed to admit their dominatrix injured them. Some are not sure Japan's national health insurance will cover their injuries. Things like damaged nipples are not easy to explain. There are many reasons those who are in the fetish world as a business hesitate to go see a real doctor — shame and fear for their professional reputation," the Doctor explains.
In addition to losing you a job, an injury from a BDSM session might even get you arrested.
"They also worry that the police will treat the case as an assault rather than an accident between two consenting adults. Of course, the issue of losing face is huge too. People in the industry, professional dominatrixes or performers in the BDSM scene, don't want to talk about accidents. They fear losing trust and reputation if their accidents come out in the open, so they've been trying to keep it under wraps."
So, like STDs in porn, injuries is the big dirty secret of shibari rope bondage and BDSM in general in Japan, it seems.
But what are the kinds of hazards that practitioners face? Injuries from ropes, for one, since shibari (or kinbaku) is a huge part of the scene. But there is also potential for whiplash, burns (from candle wax), and dislocated shoulders, elbows, or knees, as well as nerve issues.
Stay safe while having fun, folks!