Written by: Tadashi Anahori on April 30, 2012 at 12:08 am | In
Erotic Japan Blog
|
Discuss (1) »
Ichiro Ozawa, the man once certain to be Prime Minister before scandal forced him to resign, has been found innocent on fraud charges. No one seems convinced by the verdict, including us, which is why we couldn't resist posting this story currently running wild in the tabloids.
According to Shukan Bungei, Ozawa apparently had an affair with a television reporter he met in 1989 at a party. In summer 1990 she then gave birth to his love child!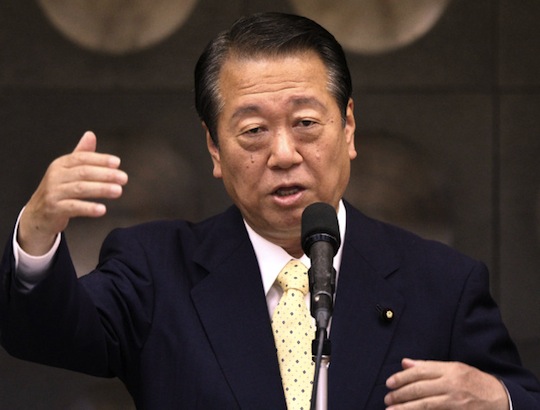 The tabloid uses as its source an acquaintance of the mother, whom she supposedly confessed to about the paternity of her son.
We cannot verify the accuracy of this story at all (= don't sue us!) but we like the idea of the scoop, at any rate.
Politicians are famous for spawning kids through adultery and Japanese ones are no exception. The public tends to be more forgiving here, though if, as in one famous case, you don't pay your mistress her dues — hush money, free apartment — then you cannot expect kind treatment from votes or the press!
Tags: adultery
Category: Erotic Japan Blog
Other categories: Hands-on Reports, Product Releases
1 Comment »
RSS feed for comments on this post. TrackBack URI
[...] girls" (younger female politicians groomed by the shadowy Ichiro Ozawa, and we know now how he likes to do his grooming), her little-known acting career was immediately checked with a fine tooth comb by the tabloids [...]

Pingback by Tokyo Kinky – Sex and Erotic in Japan » Sexy politician Mieko Tanaka in adultery scandal? — June 15, 2012 #
Leave a comment
Presented by Tokyo Kinky