Written by: Tadashi Anahori on June 13, 2012 at 12:12 am | In
Erotic Japan Blog
|
Discuss (2) »
It's not often we like to use the term "only in Japan" but sometimes it's just about right.
Though it's defunct, at the height of the love doll boom in 2004-2005 (at least, boom in its recognition in popular culture), when TV shows were finally taking an interest in the amazingly ultra-realistic silicone brides of Orient Industry, and there were even doll rental services — then in your book store you may have been lucky enough to get a copy of the glossy magazine i-doloid.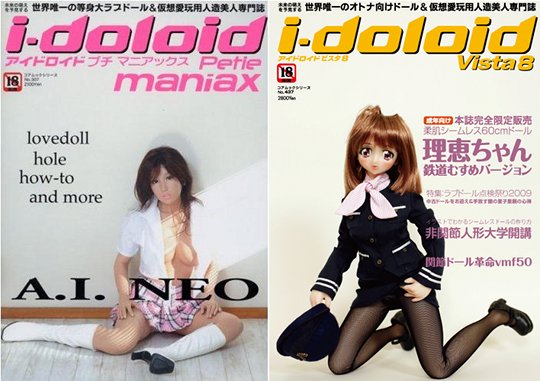 Made by Core Magazines, who specialize in adult or underground mags, sadly it's now no longer in print, it seems, but there were lots of editions and even some spin-offs (i-doloid petie [sic], i-doloid vista), dedicated to certain genre of incredible real love dolls.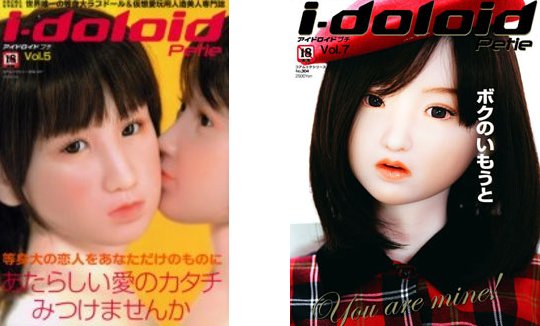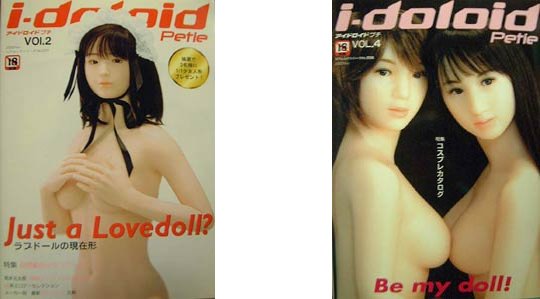 Let's hope they can bring the magazine back some day!
Tags: Orient Dolls, Sex doll
Category: Erotic Japan Blog
Other categories: Hands-on Reports, Product Releases
2 Comments »
RSS feed for comments on this post. TrackBack URI
The doll on the top left cover looks like Satomi Suzuki.

Comment by nelsontl69 — June 13, 2012 #

@nelsontl69

Yes, well spotted!

Comment by Tadashi Anahori — June 14, 2012 #
Leave a comment
Presented by Tokyo Kinky