Written by: Tadashi Anahori on May 10, 2012 at 1:02 am | In
Erotic Japan Blog
|
Discuss (1) »
Japanese people like to use cushions when they feel lonely, even in historical times.
If you have some imagination and a bit of money, you can invest in one of the massive range of dolls around — from blow-up air dolls to lap cushions, "love cushions" to full-out silicone love dolls from Orient Industry.
Otaku in particular have always liked to have cushions of their loved ones as pillows-cum-partners. This is probably more out of companionship than anything physical (i.e. they don't actually fuck the pillows… maybe).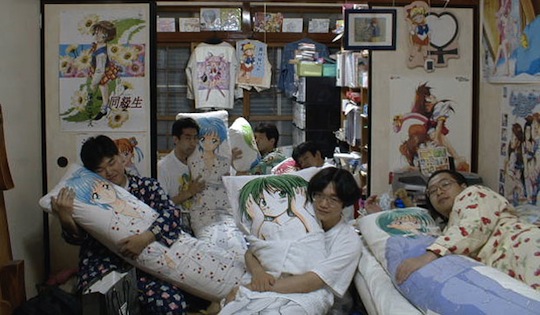 Now some boffins have developed Hugvie, a huggable cushion… with a heartbeat! You just slip in your phone and then you can transform the cushion into something — or someone — who feels real.
The idea is you put in the phone while you are talking to someone special. The "vibrators" and sensors match the characteristics of the person's voice, so you can basically be hugging the person on the other end of the line.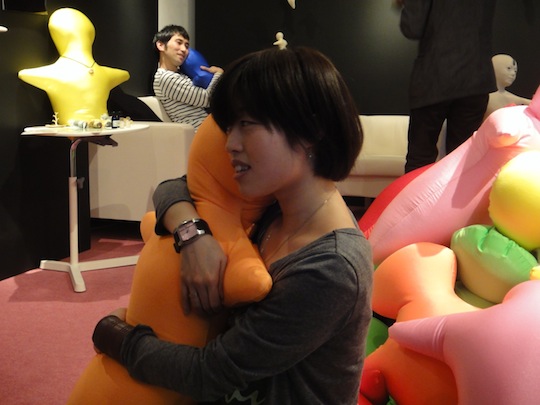 It doesn't surprise us at all that this Hugvie is from the same wacky scientist who has been traversing the "uncanny valley" with his android mannequins, Professor Hiroshi Ishiguro.
Now all they need to do is equip the Hugvie with som breasts and a face, and hey presto, this one will be a bestseller! Professor Ishiguro even talks several times very temptingly of "vibrators" and making it more "human-like". (He forgot that other vital element, the hole!)
Well, we know where to go if we want full realism in a companion…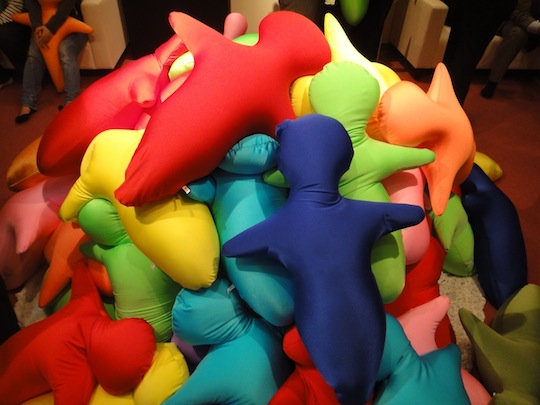 Tags: otaku, sex doll
Category: Erotic Japan Blog
Other categories: Hands-on Reports, Product Releases
1 Comment »
RSS feed for comments on this post. TrackBack URI
[...] On the other end of the spectrum of owning 50 love dolls, are the guys who only want one warm lap (introduction photo) and a heartbeat. For the lonely and impotent, we highly suggest the cushion with a heart. [...]

Pingback by Lonely Men, Love, Dolls | Urbasm — March 2, 2013 #
Leave a comment
Presented by Tokyo Kinky