Written by: Kazuki Kintama on November 12, 2010 at 4:39 am | In
Erotic Japan Blog
|
Discuss (2) »
Some of you may or may not have heard of a fun little cell phone app called Bijin Tokei (Beautiful Girl Clock). The premise is simple. Two different girls from different locations in Japan every minute of every day. Why check the regular clock on your phone when you can get ladies along with the time.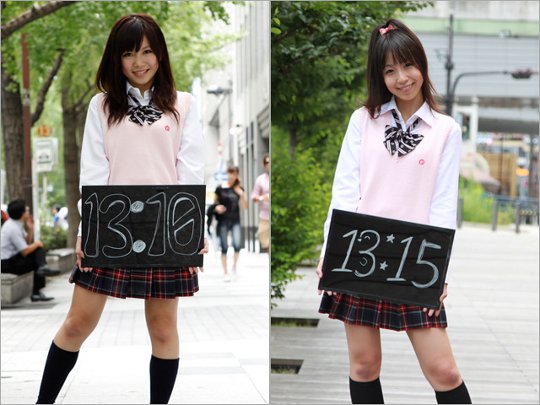 Since the inception of the first Bijin Tokei, many spin-offs have been made, including the ability to search for beautiful ladies showing the time in their favorite Japanese city. Just last month, the newest version of this little sexy lady lock took the stakes up a notch. Introducing the Panty Lover's Watch. As with it's predecessors, it shows attractive girls giving the time, but in this version, you get to see the sexy lady's panties as a bonus to knowing if you're going to miss your morning meeting or not.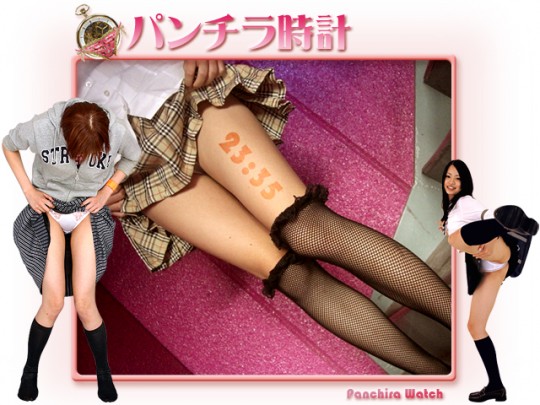 Upset that you can't get your up to the minute panty updates? Not to worry. You can just go ahead and check the time here on the Panty Lover's Watch website. I never knew how much I wanted to know what time it was right now!
For those truly hardcore panty lovers out there, why don't you pick up some sexy panties over at Kanojo Toys for those moments when you're checking the time, but a picture just isn't enough!
JUST LAUNCHED – JAPANESE AND GAIJIN IN ACTION

Tags: costume, japanese cosplay, schoolgirls, Used panties
Category: Erotic Japan Blog
Other categories: Hands-on Reports, Product Releases
2 Comments »
RSS feed for comments on this post. TrackBack URI
[...] there was the Beautiful Girls Clock app for cellphones across Japan, then there was the Panty Lovers clock for the more perverse of us. [...]

Pingback by Tokyo Kinky » Taiwan Makes Bimbo Weather Girls Better — January 16, 2011 #

how can i get sexy girl from you, you can reply me via my mail. thanks.

Comment by jacob — August 15, 2011 #
Leave a comment
Presented by Tokyo Kinky