Written by: Taro on March 13, 2009 at 5:31 am | In
Product Releases
|
Discuss (2) »

It took a while, but the famous Honey Bath Gel is back on the market and better than ever! if you don't know already, Honey instantly creates a sensual and slippery bath after being added to a full tub of warm water. Put it in, stir it up, and in just a few moments you'll have a tub filled with thick, sexy, collagen lotion!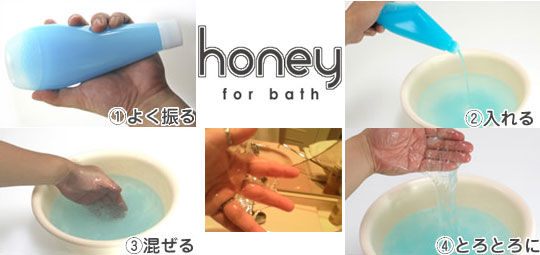 Honey is good for creating soft skin, but it's even better for a sexy bath on your own or with a partner. The lotion glides all over the skin and makes contact with your partner a new experience all over again.

Honey Bath Gel is non-toxic, safe for your drains, and easy to use. You'll never look at your bath water the same way again. Available from the KanojoToys.com online store.

Tags: Bath
Category: Product Releases
Other categories: Erotic Japan Blog, Hands-on Reports
2 Comments »
RSS feed for comments on this post. TrackBack URI
[...] is currently SOLD OUT. Kanojo Toys will have the brand new edition in stock shortly, with even more variety! Stay [...]

Pingback by Tokyo Kinky » "Honey" turns bathwater to sexy gel — July 5, 2010 #

[...] ago we posted about the Honey Bath gel, but it has been in package-redesign mode for a LONG time now. Of course, we've had plenty of [...]

Pingback by Tokyo Kinky » Bath Slime makes water a lotion ocean — July 5, 2010 #
Leave a comment
Presented by Tokyo Kinky